Note: You can click on each image to expand it to full size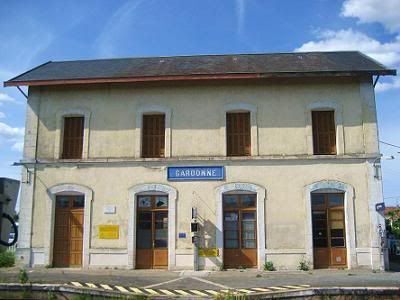 In 2007 I attended an organic wine tasting in Adams Morgan, Washington DC. The distributor invited to discuss the wine said "Five years ago, you couldn't give organic wine away. Now it's really come a long way, and it's finally marketable." Then he proceeded to taste, for the first time, the wine he brought. I was standing close by as he mumbled under his breath "Wow, I guess it's still got a ways to go."
Fast forward five more years later, and I'm planning a wine tour in Bordeaux, France, for my girlfriend Marya's 40th birthday present, having saved my pennies for the last 3 years. I finally settled on French Wine Adventures where we'd do a walking tour to organic vineyards. I was really hoping this would not be a mistake.
The tour was to include a wine pairing lunch, so I contacted the tour director Caro Feely to ask if we could get a vegan lunch. She assured me we could. Skeptical, I contacted her a few days in advance to make sure we were good to go for the vegan lunch. "It's all set", she replied. Still skeptical, we packed snacks just in case.
We took the train down from Paris to the city of Bordeaux and stayed at the Aquitain Hotel, booked through HostelWorld.Com very close to the train station. This was important as we had to catch a local commuter train at stupid:30 the next day to catch the tour. In addition to the benefit of it's proximity to the train station, the hotel was relatively inexpensive, nicely decorated, had a wonderful staff, a nice patio (more on that in a bit), and was within reasonable walking distance to the town's center.
On the morning of our tour we took the train to Gardonne Station where our guide Caro was waiting to pick us up to join the rest of those walking with us. We walked and walked and walked along the road, through fields, and along a trail through the forest. Along the way, Caro was able to point out which vineyards were organic.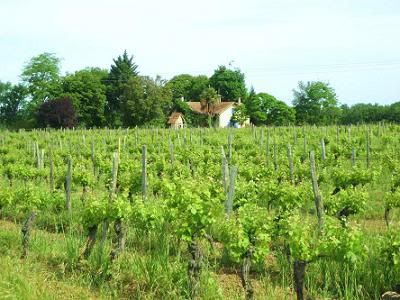 It hit me early on that, unlike other tours we'd been on, one of the benefits of this one was that I could pepper Caro with every possible question regarding wine I could think of. She's also co-owner of
Chateau Haut Garrigue
Organic Vineyards.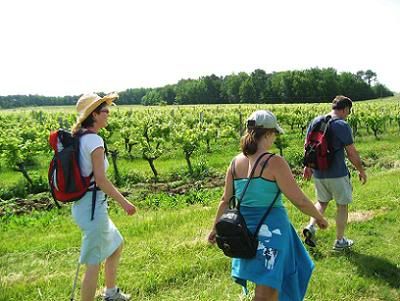 Finally we got to
The Naked Vigneron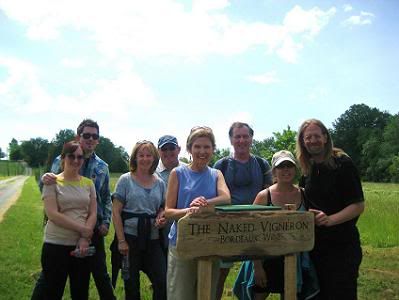 To our disappointment, our hosts were not naked.
They started at once serving us red and white wine with tapenade and bruschetta on crostini.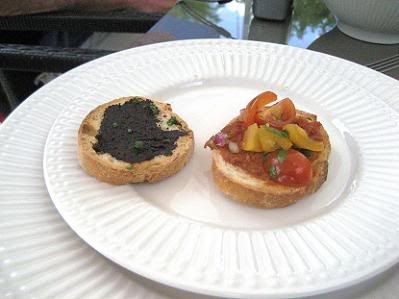 Having recently discovered that most French tapenade is made with anchovies, we felt compelled to ensure it was vegan.
We were assured everything Marya and I was to be served would be vegan.
Next was this tasty caramelized onion tart and salad.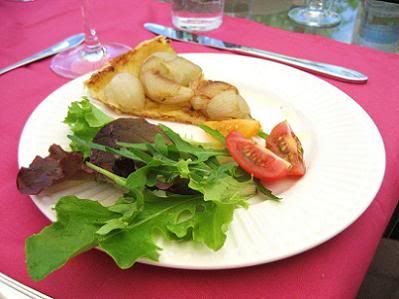 Then came the pièce de résistance of the meal, possibly of the entire trip. This amazing asparagus and shaved pepper risotto.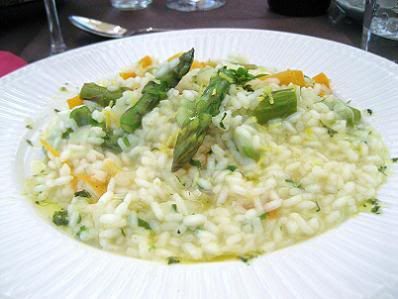 Marya talked about this for the rest of the trip. Ours was vegan and all others had Parmesan cheese grated on theirs.
After the risotto came, in classic French dessert style, a cheese plate. Oddly, the French don't eat nearly as much cheese as us North Americans. They eat just a tiny bit after dinner. In my former life, I'll admit that I could have finished the cheese plate myself.
Then came this lovely strawberry tart.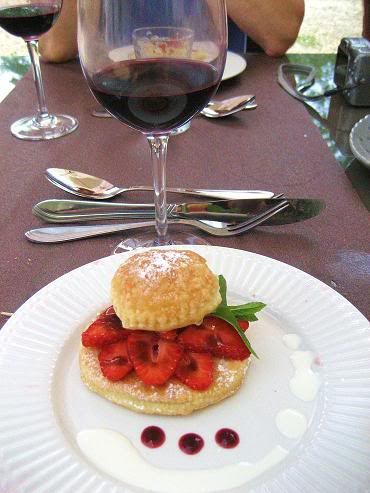 The non-vegans got something similar, but theirs was not nearly as pretty. They were jealous.
After our meal and loads more wine (our hosts were not shy about opening more wine at the slightest hint of an empty bottle), we got a short tour of the their winery, then began our walk back to our point of origin.
During our walk back, Caro graciously phoned her husband Sean (and the other owner of Haut Garrigue) to bring us some wine from their winery to purchase. After talking to Caro so much about the production of wine, I needed to try their creation. They then gave us a ride back to the train station just in time to catch an hourly train back to the city of Bordeaux.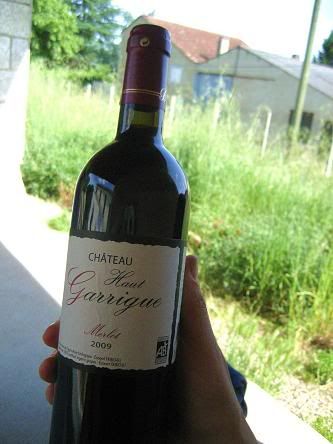 Note on traveling to Bordeaux: Don't on a Sunday or Monday - the vegan places are closed
Close to our hotel (two blocks East) we found a
Lebanese place
that serves a platter of falafal, salad, and fries with a tahini dressing. We enjoyed our dinner on our hotel's back patio.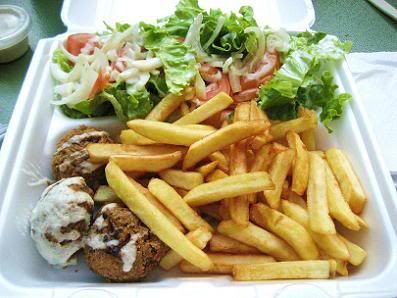 Wouldn't be my first choice, but options were limited and it turned out to go nicely with the the white.
I'll add that I was blown away by the wine. You've heard of a wine's bouquet? When sipping this white, I could visualize the bouquet.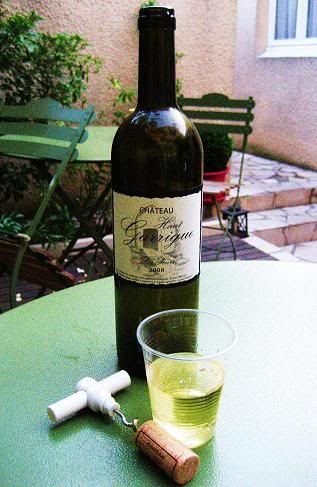 After the tour, I went back and looked at the French Wine Adventures page to ensure I wasn't crazy. The website does indicate that there would be two stops at two vineyards along the tour, vs. the one on ours. I chalked this up to the fact that they wanted to ensure we got a good meal, and that our chef/co-owner of The Naked Vigneron was, due to some serious allergies, basically vegan. There was little time for anything else. At the end of the day, we had the most amazing meal and more than our fill of wine. And, we had unwittingly used our vegan vote to steer the other 6 people on our tour towards a mostly vegan multi-course lunch.
I'll say that at $149Euros/person, the walking tour might be a bit steep. But I'd been planning this for a while, and we left having had the most enjoyable experience we wouldn't trade for anything.
So, to recap:
French Wine Adventures - Where I booked the tour
The Aquitain Hotel near the train station, booked online at HostelWorld.Com
The Naked Vigneron - where our walking tour took us for an unforgettable organic wine pairing lunch
Chateau Haut Garrigue - our guide's vineyard
Both Haut Garrigue and The Naked Vigneron produce vegan wine. No use of isinglass or egg whites to clarify the wine.