Here's a quick snapshot of places that are vegan friendly around the French Quarter, Nawlins.
I'll say, we were most impressed with everyone's knowledge of veganism in town. I would ask "Does this vegetarian dish have any butter, milk, cream, egg...?", to which I'd usually get cut off with a "It's vegan."
Note:You can click on most pictures to see it full size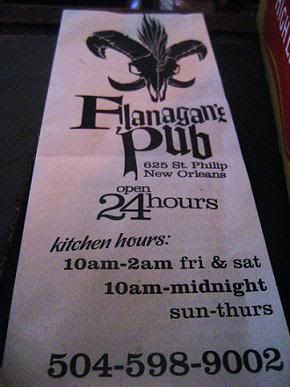 Flanagan's Pub
625 St. Phillip St.
New Orleans, LA 70116
Limited vegan options, but first thing our first morning, we needed something fast. And bloody marys.
This was a hummus and fresh veggie wrap.
Gumbo Shop
630 Saint Peter St.
New Orleans, LA 70116
Try some vegan gumbo at the very touristy Gumbo Shop.
Gumbo is the African word for "okra", the primary component of the dish.
And speaking of Africa...
Bennachin
1212 Royal St.
New Orleans, LA 70116

I thought it'd be cool to check out an African restaurant, considering that African food was a huge influence in the local cuisine.
Here's Kone ni Makoondo - Black eyed peas in onion and tomato stew, served on coco rice with a side of plantains.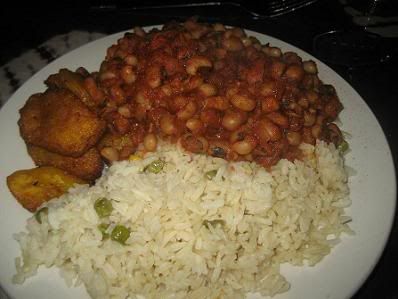 And here's
Soup-ah-Kanja
- Okra soup (ordered without the beef).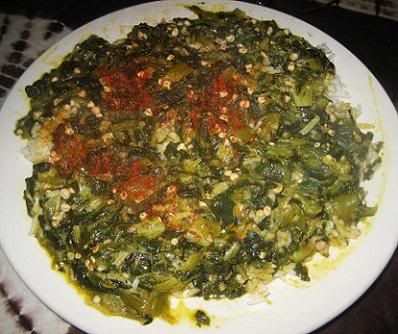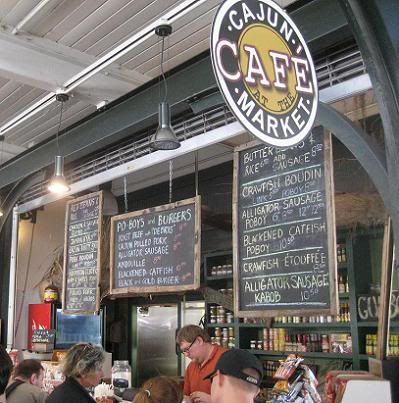 Cajun Cafe at the Market
1100 North Peters, Bay #23
New Orleans, LA 70116
Located in the French Market, the Cajun Cafe has some vegan options.
Yes, they have some rather unsavory things such as the alligator sausage kabob, but the jambalaya and red beans and rice (sans sausage) were vegan.
The jambalaya was good, but the red beans and rice had us making a second trip there.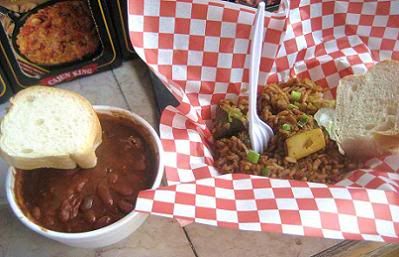 Note: They don't serve bloody marys, but a stall 2 doors down does, along with several other cocktail and beer options. Being New Orleans, you can order drinks from one stall and carry them over to the Cajun Cafe.
Munch @ Molly's at the Market
1107 Decatur St.
New Orleans, LA 70116
Munch is a pop-up restaurant at Molly's, a short trip across the street from Cajun Cafe, serving comfort/pub food.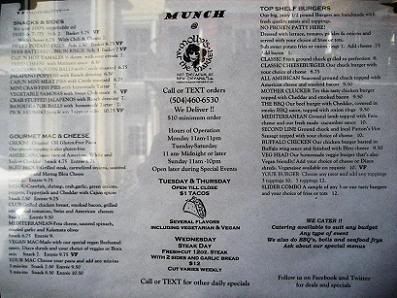 The
VF
on their menu means "Vegan Friendly". In some cases that makes sense, as with the veggie burger where you can substitute mayonnaise with Veganaise. But it's a bit odd to see "Vegan Friendly" on things that are vegan by default.
We were there on a Thursday and took advantage of their taco special. They had three vegan taco options, refried beans being one, another with veggies. Can't remember the third.
The next day we went to see the start of the St. Paddy's Day Parade Molly's hosted. We got the corned beef and cabbage, minus the corned beef. As well, we got their mac-n-cheese, which I'm still dreaming about.