Note:You can click on most pictures to see it full size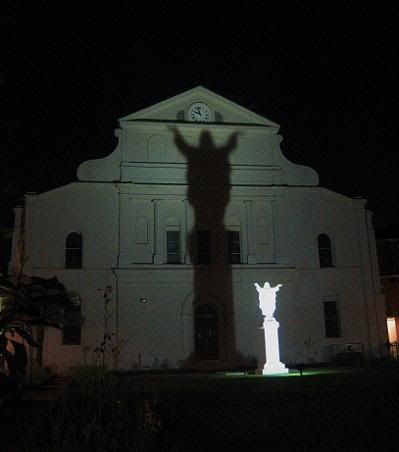 On our recent New Orleans trip we found a couple of fancy places that had separate vegan menus, both off the French Quarter.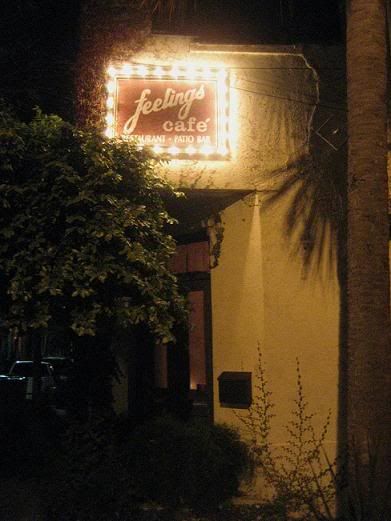 Feelings Cafe (click for their website)
2600 Chartres Street
New Orleans, Louisiana 70117 (click for the map)
Phone: (504) 945-2222
This place wouldn't drag me in by name alone, but thanks to some research and purchase of a Groupon, my girlfriend found Feelings Cafe.
The place is quite lovely, I'll say, with a nice dining room, beautiful courtyard, and a pretty hip looking bar. We spoke to the owner a bit, and that he's mostly vegan (or maybe completely vegan - can't remember much of the conversation) is reason Feelings is so vegan friendly.
Here was their vegan menu for the middle of March, 2012:
It's like they read my mind, knowing that I'd want to try everything. With the option of being able to choose three out of the four appetizers and combining smaller portions of the entrees, we were able to taste all but one dish on the menu.
Pictured here are (clockwise from the top): The Emerald City Salad (with curly kale and quinoa), the Mushroom Boudin, and the Quinoa and Shiitake Mushroom Cakes.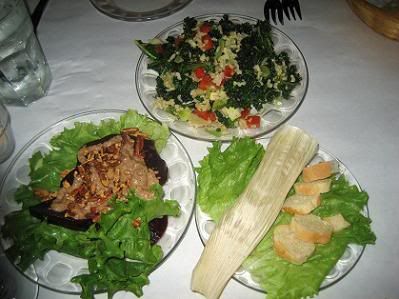 And here are the Roasted Eggplant and Creole Tomato Napoleon smothered in an arugula pesto(left), and the Potato and and Tempeh Patties with butternut squash pasta with a light tomato and kalamata olive sauce.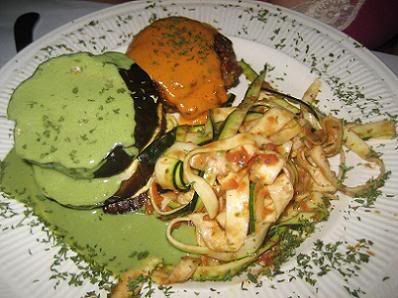 I've never had tempeh prepared quite like that. Rather than just carving up a slab of the stuff and serving as a cutlet, they mashed it, combined with potatoes, and formed into a patty. It gave it a totally different and very pleasing texture.
Overall, quite a good deal. Relaxed atmosphere, lovely fresh vegan cuisine. Just be sure to make reservations ahead of time.
Next, on the far side of the French Quarter from Feelings, we stopped in the Santa Fe Cafe on our way to the St. Patrick's Day Parade for brunch.
Santa Fe Tapas Restaurant and Bar (click for their site)
Click here for their more informative Facebook page
1327 St Charles Ave New Orleans, LA 70130 (click for map)
Phone: (540) 304-9915
We heard that Santa Fe Tapas was supposed to have a jazz brunch, and were a bit surprised that a solo classical guitarist was providing the music. A bit befuddled at first, I was soon impressed with his performances of what I thought were famous Rodrigo tunes. He explained that he was playing the traditional Spanish music that Rodrigo later borrowed and fully orchestrated, such as Fantasia para un Gentlhombre performed here by Segovia and later to be performed by Emerson Lake and Palmer.
But back to issue at hand (sorry for that digression).
Santa Fe was among the many places about town were featuring St. Patty's Day specials along with their regular fare.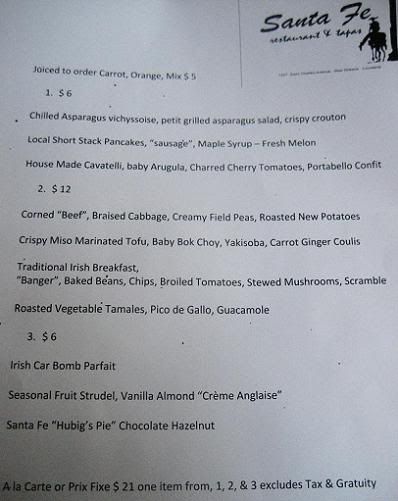 We both ended up doing the Prix Fixe deal. For my entree choice, I was torn between the Corned "Beef" with braised cabbage and mushy peas dish and the Traditional Irish Breakfast. I went for, or was talked into the Traditional Irish Breaky.
It's worth noting that, though our waiter was wonderful, our food took for bloody ever to come. The waiter continuously apologized and noted that several tables had filled up and emptied several times during our wait. He said something along the lines of not being able to convince the kitchen to cook our food.
First up was the all important bloody mary.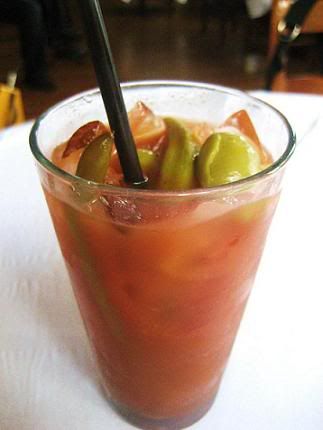 Not quite the work of art that the
bloody marys at the St. Roche Tavern
were, but the pickled okra and green bean gave us a grin.
I had the asparagus vichyssios: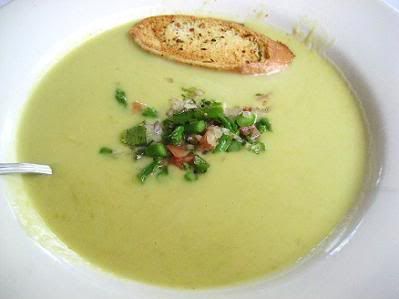 Maybe not a traditional breakfast food to many, but in my world
everything
(vegan) is breakfast food.
And Marya had the mini pancakes with sausage: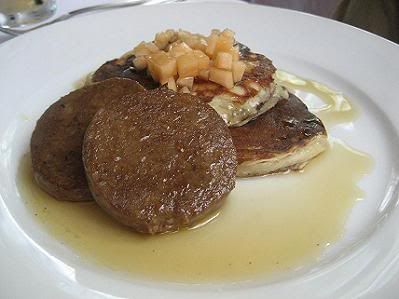 My Traditional Irish Breakfast was great except perhaps for the scramble, which was as many tend to be, uninspired. Last in the list on the menu, it was a small part of the breakfast, anyway.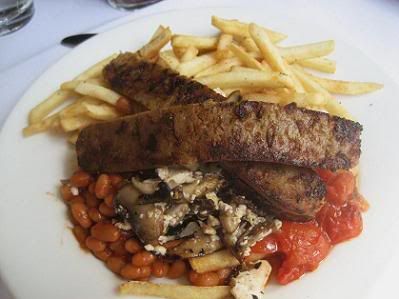 Marya got the Roasted Vegetable Tamale: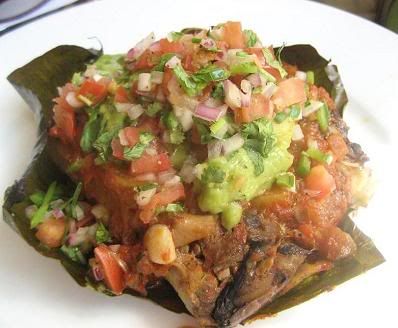 More of an open face tamale, really. For dessert we had the strudel and the Irish Car Bomb Parfait: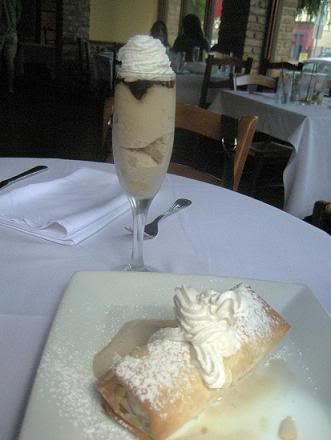 I thought the strudel was good, but the whipped cream on both the strudel and parfait tasted a bit too processed and chemically.
If you go to Santa Fe Tapas, seek out the Avenue Pub nearby. A locals dive bar with an amazing beer selection.
There are very few places in the French Quarter to find live jazz performances, and I think we found both of them.

Maison Bourbon
641 Bourbon Street
New Orleans, LA 70112
It says right on the bass drum "New Orleans Finest Jazz", and they mean it. Forget Preservation Hall and camp out here for a few hours. Unlike Preservation Hall, you can (and have to) drink, stay as long as you want, take pictures, and there's no cover. I personally enjoyed it much more than Preservation Hall. I really liked seeing the house band played Louis Armstrong's "Struttin' with some (vegan) Barbeque".
Then there was Fritzel's just up the street.
Fritzel's European Jazz Pub
733 Bourbon Street
New Orleans, LA 70112
We saw some great Dixieland bands here, including this band, the Perdido Five: