Note: You can click on an image to see it full size.
Brookland Cafe
3740 12th St. NE
Washington, DC 20017
This little and little known cafe in the upper North East quadrant of Washington, DC does serve meat, but the menu is heavy with vegan options. Also worth a note: they have a full bar.
I went for the Vegan Platter that included their carrot/beet/potato burger, battered chicken strips, battered shrimp, and a side of purple cabbage slaw.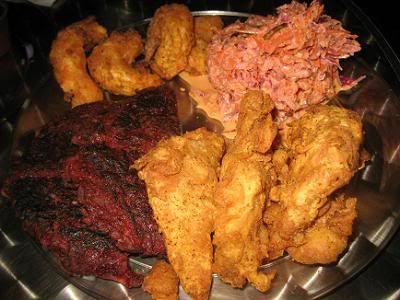 Marya got the Vegan Seafood Platter, with battered fish slices, chicken strips, and shrimp. Not a lot different from mine.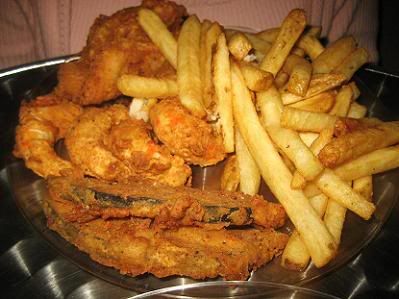 Not pictured are the sauces that came with it: catsup, cocktail sauce, and vegan tartar sauce.
I was most impressed with the shrimp, and that might be enough to have me go back for more. I'll say though, with everything battered and deep fried, it surely wouldn't fall into the category of health food.