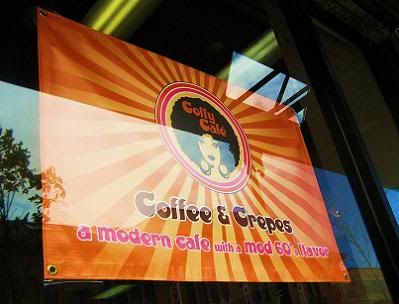 Coffy Cafe
3310 14th St. NW
Washington, DC 20010
Coffy Cafe has been open for a about a month and a half at this point. Getting prepped for our upcoming trip to France, I thought it'd be need to stop in and have some crepes.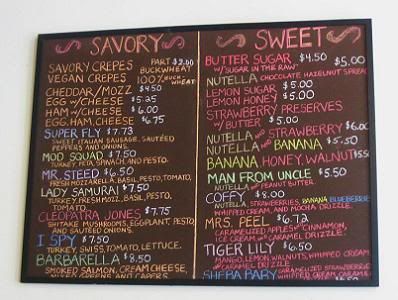 Their vegan crepe batter is 100% buckwheat, which would make it gluten free, too. They charge an additional $2.00 for vegan crepes. As you can see from the menu, there's not much in the way of savory crepes that can be made vegan. We went for the Cleopatra Jones and the crepe chef graciously replaced the pesto with basil for us.
The place looks like they raided every retro furniture shop within a 50 mile radius. As well, there are Easy Bake Ovens everywhere. As you can tell by the names of many of the crepe combinations, the place is definitely inspired by the 60s and 70s.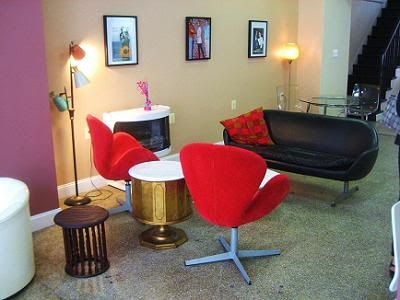 All of their teapots seemed to come from thrift or antique stores, as they were all mismatched. I like that.
Also, though I'm not sure about their coffee, their tea selection is fair trade, which wins points in my book.
Here's the crepe, beautifully presented: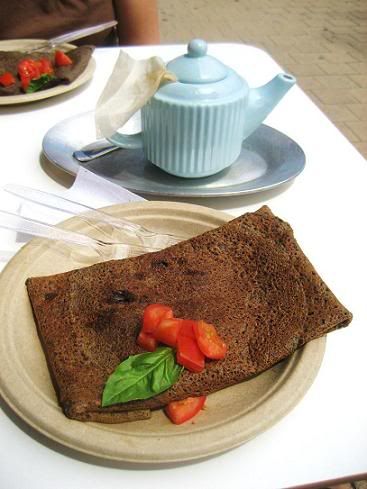 I'll say that the buckwheat had a bit of a tart flavor I wasn't quite expecting.
It's early days for these folks, and I hope they'll make adjustments to be more vegan friendly. We get excited just to see the word "Vegan" on the menu, but there's always room for improvement. I hope Coffy Cafe succeeds because the place is neat and the folks working there were very nice and very attentive.