Note: You can click on each image to see a larger version full size
We took a bus from Vientiante, Laos, to Nong Khai, Thailand, by way of the Friendship Bridge that spans the Mekong River.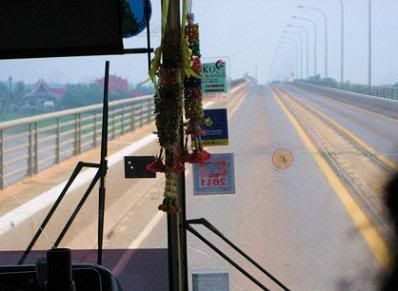 From the bus station, we took a
tuk-tuk
to the Mut Mee Guest House.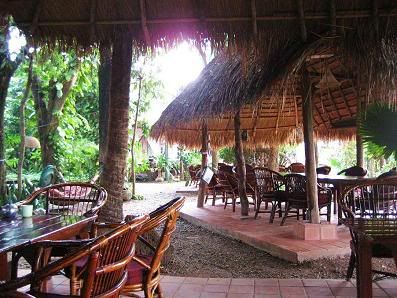 Mut Mee Guest House (click for website)
1111/4 Kaeworawut Road
Nong Khai 43000, Thailand (click for map)
The Mut Mee was a lovely guest house, and I felt very fortunate they had a room free as we hadn't made prior arrangements. The place is very relaxing, and we loved it there.
Our room was beautiful, but the mosquito netting was necessary as the guest house was right off the Mekong.
Mut Mee offered food, and they had a vegetarian menu almost as large as their omnivorous menu.
If you look closely at bottom, you'll see that the asterisk indicates
"Recommended by the boss"
.
We ended up getting many meals here at the guest house. Nong Khai wasn't the most vegetarian/vegan friendly, and we knew we could trust the chefs at Mut Mee. On one occasion trying to order a meal in town, not even our trusty Vegan Passport could save us.
After we had a restaurant owner read the entry in Thai, she recommended a dish that had oyster sauce in it.
So here's what we had at Mut Mee over the few days we were there: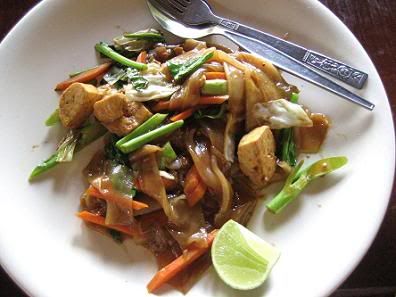 This is their Pat Sii Yu, with wide rice noodles and stir fried tofu. It was a bit more interesting than what I've had in the US, where I've seen it on menus as "Pad See Ew". Their version had more vegetables in it. Usually it comes with little more in the way of vegetables than broccoli.
Marya had this Fried Aubergines with Tofu dish: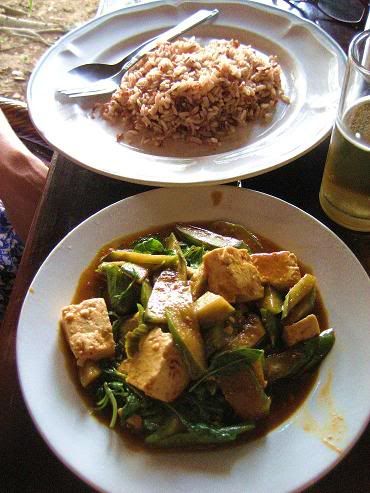 The dish had
Thai eggplant
in it, which we had, for the longest, mistaken for tomatillo.
The next day I had this Pad Pak with Cashews: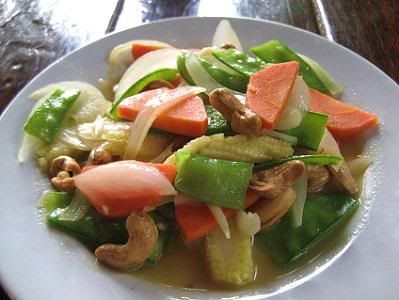 Pad Pak is Thai for "stir fried vegetables". Had I known that ahead of time, I probably wouldn't have been as excited to try it, but this turned out to be quite good.
And Marya had this lovely Tofu in Ginger Sauce:
You get this great view of the Mekong while dining.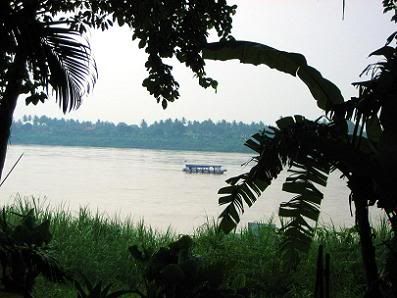 From Mut Mee you can walk down to the river where you can catch a dinner cruise (we didn't do this), or have a meal or just drinks at the stationary floating bar.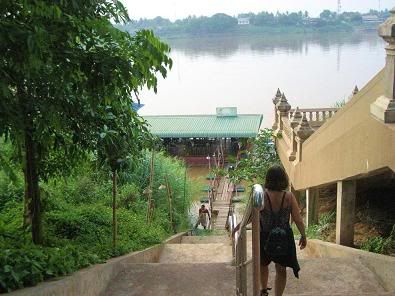 The bar has its own kitchen, and we had some spring rolls there.
On a late night visit to the back bar of the floating bar/restaurant, we brought our own snacks from the 7-11 across the street: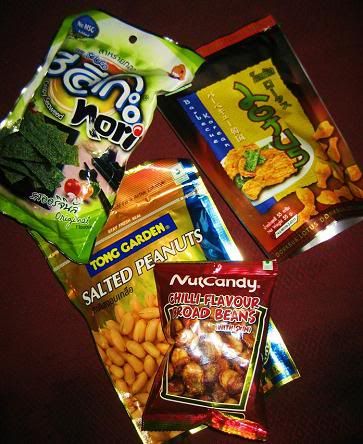 The package in the upper right contains little baked chicken drummettes similar to Gold Fish. Thankfully the ingredients were listed in English, so we were able to verify they were vegan.
Between the beer, food, and hammocks, Mut Mee is sustaining and relaxing enough that you need never leave. But in addition to being food tourists, we're cultural tourists, and wanted to see the town. Mut Mee rented us some bikes so we could get around town quickly.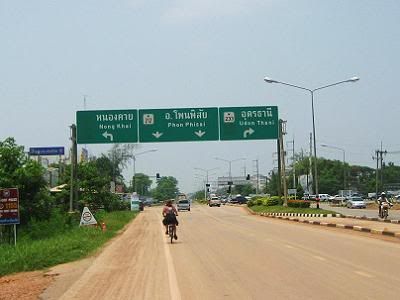 Note that Thais drive on the left.
Mut Mee's website lists several area cultural sites, such as the
Sculpture Park
and
various temples
in town, and several other site just outside of town, such as the
Phu Phra Bat Historical Park
We only managed to get to the Wat Lam Duan, a temple with an enormous Buddha atop overlooking the Mekong.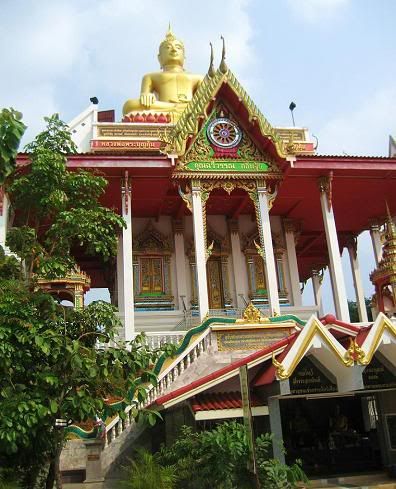 It can be seen from most of the town.
We were unable to go inside of the temple, but could walk around the outside and go all the way to the roof.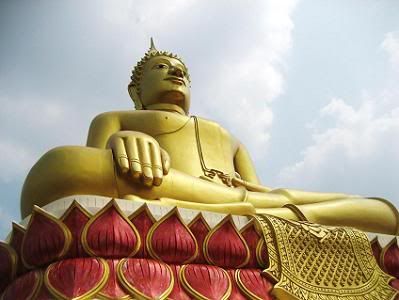 When visiting temples you must remove your shoes. The marble flooring on the roof had absorbed so much of the Summer afternoon sun making it particularly painful to snap this photo while in bare feet.
We went looking through the open air market for some baguette to go with our
Thai wine
for our overnight train trip back to Bankgkok.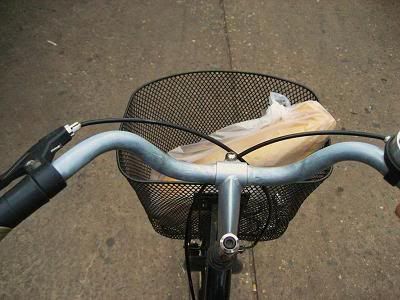 After finding it and putting it in my bike basket, I felt like a Frenchman for a few moments. Probably wasn't a good idea to snap this picture while riding.