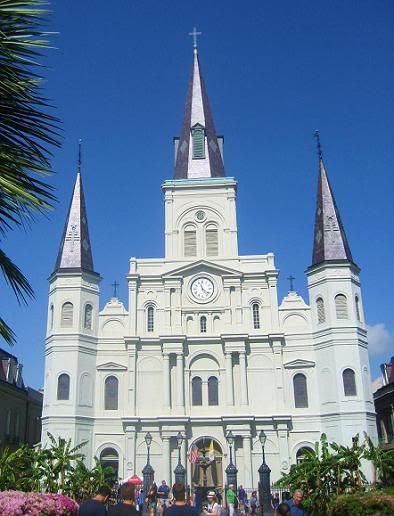 Do you know what it means to miss New Orleans? After my first trip there in 2001, my answer would have been a harsh and bitter
"No!"
. Though I had some great experiences there and met some very nice folks, one bad incident was enough to sour my opinion of the place. Short story: I'd gotten ripped off by some folks.
Marya fared far worse on her trip to New Orleans. After checking into her hostel, she came out to get her stuff from her truck, only to discover everything in it had been stolen. She hadn't even had a chance to see the French Quarter.
So, why were we willing to go back? Good question. But we're thankful we did. We met some great folks, saw some awesome jazz and dixieland, drank...a lot, and ate some fantastic food.
Now I am happy to say this song is no longer lost on me:
The city has quite a few pubs with semi-permanent pop-up restaurants in them. Pop-ups are a
business within a business
. They share the space of the pub, but ordering and paying for food is normally a separate transaction from ordering and paying for drinks.
Just outside the French Quarter are two fantastic fully vegan pop-ups. Many vegan-friendly pop-ups reside in the French Quarter, but it's definitely worth walking a few blocks outside the Quarter for the obvious reason: Vegan food made in a vegan restaurant by vegans is, of course, gonna be mo betta.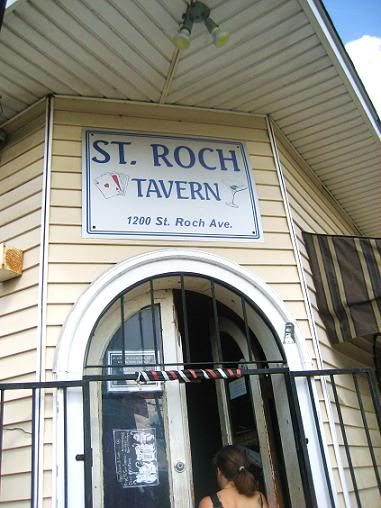 O! Vegasm (in the St. Roche Tavern)
1200 St Roch Ave, New Orleans, LA 70117
Phone: (504) 251-6270
O! Vegasm is the place I was most looking forward to going, and it exceeded expectations. The St. Roche Tavern, in which O! Vegasm is situated, is (saying this affectionately) a dive bar. And I love the dive bars.
Our first trip there was late one evening for a snack. We ordered sides of the fried pickles and their jambalaya, and got generous portions of both.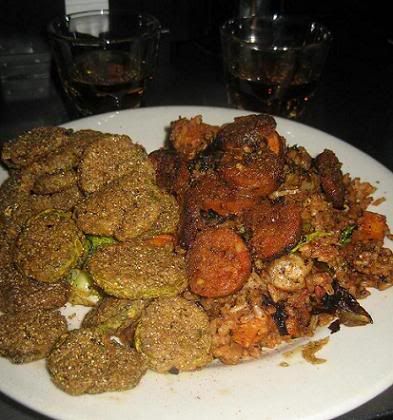 I'll say I wasn't crazy about the pickles, but I'm not much of a fan of deep fried breaded things. The jambalaya was awesome.
Our next trip there was for Sunday brunch.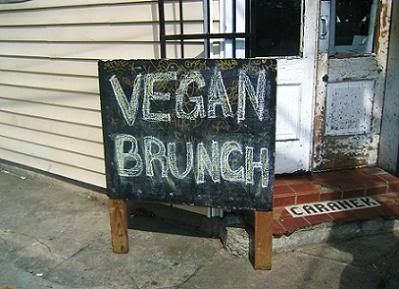 They had a fixed price brunch menu:
And the St. Roche Tavern had a vegan option for their bloody marys: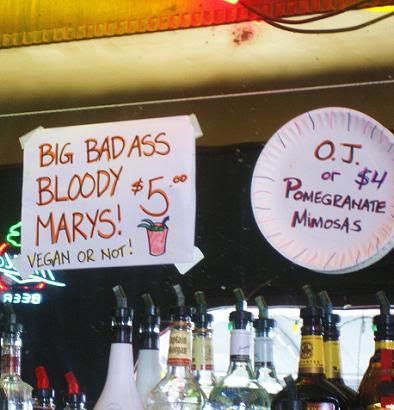 The only difference between a non-vegan and vegan bloody mary is that non-vegan bloody marys have worcestershire sauce that has anchovy in it. Vegan worcestershire sauces are widely available - many store brand versions leave out the anchovy.
All the bloody marys we had in New Orleans included pickled garnishes, but the St. Roche Tavern's were a work of art: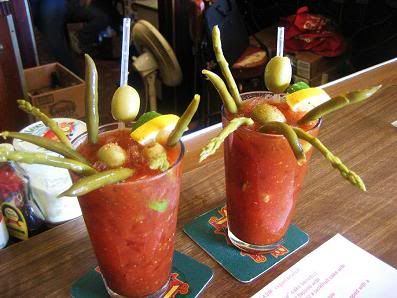 Seriously, have you ever seen such a beautiful bloody mary?
Our first of two dishes on the prix fixe meal was the jackfruit crabcake benedict: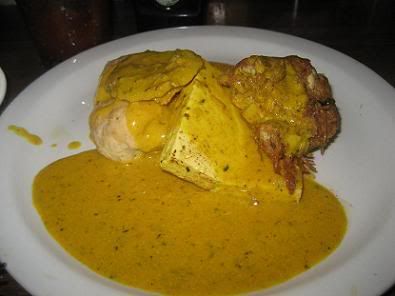 My only experiences with jackfruit had been in
Colorado
and in
Phnom Penh, Cambodia
, but this is the first time I've seen it used as an animal product substitute.
This dish had me do a double-take. I'm always skeptical of food being truly vegan, even in well known and respected vegan establishments, and this just had me...weirded out. Check out this close-up of the jackfruit "crab":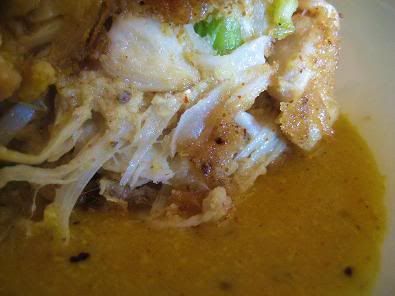 I would have never expected such an amazing dish in (I say this affectionately) a hole-in-the-wall dive bar off the beaten track.
Next up was the carrot pancake with walnuts and (vegan) cream cheese: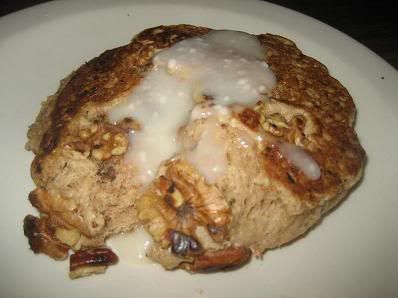 This was like a lovely dessert to the previous two courses (the bloody mary being the first course).
I'm sure O! Vegasm is a destination spot for vegans traveling to the Big Easy, and I'm guessing they're used to the influx of a lot of out-of-towners such as ourselves. I struck up a conversation with another couple there, and it turned out they're the proprietors of the vegan bed and breakfast
Red Robin Song Guest House
near Albany, New York. Nice folks! I'm a bit surprised they had time to take a vacation.
Note to self: Must consider trip to Red Robin Song.
Thanks to the miracle of
Happy Cow
, plus a reference from an old highschool friend Maria through the miracle of Facebook, we also visited the pop-up The Wandering Buddha in the pub/music hall
Hi-Ho Lounge.
The Wandering Buddha
2239 St Claude Ave, New Orleans, LA 70117
Phone: (504) 945-9428
As of this printing, The Wandering Buddha's schedule has them closed on Mondays and Thursdays.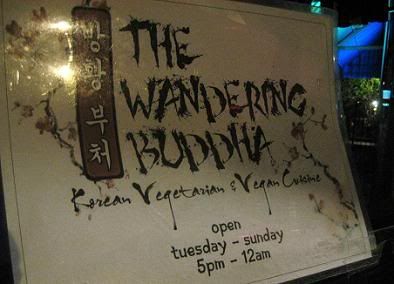 The Wandering Buddha wasn't at all what I expected. I expected a quiet little pub with a quiet Korean family behind the scenes cooking the food. Instead, it turned out to be a cavernous music hall with a band preparing to play that evening, and the proprietor of The Wandering Buddha being a tall blond with a spike style mohawk. Totally didn't see that coming.
I spoke with him a bit, and he mentioned that he helped O! Vegasm find their home in the St. Roche Tavern. He said that he'd been criticized for helping out potential competition, but he thought of it more as building the community and that, effectively, all (vegan) boats will rise.
So, as is the case with all strictly vegan places, we wanted to order everything on the menu. For me, it was particularly hard to narrow down the choices at The Wandering Buddha because I love the Asian food.
We started out with the Japchae: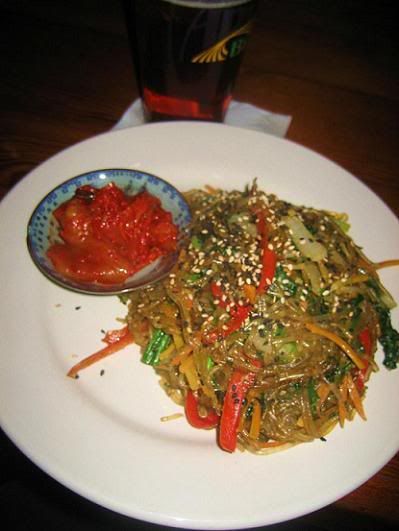 Sweet potato glass noodles with stir fried veggies, and a side of vegan kimchi. Like worcestershire sauce, the difference between kimchi being vegan and non-vegan is the anchovy content.
Next, we shared the dumplings with tofu, glass noodles, and veggies, accompanied with their proprietary dipping sauce: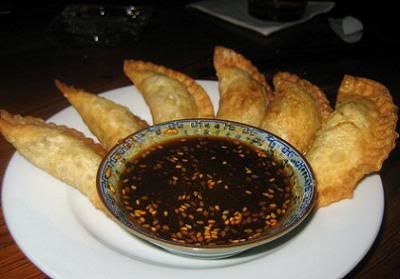 Next came the Ssambap, or lettuce wraps with rice, almonds, some other stir fried veggies, topped with a spicy sauce: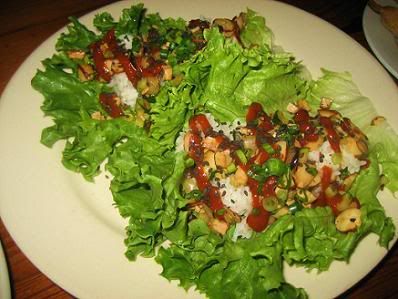 If I were to make just one improvement on this, it'd be that the wraps come with brown rice. But otherwise, spot on!
And for our big dish, we shared the Dubu Jorim.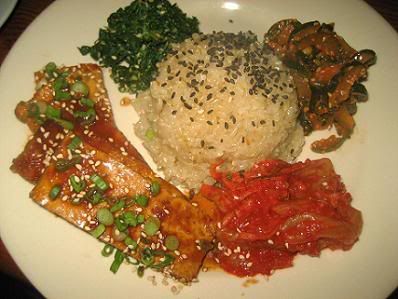 This had braised tofu in Korean sauce, rice, spinach, spicy cucumbers, and more kimchi. I'll say that I've had spicy cucumbers
in Korea
as well as several other Korean restaurants in the US, and didn't enjoy them as much as I did at The Wandering Buddha. The tofu was amazing, too.
Being serious food tourists, we needed to kill time between snacks. And naturally, we tended to gravitate towards bars. But we did some drinking that wasn't completely void of culture.
Absinthe is very much a part of the history of New Orleans, so, of course, we needed some. We chose
The Pirates Alley Cafe and Old Absinthe House
to stop in for a drink.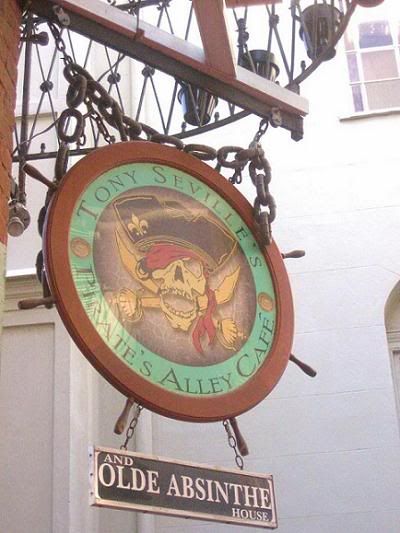 It was prepared traditionally by pouring absinthe over a sugar cube held in place by a special absinthe spoon. Then the sugar cube is lit on fire for a moment.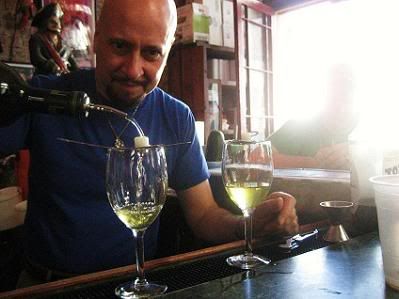 The flame of the sugar cube is doused by a slow trickle of water. I don't like much water in mine, btw.
On the North Eastern corner of the Quarter is the old US Mint that houses the
New Orleans Historical Jazz Park and Museum
. The museum seemed to only cover the history of
Preservation Hall
, but at the end of the tour was Louis Armstrong's first coronet: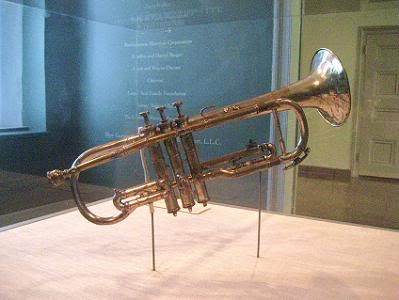 And this took me by surprise: the country's oldest gay bar is in Nawlins.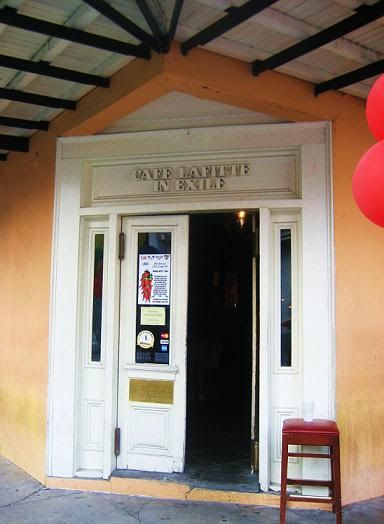 I say it took me by surprise because, you know, it's the South -n- all. But this is The French Quarter, so strong held notions of the South go out out the window.
Cafe Lafitte in Exile was originally at the Blacksmith Shop pub down the street, but was forced out to where it lives now at
901 Bourbon Street
. We were there during St. Patrick's Day weekend, and we borrowed Lafitte's balcony from which to watch one of the many St. Paddy's parades. And who wouldn't want to visit the oldest gay bar in the US while you've got the chance?