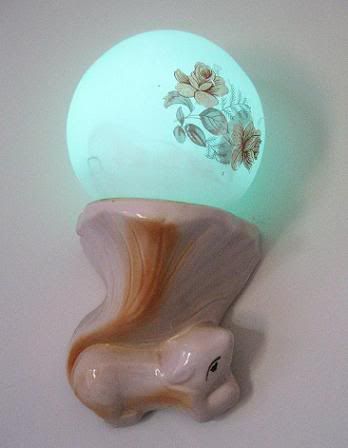 Back on
my March 14th post
, I announced a contest to help identify what creature this is in the photo above. When we stayed in Nha Trang, Vietnam, this was the light fixture above our bed. For the few days we spent there, I'd wake up every day wondering, "WTF is that?"
First Place:
Alexia:
I mean obviously as Pokemon came to be in this world, they evolved by migration from "west" to "east", this is a lower evolved form of Squirtle in the midst of making it from Vietnam to Japan. It looks like a typical squirrel; brown, cute, cheerful. As you take a closer look, it's tail has become semi-enlarged to where in it's true pokemon form will harden and curl in on itself. Many continue to speculate about the opaque "ball" that it carries on it's tail. Some hypothesize that the "ball" eventually engulfs the midsection of the partially mutated squirrel's body, akin to a hermit shell crab. Others believe that the light that is emitted from the "ball" gives the fully mutated squirtle it's pastel, gentle aquamarine hue. Thank you so much, Dr. Binklesworth for this rare picture of the mutation cycle of a Sciuridae to Zenigame.
I liked this entry as it is obvious Alexia did some serious research on the subject, the kind that requires more than just an internet connection. More like the kind of research that likely requires a library card, a tolerance for dusty index cards and crumbling old tomes on the subject, and perhaps a pith helmet and insect repellent.Second Place:
Marya:
It's a rabmunk!
The earliest entry and a very close second. A short but very accurate description of the beast, an animal straddling both the Leporidae and Sciuridae families. What will they think of next?Runner Up:
Steven P:
: It's clearly King Squirrel, Ruler of the Universe, gazing into the green orb of doom from the animated classic, Heavy Metal. How can anyone miss that?
This entry had me running to the YouTubes to watch a bit of the movie as it's been very many years since I'd seen the movie.Honorable Mention:
John B
: its a spore releasing a terd.... am I close..?? at least its a vegan turd..... ha ha ha...
Good effort, John. The only entry from a non-vegan.
Alexia, please email me your mailing address, and I'll have a vegan recipe book to you soon!
My address is:
burbank_spiffers@yahoo.com