Welcome to my 100th blog post!!!
For my 100th blog post, I'm going to hold a contest. Details at the bottom of the page.
Note: You can click on each image to see a larger version full size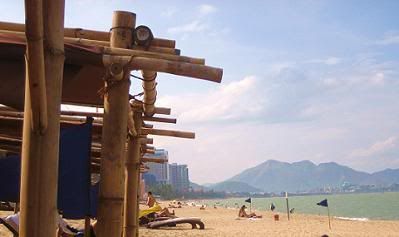 Marya is a serious beach fanatic, so when we were in Saigon, we decided to take a train up the coast to the beach town of Nha Trang.
The slow trains there made for a long trip, and I was getting quite peckish. A woman pushing a food trolley came down the aisle, and I figured there'd be no chance of being able to eat anything on it. As well, knowing only a few words of Vietnamese, none of which would be helpful in this situation, I was quite intimidated to even ask for the food and how much it would cost. I ended up summoning the courage, and with some pointing and other hand gestures, plus a lot of patience on the part of the food trolley lady, I managed to procure a tasty snack, shown below: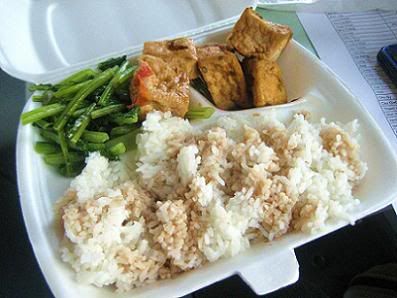 Sauteed morning glory, tofu, and rice with a squirt of soy sauce.
Once in Nha Trang, we ended up at the "Lonely Planet Southeast Asia on a Shoestring" staff pick for best hotel in the area: Pho Bien. We were not disappointed.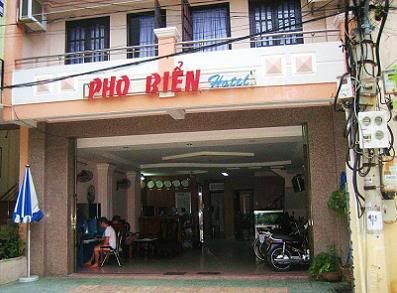 As you can see from this picture, the hotel lobby is also an internet cafe and scooter parking lot.
I'll say we really lucked out at this place. We got the best room in the hotel: on the top floor with a lovely patio and amazing view, for something in the area of $12/night. Plus, if you have them do your laundry, they'll conveniently dry it right there on your railing, 6 stories up.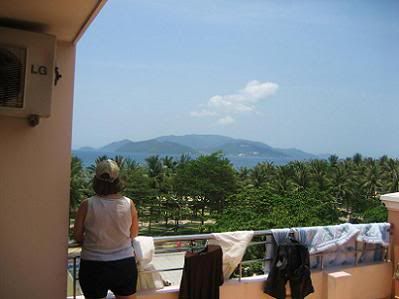 The next morning, when we were headed out, we spoke briefly with the manager of the place, and noticed she was eating a banh mi sandwich. She must have sensed we were eyeing her food, and suggested we patronize the little food cart where she got hers. "We couldn't", we said. "We don't eat meat." She informed us that the cart was all vegetarian.
"I don't know", I thought, "that sandwich seemed awfully meat heavy."
The manager pointed in the direction of the cart, and we set out to find it.
Here' a
map
of where the hotel is and where we found the cart.
I'll say, we were skeptical up until the point we got to the cart and saw the words "Chay" and "Vegetarian" stenciled on the thing. I almost cried.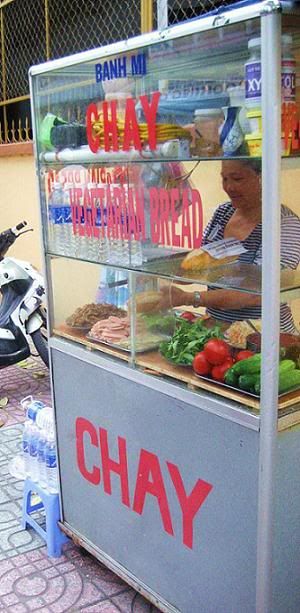 Banh mi
refers to the bread itself, but has come to be known as a Vietnamese sandwich served on baguette, typically with a few different slices of meat, tomato, basil, cilantro, cucumber, pickled vegetables, hot pepper sauce, and vinegar.
These sandwiches had all that, but were
vegan
.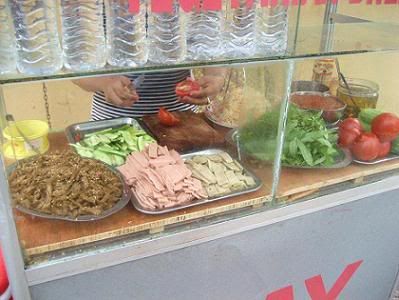 For the few days we spent in Nha Trang, it became our daily ritual. For lunch we would get a few banh mis, get some beer, and head to our roof to enjoy the view with the meal.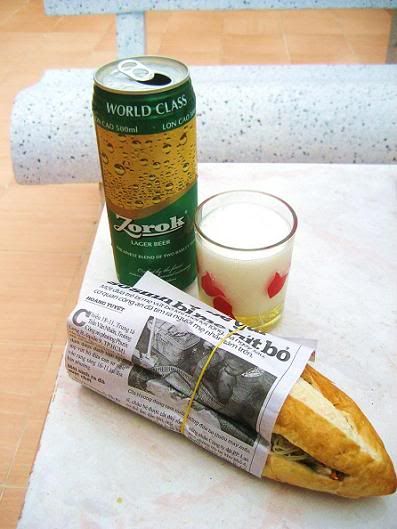 Over those few days we came to know the cart owner Thuy well, despite not being able to speak a common language. So thrilled were we with this discovery, we always tipped 100%. This was no big deal for us, of course. Each sandwich was 10,000 Vietnamese Dong, or $0.50US.
I was quite the
happy boy
. This was among the best food experiences of the trip. Though it's not all that uncommon in this part of the world, seeing someone taking a chance and selling vegetarian street food like that somehow gave me hope for the world.
This was the light fixture above the bed in our hotel. Anyone know what this is supposed to be?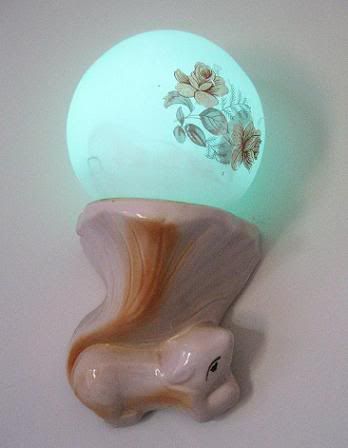 Most accurate, or at least the most creative answer will win a recipe book! Post your comments below!
The most obvious answer: "It's a light fixture, duh." will not be accepted.
Contest ends April 5th!!!