Note: You can click on each image to see a larger version full size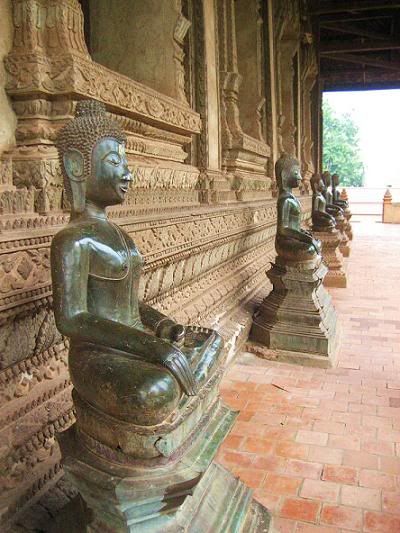 We had a lot of "bests" in Vientiane, the capitol of Laos. Best experience hiring a tuk-tuk for a tour of the city, best side-walk pop-up bar, best attack by swarm of some mysterious bug while at a roof-top restaurant overlooking the Mekong River. But not much in the way of mind-blowing food experiences. Thankfully we were able to find decent veggie food at most small family owned/operated and brightly lit little joints along Fa Ngum Street that runs downtown along the Mekong. Here's what we found on our first venture out: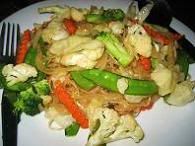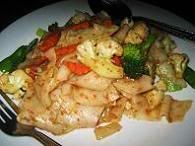 Stir fried thin rice noodles with veggies (left) and stir fried wide rice noodles with veggies and peanut sauce.
More fancier looking places didn't have much to offer us. At the fanciest place, when we ordered the spring rolls without chicken, we wondered what the meaty thing in them was that didn't seem to be tofu. They apparently assumed we wanted pork instead.
The morning we were leaving to cross over the
Friendship Bridge
back to Thailand, I was thrilled that we had happened upon Sabaidee Coffee when looking for a quick breakfast before our bus came.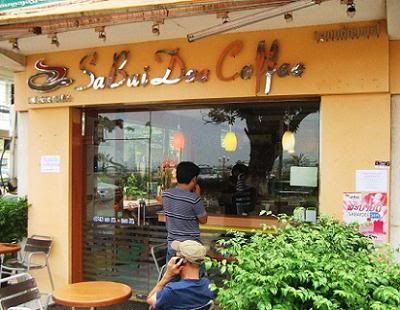 Here's a
map showing where it is
, located at the intersection of Francois Ngin and and Fa Ngum streets.
The place is strictly cafe/bakery/sandwich shop, but the fact that it had the word "Vegan" on the menu,
in English
, made my day. The place isn't vegetarian, but it had a good number of vegetarian and vegan options.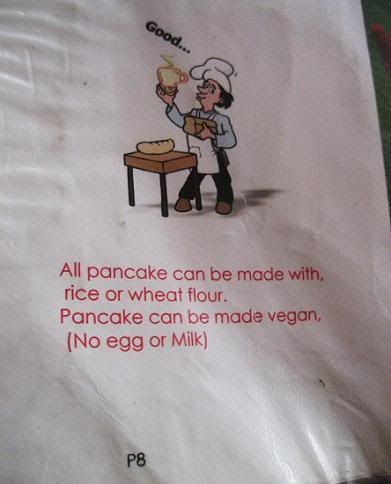 I loved the stock clip art used here. With use of the rice flour, it looks like they'd be able to make pancakes gluten free, too.
I got this lovely avocado and tofu sandwich: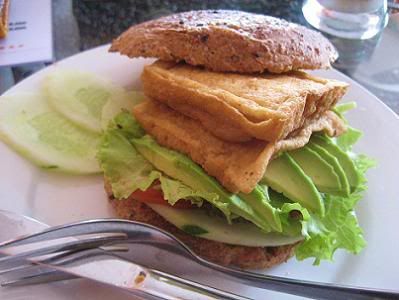 And Marya got this fruit and soy yogurt bowl and dragon fruit smoothy: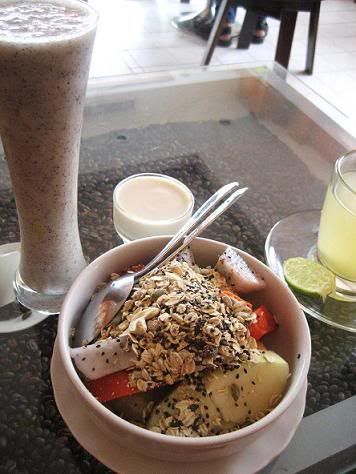 I was pleasantly surprised to see soy yogurt available anywhere in Southeast Asia. Some places that were otherwise completely vegan boasted making their own house-made yogurt from cows' milk. Once we didn't even get an explanation - we just got a little container of the stuff served with our vegan pho back in Saigon.
Though Sabaidee Coffee seemed somewhat a Westernized establishment, it was a welcome part of this leg of the journey, as for once in a long time we didn't have to ask so many questions about what was in the food.
The tuk-tuk driver we hired for half a day kindly waited for us as we toured the sites, bringing us to a total of 4 different historic places. You might find a tuk-tuk driver along Fa Ngum Street with a sign offering tours. Our guy was very nice and very honest.
The second place on the tour was the
Patuxai
, known for its resemblance to the Arc de Triomphe. The name Patuxai translates to "victory gateway".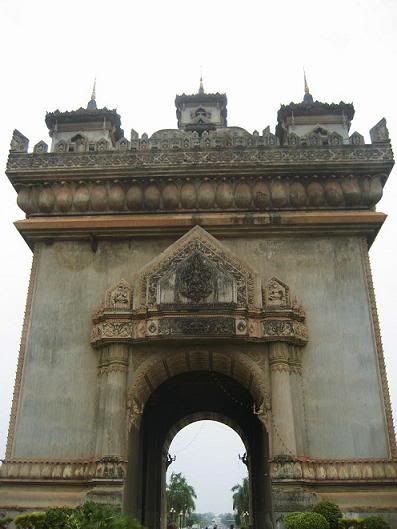 After the Vietnam War, the US gave the city funds to build a new airport. The government of Laos decided to make this monument with the funds instead, thus its nickname the
vertical runway
.
The third stop on the trip was to the Buddhist temple
Haw Phra Kaew
, pictured at the top of this post. The site of the temple is 450 years old, but the temple itself had been destroyed several times, having recently been rebuilt in 1920. It is the former home to the Emerald Buddha, having been seized in 1778 during the war with Siam (now Thailand). It now resides in Wat Phra Kaew (Temple of the Emerald Buddha) on the grounds of the Royal Palace in Bangkok, Thailand.
Haw Phra Kaew is across the street from Wat Si Saket, a two hundred year old temple at the intersection of Lan Xan and Setthathirat streets. Both were amazing.
And, of course, we went through our fair share of beer and more.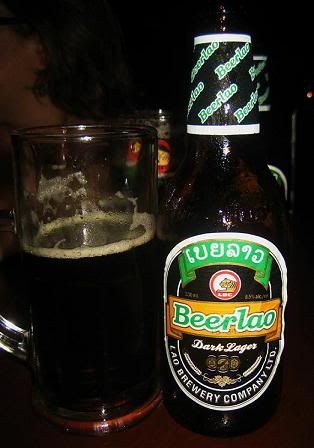 Like every other city we'd been to in Southeast Asia, there was never a shortage of beer. And they came in nicely sized 640 ml bottles.