A Visit to Restaurants Ngoc Tho and Thien Duyen Ben Thahn
Here's a map showing where both restaurants are.
---
Note: you can click on an image if you'd like to see it full size
---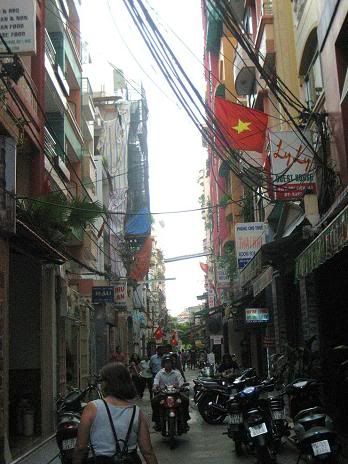 Ever since my girlfriend Marya and I became vegan, we've been serious food tourists. In every new city we go to, we want to experience all the lovely food available. Site seeing has become something to be done to kill time between meals. And when we're not site seeing, we're probably at a pub, drinking gallons of local beer while filling out post cards.
This was easy to do in Saigon, where vegan options were cheap and seemingly endless. Beer too was cheap and came in wondrously large bottles.
A few hours after eating at
An Lac Chay
, we were ready for some more local cuisine. We ended up at Ngoc Tho, just down the street from An Lac.
I didn't snap a picture of the front of the place, but here's one from a user at Happy Cow:
Click!
Note that they rent motorbikes (I don't recommend this).
Of course, the entire time we were in Saigon I'd gravitate towards pho. Though everyone generally makes the traditional beef broth for pho the same way, it's the Wild West when it comes to vegetarian pho broth, so it can differ quite a bit from place to place.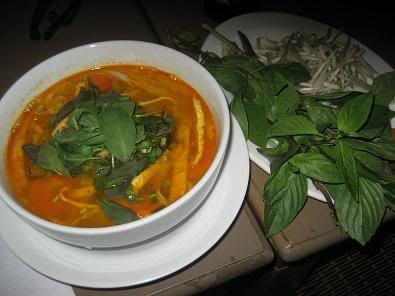 I liked the pho here at Ngoc Tho, but the pho at An Lac Chay was my first love.
As an appetizer, we got these awesome satay chicken wings.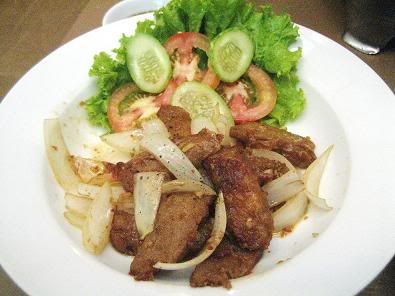 Marya got as her entree this seafood hotpot.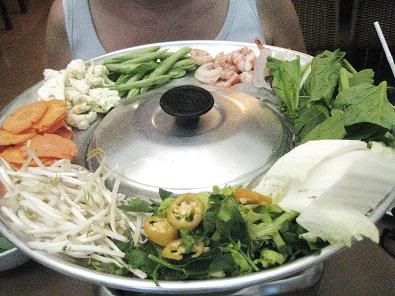 We were a bit shocked at the size of the thing.
It came with all sorts of veggies, vegan shrimp, and...
Seriously...
Vegan squid.
I can't begin to describe how hard it was to eat this thing. It took over 10 minutes to psych myself up for it.
Look at this thing.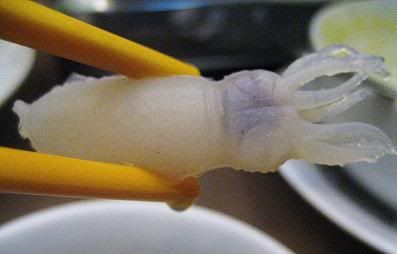 It was like eating a mini gummy
Cthulhu
. It was creepy. It even had a little red dot inside its head, as if to say "here's the brain in this otherwise translucent creature." Ick.
We were stuffed by the end of the meal, and were embarrassed to not be able to finish everything.
The tally
:
Chicken Wings Satay: &nbsp 35,000D
Seafood Hotpot: &nbsp &nbsp 75,000D
Pho: &nbsp &nbsp &nbsp &nbsp &nbsp &nbsp 25,000D
____________________________
&nbsp &nbsp &nbsp = &nbsp135,000D (US$6.75)
(doesn't include beer, and anyhow I lost count of how many we had)
Funny thing with the exchange rate: we were, for a few brief days, millionaires.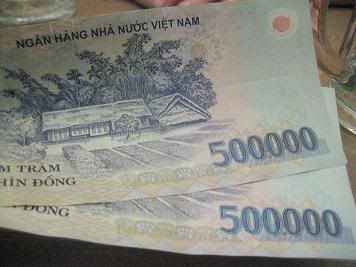 It was odd pulling two million or more Dong from a cash machine.
The next day we went to Thien Duyen Ben Thahn for lunch.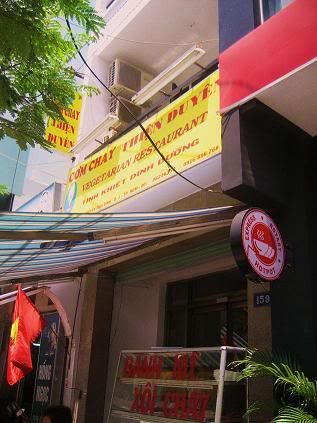 It's a few blocks up Pham Ngu Lao from Ngoc Tho, located at 159 Calmette Street (see
map
)
Once again: Pho!
They made gratuitous use of the
TVP slices
both to simulate sliced eye round in my pho and for Marya's sauteed beef with mushroom dish.
We shared this roaster chicken with dumplings.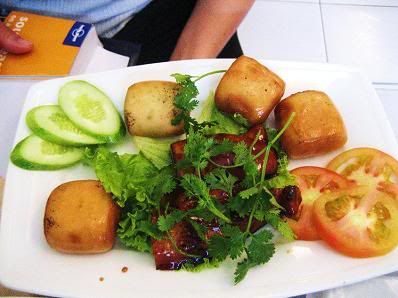 If you're from the deep south in the US, this isn't your grandmother's "chicken -n- dumplins".
Here's a closer look at the roaster chicken, slathered in some sort of barbeque sauce.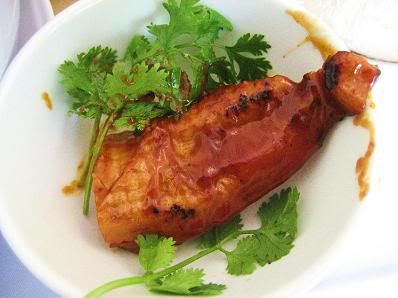 Sometimes they make it a little too realistic. Our
Lonely Planet guidebook
did say we'd find mock meat of the "I can't believe it's not meat" variety here in Saigon.
The damage
:
Roaster Chicken with Dumplings: &nbsp40,000D
Sauteed Beef with Mushroom: &nbsp&nbsp40,000D
Beef Pho: &nbsp&nbsp&nbsp&nbsp&nbsp&nbsp25,000
____________________________
&nbsp &nbsp &nbsp = &nbsp105,000D (US$5.25)
(doesn't include beer, which is priceless)
Among the things we did to kill time was visit the Reunification Palace.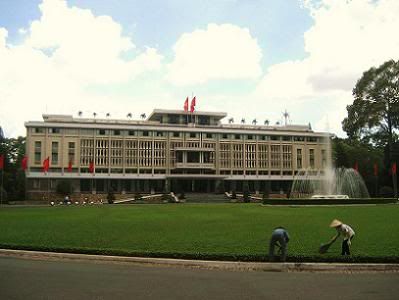 Built in 1966 as South Vietnam's Presidential Palace, taken over by the North Vietnamese on April 30th, 1975 when the tanks burst through the gates, signaling the end of the Vietnam War. The place inside was left just as it was in 1975, with cryptography, map, and typing pool rooms. Even the kitchen has the original equipment in it.
And here are the original tanks that pushed their way into the compound.