Note: You can click on each image to see it full size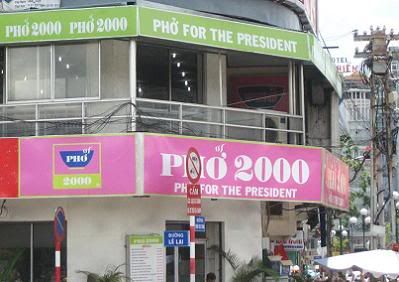 Pho is like crack, only tastier, and everyone who's ever heard of it either has a personal story to tell of their own addiction, or witnessed a loved one going through it. At the height of my addiction, I was eating two to three bowls a week. Then, two things happened: I moved away from easy access to pho, and became vegetarian (eventually to turn vegan). Though options for omnivorous pho are now popping up around me all the time, the vegetarian pho always seems like an afterthought in local pho houses as they're so lacking (there are some exceptions, which I'll write about soon).
So when planning our trip to Southeast Asia, among things I was most excited about was getting some pho at a purely vegetarian restaurant in Vietnam. So naturally, I was a kid in a candy store from the moment we stepped off the bus in Saigon. We weren't hurting for vegan options there. We didn't visit the place in the picture above, but I loved the message.
The first place we went was An Lac Chay in the Pham Ngu Lao area, District 1. We ended up making a second trip here. It's located near a huge cluster of inexpensive guest houses, and up the street from the bus stop where we were left off from our trip from Phnom Penh.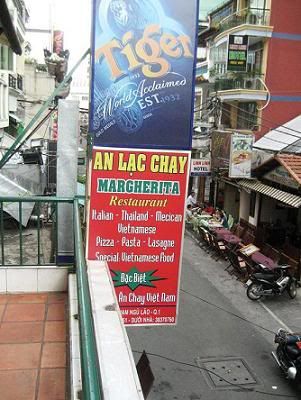 Here's a
map
showing roughly where it is. The address is 175/1 Pham Ngu Lao St (not actually on the main road), located just above Margherita, an Italian/Mexican place. Once you've found it, walk into Margherita and walk up the steps on the left.
We started with the pork skin rice paper rolls at 12,000 Dong ($0.60):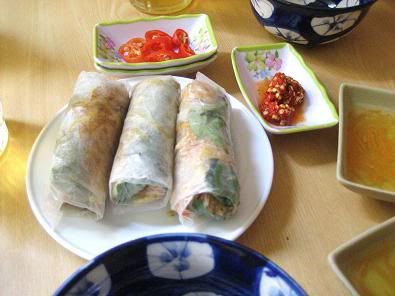 It came with way too many dip options.
And then, the moment I'd been waiting for, the pho: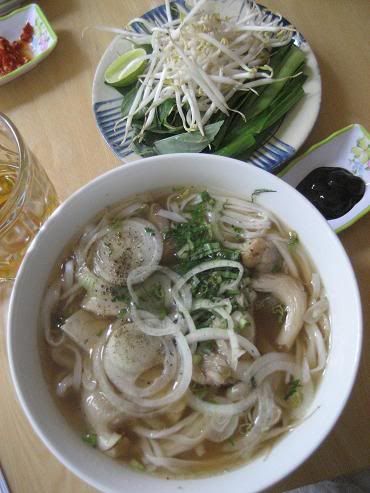 It was amazing. Unlike most pho places I've been to in the US, this dish came with several kinds of fake meat. The broth was just what I'd hoped it'd be. A dream come true for 25,000 Dong ($1.25), plus the price of a plane ticket to the far side of the planet and 9 bus rides.
At 30,000 Dong, Marya splurged and got the stewed Chinese mushrooms: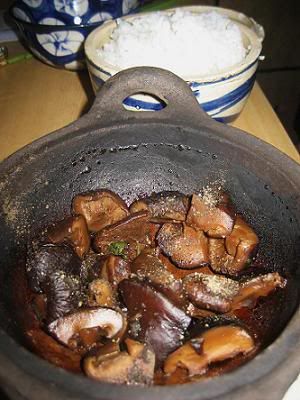 A lovely mixture of mushrooms served in a clay pot with a side of rice.
On our second trip, of course, I got more pho (not pictured). We also got this pork rib dish as an appetizer, though it's intended to be an entree: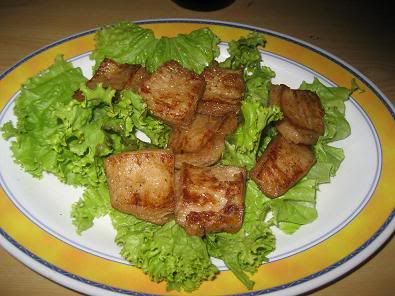 It was good, but just a tiny bit gummy.
Marya got this Lotus Salad (with fake ham):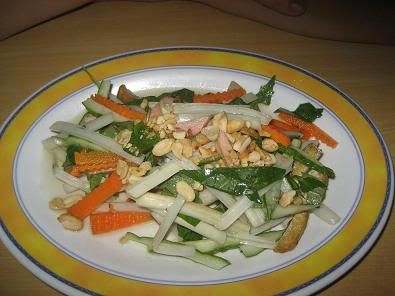 The area where we stayed in Saigon had many cavernous and winding alleys that seemed straight out of an Indiana Jones movie. We had fun exploring them. Adding to the adventure is that motos are always speeding through them. Here is one of my favorite alley pics I took when we were trying to navigate back to our guest house: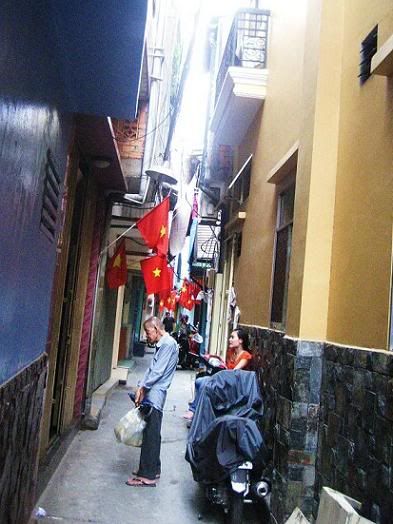 These trash cans were everywhere, in our guest house, our travel agent, and in many of the restaurants and bars: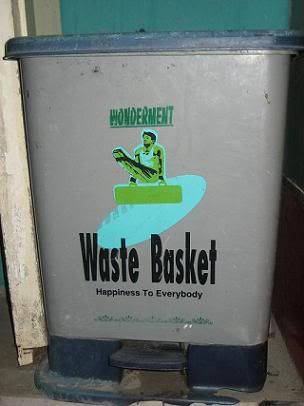 On each can was a different picture of a physical activity. I'm just in awe of the wonderment.
Happiness to Everyone!!!