Note you can click on most images to see them full-size
K'nyay
25K Suramarit Blvd, ST 268, Phnom Penh, Cambodia
K'nyay was quite a walk from our hostel, but we're glad we made the trip. It turned out to be a nice little secluded and, at the time we were there, quiet place down a short private drive. The food was quite unique, too.
To get there, walk East of the Independence Monument (pictured above) on Suramarit Blvd (Northern part of the circle), just beyond Street 19 and before you get to a park on the left, you'll see this sign below:
Down the driveway you'll see this sign: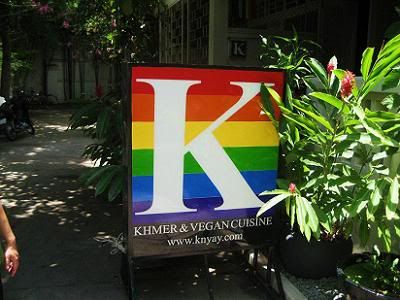 Yes, the background is a gay pride flag. I wondered for a moment if a developing country such as Cambodia is more gay friendly than a first world country such as the US.
The place is cozy. We loved the open air design of the place.
It has some pictures hanging up of pride parades and equality marches. It looked like they were gearing up for the Cambodia Pride 2011. They were selling Cambodia Pride t-shirts for $2. We should have gotten one for our cat sitter. Sorry, Kevin!
And here's the entree menu page: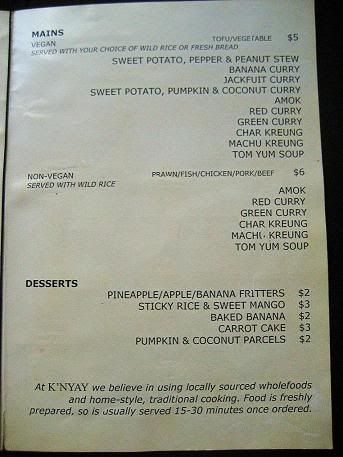 I love how there are two entree sections: Vegan and Non-Vegan, and that that the vegan entrees appear first. =8-)
We started out with this Roasted Pumpkin and Pear Salad: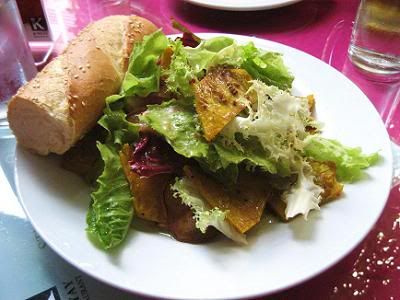 Marya had the Jackfruit Curry:
The only other place I recall having
jackfruit
was at
Tasty Harmony
in Ft. Collins, Colorado. The jackfruit curry came with a star anise pod, which we shared by pulling off the segments and chewing. We loved that the entrees came with black rice here at K'nyay.
And I had the Char Kreung Tofu: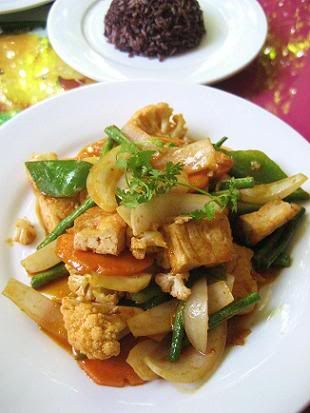 As far as I can tell, "char" means "stir fry" and "Kreung" is an ethnic minority in Cambodia. It had cauliflower and green beans. It was tasty, but I honestly could do without green beans being served in so many dishes. I can't recall if I put them aside or if I just choked them down.
And for dessert we had this lovely Sweet Sticky Rice with Mango: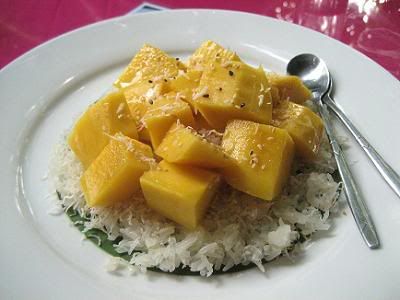 We loved this place. The food was delicious, staff was friendly, and the vibe was relaxed. We wished we had the time to return here for a second meal.
My notes for this stop read:
app - Roasted pumpkin + pear salad $4
Marya - Jackfruit curry $5
me - Char Kreung $5
dessert - mango + sweet sticky rice $4
Beer - priceless