Siem Reap, Cambodia is best known as the hopping off point to visit the country's most prized attraction: Angkor Wat (pictured above). Angkor Wat was a requisite stop on our whirlwind trip through Southeast Asia, so we (by "we" I mean Marya) did loads of research for places to eat in Siem Reap.
Thanks to the magic of
Happy Cow
we found the restaurant
Chamkar
.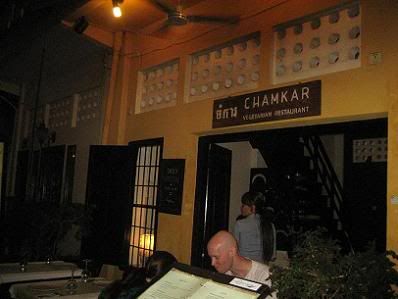 A word of warning: it was a bit difficult to find. It is in a fancy narrow pedestrian walkway off Pub Street called "The Passage", in the Old Market area.
The place is written up as a vegan friendly vegetarian restaurant, though I recall that the things on the menu we as vegans wouldn't eat were few. Click on the below two images to see the appetizer and entree listings.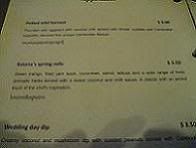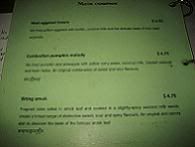 We started out with the Potted Wild Harvest dip. I was sold on the description of the dish: "Pounded wild eggplant with coconut milk served with Khmer crudites and Cambodian baguette."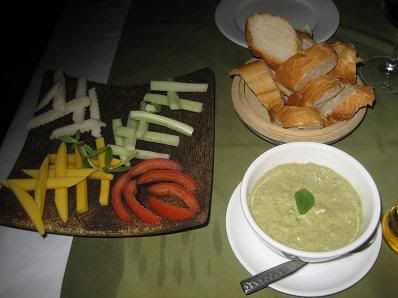 Eggplant is surely never something I expected to see found wild, and
how does one pound eggplant into a fine paste?
Aside from the fact that it was baked there, I'm not sure how the Cambodian baguette differed from any other baguette I've ever had.
Continuing with the eggplant theme, Marya selected the Mad Eggplant Lovers. The description is: Stir-fried grilled eggplant with loofa, coconut milk, and the delicate taste of holy basil.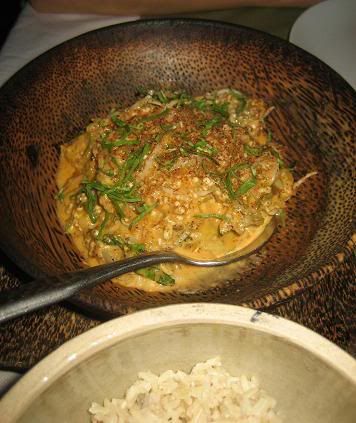 Images of Bill O'Reilly aside (ewwwwwwwww!), you might be thinking as we were, "Isn't loofa a sea creature?" Valid question, but it turns out it's a
huge land-based seed pod
. And we ate it.
I had the Biting Amok dish. It had four little cubes of rice wrapped in amok leaf in a spicy coconut sauce.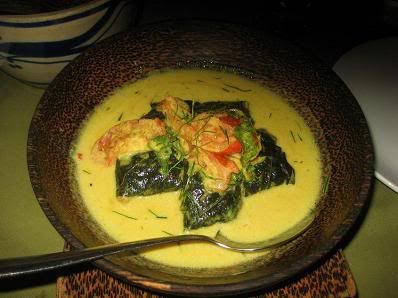 This dish isn't to be confused with Cambodia's national dish, Amok, which looks
like this
, served in a cabbage leaf, though it is more traditionally served in a banana leaf bowl.
All throughout Cambodia you'll see the image of Angkor Wat everywhere, from the country's flag to the country's most popular beer: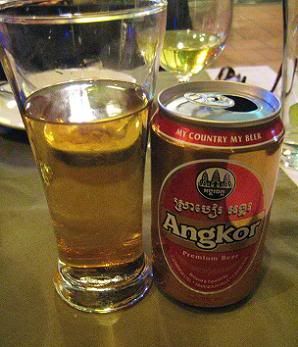 Below is our bill for Chamkar: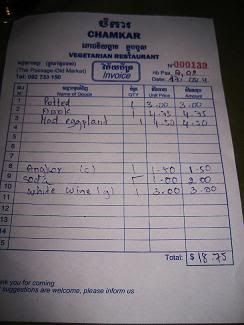 I know this is probably considered expensive by Cambodian standards, but $18.75 for fancy vegan food plus a beer, glass of wine, and two soda waters to me was pretty damned amazing to this American who's lucky to get a few beers for that amount in the States. We were very impressed with Chamkar. They certainly served the most unique dishes we had during our entire three week trip. And everything was so flavorful.
Another fun experience in Siem Reap was this place in the food stall section of the open air market Psar Chas.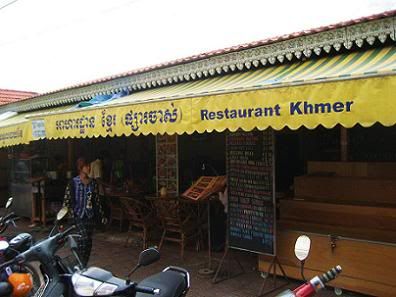 I don't know how much of the food was authentic Khmer, but it was good, especially considering the price.
Marya had an Angkor beer while I tried this Bayon.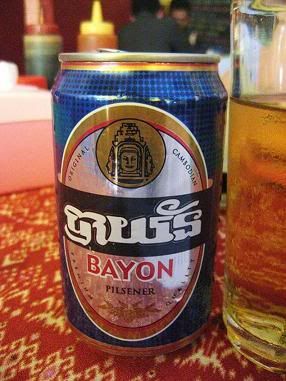 Yes, I realize this is not intended to be a blog about beer.
Bayon is the name of a temple in the ancient town near Angkor Wat called Angkor Thom. It was my favorite part of the Angkor Wat/Thom site-seeing.
So naturally I needed several of these to commemorate the occasion.
Craving noodles, I started out with this fried noodle dish.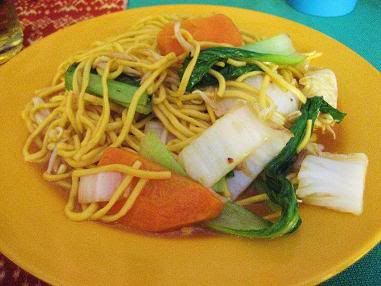 Nothing too exciting, but, at a buck, the price was right.
We'd seen stir-fried morning glory on so many menus we decided we had to finally try it.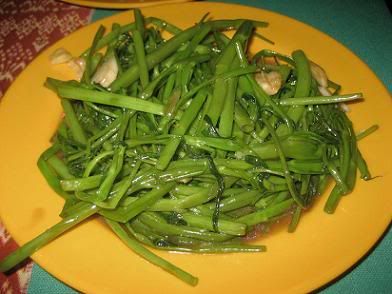 This particular kind of morning glory is also known as Chinese water spinach and swamp cabbage. It is illegal to grow in many states in the US because it quickly proliferates in waterways which could potentially threaten the habitat of fish. For this reason the USDA classifies it as a noxious weed.
Anyway, it was okay. Some of the reeds were a tiny bit tough, and such a big plate of the same vegetable gets old after the first 10 or so bites.
Marya got this lovely Khmer curry: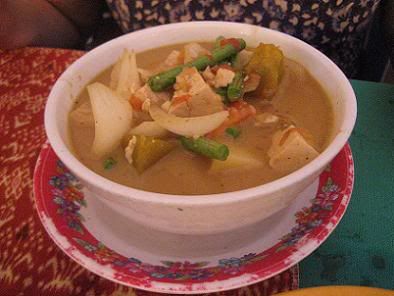 And here's the bill for all of that:
Yeah, eight fitty for some decent vittles and beer.
I'd like to say a word about our accommodations in Siem Reap, too. We stayed at the
Siem Reap Garden Inn
.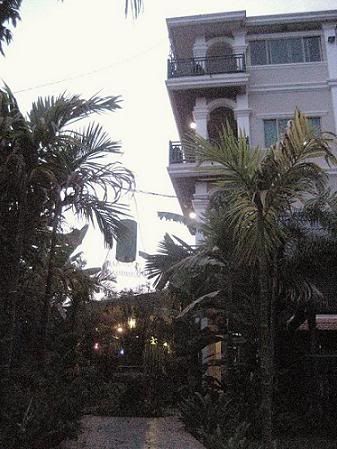 Everyone who worked there was very pleasant and the place is lovely. Without asking, they gave us the best room in the place, which was an affordable $15/night.
They have their own on-site tuk-tuk driver who, for a fee, will drive you to the sites at Angkor Wat, Angkor Thom, and other surrounding structures on half or full-day outings. They'll even take you there before sunrise to see the sun come over temples. This didn't work out for us as it was raining quite hard the morning we wanted to do this.
The Siem Reap Garden Inn is on a dirt road that's an easy 1/4 mile walk right into town. Highly recommend it.