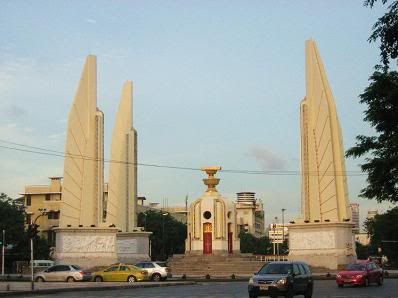 Thanks to the Lonely Planet "Southeast Asia on a Shoestring" guide we found this fun little vegan restaurant, just south of the Democracy Monument (pictured above) called
"Arawy"
. It's a good walk from Khao San Road. To see a map on how to get there, click
here
.
The address is 152 Thanon Din So.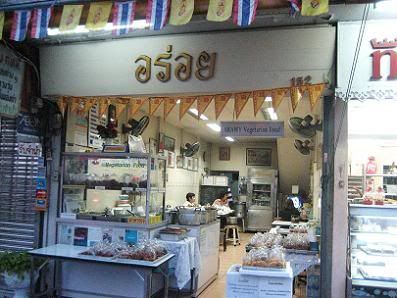 We walked in and were shown to a table by the owner with only hand gestures. We weren't given menus.
Marya went off to the lavatory while I stood up to snap these pictures of the food.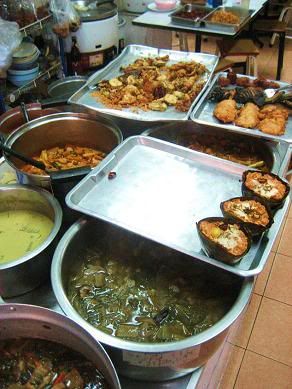 As I was taking the pictures, the owner started dishing out some of the various dishes, seemingly at random.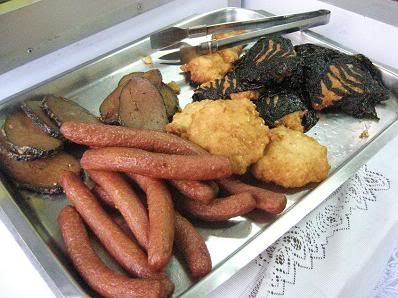 I thought at first it'd be better to wait until Marya got back so we could decide what we wanted, but I quickly concluded that it wouldn't matter. It was all vegan and we could share whatever we got, and the owner seemed keen on giving us a little of everything. Sadly, though, we have no idea what we were served.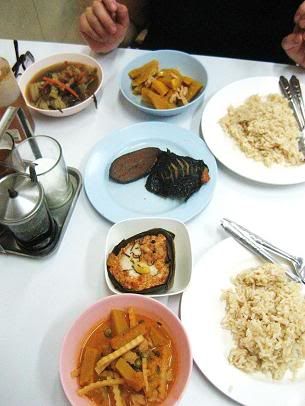 Here's what my notes said about our dinner that evening:
Dinner: May 15 Dinner: Arawy - pumpkin stuff, pumpkin soup, other soup, brown rice, tofu in banana leaf, fake meat, etc.

The owner asked us how we had heard of her place. We looked around and noticed no less than ten framed posters of the cover of each Lonely Planet Southeast Asia on a Shoestring guide that included her restaurant. We pulled out our guide and showed it to her. "Oh, I don't have that one", she said, noting that her wall was lacking the most recent edition.
I should add that the place does not serve alcohol. That was fine, as we could get that everywhere else. It was just neat to have an authentic vegan meal in Bangkok somewhat off the beaten path. I have no real clue as to what exactly we ate, but it was delicious all the same. That the owner was so friendly added to our experience that evening.
In complete contrast to Arawy is
Four Sons Inn
.
Despite the parenthetical name of the place, "A Friendly Place to Stay", they were far from kind. They did, however, have menus with extensive vegan options, plus cheap beer.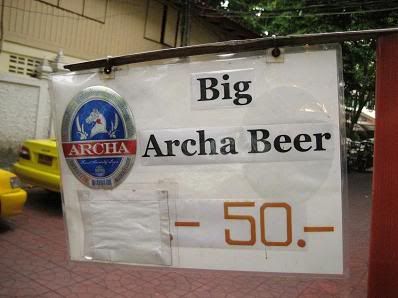 This liter sized 50 Baht beer is in the area of $1.70. I kept ordering beer from the hostess as our waitress was a little too aloof.
The place is located near the end of Soi Ram Buttri. Recycling from an older post,
click here to see a map that includes Four Sons
. It's where the upper left arrow is pointing "Stay Here".
Craving something somewhat spicy, I ordered the Kee Mao, also known as Drunken Noodle.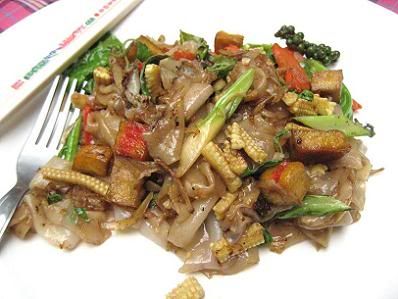 It wasn't too spicy, but closer to what I was looking for. It had wide rice noodles, spicy peppers, basil, tofu, bok choy, carrots, mini corn ears, and what looked like a sprig of peppercorns.
This little cat seemed to live there and was well known by many of the staff.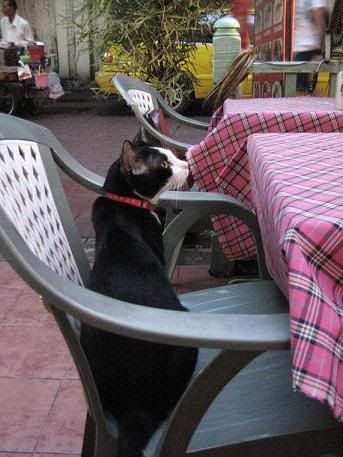 I got to give him a few head scritches.