Note: please click on each image to see it full-size in a new tab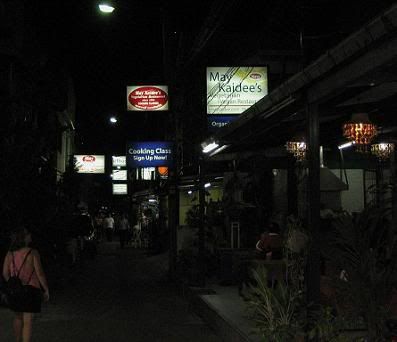 Not too far from the popular Bangkok backpacker destination Khao San Road is a side-street we called "Vegetarian Alley". There are 3 vegetarian restaurants and one that is vegetarian friendly.
To get to this alley, walk east on Khao San Road to the end (the end closest to this
annoying McDonald's statue
). Carefully cross Tanao Road at the crosswalk, then continue to head east in the alley called Soi Damnoeklang Nuea, the closest alley from the crosswalk, and take the first available left and continue. You're there!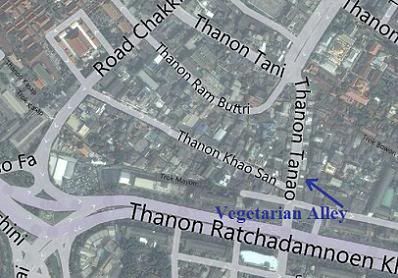 Worth a mention: if you were to continue on Damnoeklang Nuea for a block further, you'd come across the post office.
The first place we visited in the alley was
Ethos
.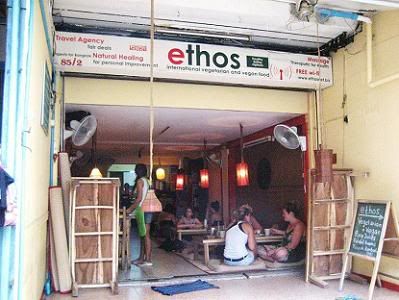 We really liked this place and ended up going there several times. It has a very "chill" atmosphere and they're very health positive. Note: They serve alcohol (which I see as a plus).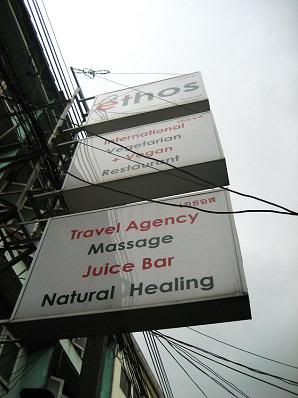 Ethos isn't completely vegan, but it seemed mostly vegan and the number of vegan options will have you looking at the menu a long time. They serve eggs and they make their own yogurt, but they also make their own tempeh!
For breakfast Marya had this fruit salad/muesli with coconut cream: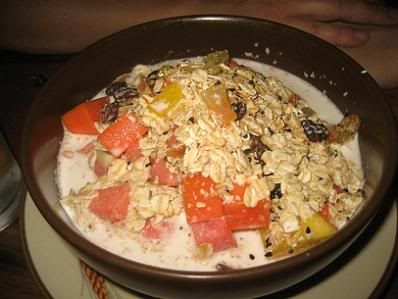 Side note: I'm really digging how so many places these days are offering coconut cream as a milk option.
And I had this gluten free multigrain pancake with mango and banana. It came with a little cup of coconut cream to pour over it.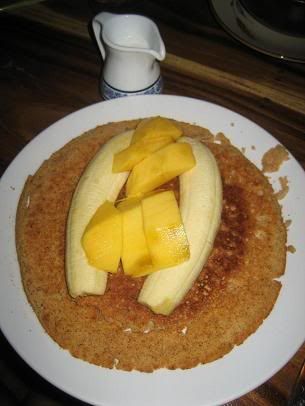 I'll say I wasn't crazy about how easily the thing fell apart, but it tasted quite good. Weeks later I was craving it.
And speaking of craving, I had been looking forward to a good plate of Kee Mao, known in the US as Drunken Noodle.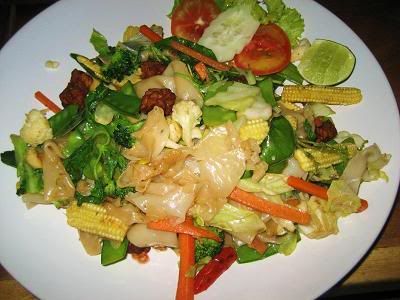 It's got wide rice noodles, tofu, some vegetables, and loads of heat. One nice thing about Ethos is that you can substitute their house-made tempeh for tofu in most cases, which I did. My complaint about this dish is that it wasn't hot enough for me. I thought I'd get the real Thai experience and be thankful they serve beer with which to hose down my mouth. But no such luck, they made it "tourist hot". Next time I'll know to ask for it spicier. I'll say, though, that in the US most Thai places add heat by adding red pepper flake. Ethos and many other places around Southeast Asia added the spice by adding slices of fresh hot pepper. I don't really feel right about complaining that they spiced the thing up with fresh vs. something dried and processed. Damned American palate.
Marya got the Panang Curry: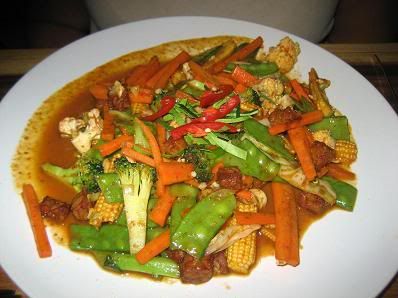 When she orders Panang Tofu in the US, it only comes with tofu and the curry sauce. It's delicious, but I avoid ordering it myself because I need a dish with some veggies. I was happy to see that Ethos serves theirs with loads of vegetables.
On another visit, we tried their fried tempeh: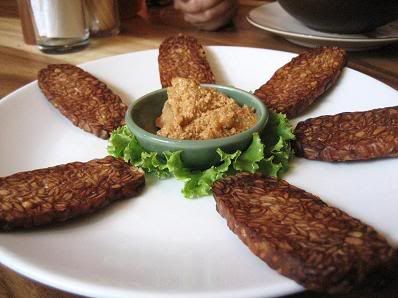 Impressive that they make the tempeh on premises.
Two days later we were back again for breakfast. This is when I really had the internal struggle trying to decide between the vegan gluten free pancake I had on my first visit and the tempeh burger. I opted for the burger.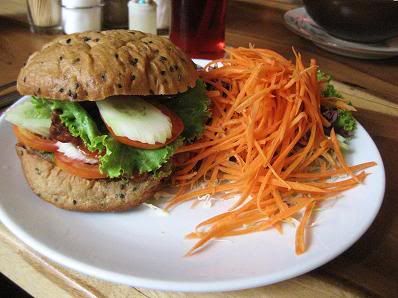 It came with hummus and a creamy mustard. No, not a traditional breakfast anywhere, but it was calling to me.
And here's a fun little gem Ethos has on their menu: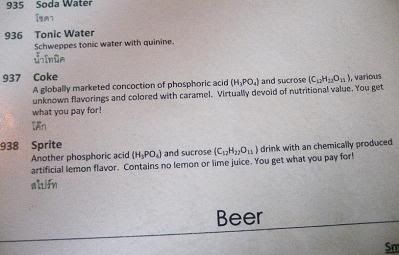 I like that they're down on the Coke and Sprite, but find it odd that they still serve it. At lease they don't give any such guff about the beer they serve.
Also in Vegetarian Alley is
May Kaidee's
Two of them, actually - practically across the street from one another.
Not sure why they went the Starbucks route. Anyway, we went to the one that seemed to have a tiny bit more atmosphere. Just like Ethos, they're not fully vegan as they serve milk products and house made yogurt. Overall, though, you're pretty safe ordering here w/out having to pepper them with questions about fish sauce and eggs.
You can see some awful photos of their menu here: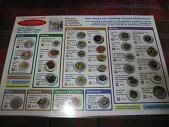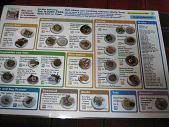 I had this lovely Tom Kha soup: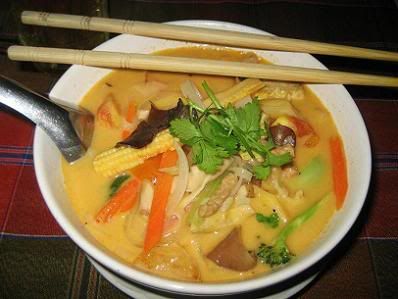 And Marya had the shitake mushroom glass noodle baked in olive oil: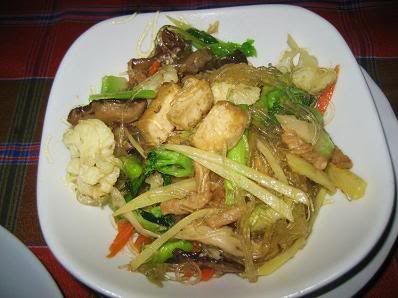 And after seeing their locally made sausage in a dish on the menu, I just
had to
try it. They allowed us to sample it on its own.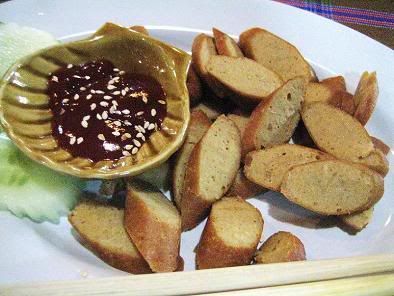 The thing was very much like a hotdog, and even came with a side of ketchup.
First time I've eaten a hotdog with chopsticks.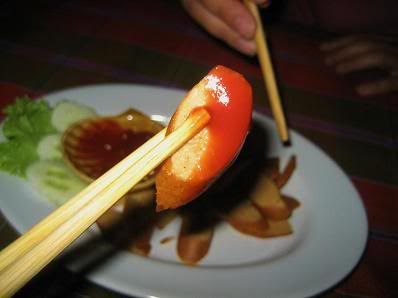 For dessert was this lovely black sticky rice with mango and pineapple, covered in coconut milk.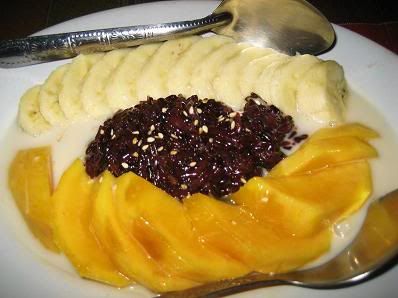 We hadn't eaten at this place, but it's on the same block: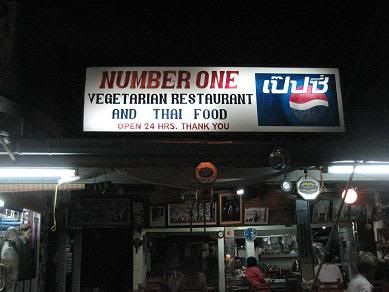 The place is not really vegetarian, but they do have a page or two of vegetarian options in their extensive menu. Not exactly honest to have Vegetarian as the first word in their parenthetical title.
And just for fun, here's a picture from one of the many temples we visited in Bangkok: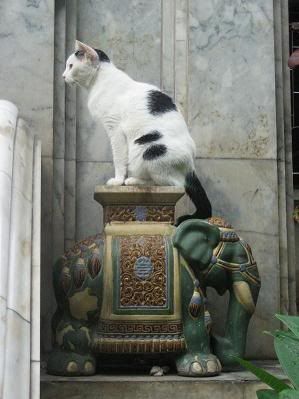 I waited 'til just the right time to capture this shot. Many cats were walking around the temples, and they seemed to be well cared for.