Note: Please click on each item to expand the image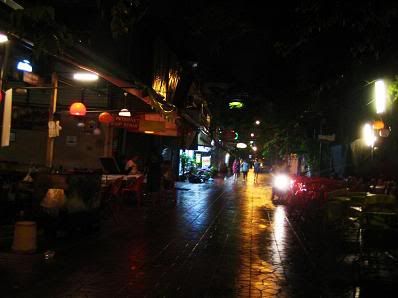 We've just returned from a backpack trip through Southeast Asia, beginning and ending in Bangkok. When we returned to Bangkok from our tour a few days in advance of our flight home, we were armed with knowledge from our stay when we first arrived, and were able to make some more informed decisions about where to stay.
Khao San Road (Thanon Khao San) has famously been called a backpacker's ghetto. It's a crazy street with lots of neon, noise, cheap trinkets, cheaper beer, and an annoying cavalcade of suit salesmen and
tuk-tuk
drivers with whom you must avoid all eye contact. We first stayed a block north on Thanon Rami Buttri, but soon discovered Soi Rami Buttri (Rami Buttri Alley), which is a less crowded version of Khao San Road with a more chill vibe.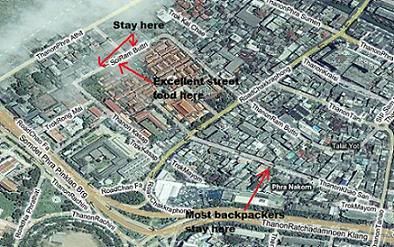 Our first night there we discovered fantastic street bars and food along Soi Rami Buttri, and it remained the highlight for us in Bangkok. When we returned to spend the remaining days of our trip in Bangkok, we stayed in a guest house on Soi Rami Buttri so we'd have quick access to a bathroom from the street bars. That's one thing the street bars are lacking, and something you'll inevitably need if guzzling down gallons of beer. Like we did.
Our first night we sat down at a street bar where the guy running it would happily bring us food from the next food stand over.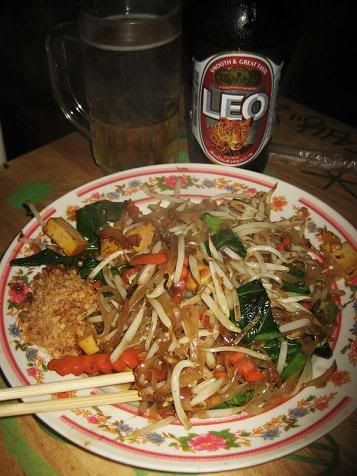 Pad Thai is the most common street food we came across. We liked that the default for pad thai is vegan, and you'd have to pay extra if you wanted egg or meat added. Here's a picture of the pad thai we got that evening. It was 30 Thai Baht - around US$1. It was the best pad thai I've ever had. Sadly, we never saw the woman who owned that food stall after that night.
There are loads of pad thai carts on Khao San Road, too, such as this one. A serving will cost between 20 and 30 Baht (US$0.66 to $1).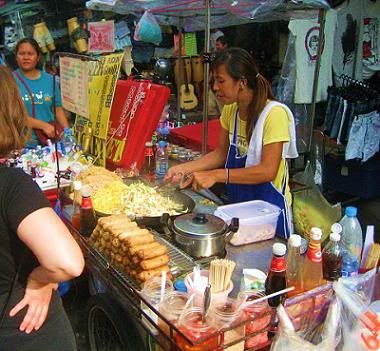 This one was as basic as it gets: noodles, cabbage, and bean sprouts stir fried. She had condiments on her stand to make it taste just right.
Be sure
to look over the ingredients on the cart! If you see a tin of pinkish-reddish looking flakes, make sure they don't add that to your dish. It's tiny shrimp. That happened to us at one particular cart (not the one pictured above), so please learn from our mistake. Also, from the same cart, even though we ordered it without meat or egg, I got a bite of pork. This is the issue you'll have with having the same pan used for every order.
This is a food stand we just happened upon.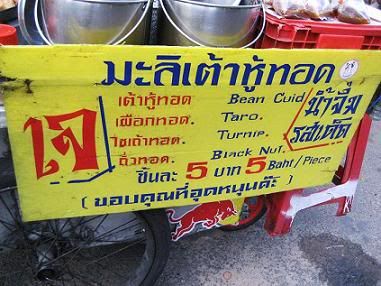 It was on the
northeast corner of Tani and Chakkraphong roads
.
We debated whether to try it because we couldn't be sure everything was vegan, and we were heading to dinner at a restaurant up the road. But we decided to give it a shot.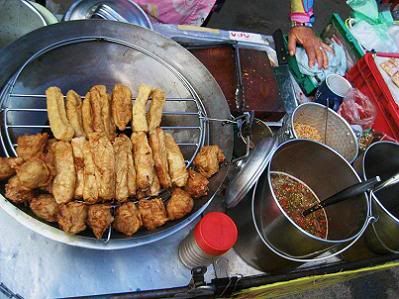 The sticks are of tofu, and the balls are taro.
Turns out it was fine. No fish sauce in it. I'm fish sauce detector as I have always hated fish, anyway, so it's a very foreign taste to me.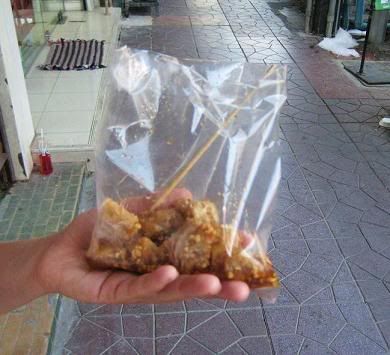 It comes served in a bag with two skewer sticks. Would figure on my first attempt at using the skewer, I not only got some tofu, I punched a hole in the bag and skewered my hand.
Don't know my own strength
.
Mr. Yim's Vegetarian food stand is along Soi Rami Buttri. On the map above, it's about where the arrow is pointing towards street food.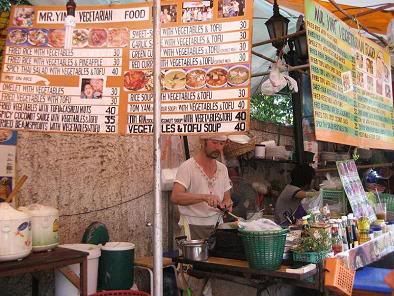 He does have an omelet on the menu and he makes yogurt for the stand two doors down from his, but his stand is mostly vegan.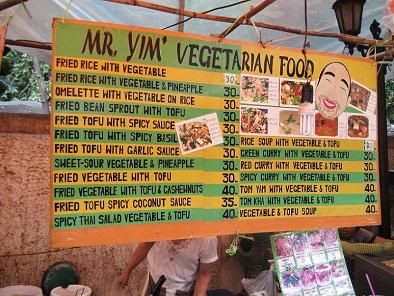 I should note that his stand opens early in the morning and closes at 10:00PM. He does most of the cooking during the entire time it's open.
We'd only been to Mr. Yim's once before doing a loop to 3 other countries in Southeast Asia, but this Red Curry was enough to set the bar very high for Marya.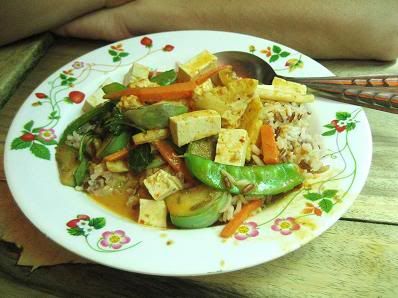 Throughout the rest of the trip after a meal, I'd ask Marya what she thought of her dish, and many times her response was "It's okay, but it's no Mr. Yim's".
Notice at the bottom of the picture there's what appears to be a tomatillo slice. We eventually figured out that it's a kind of eggplant.
And I got the Spicy Basil with Vegetables and Tofu: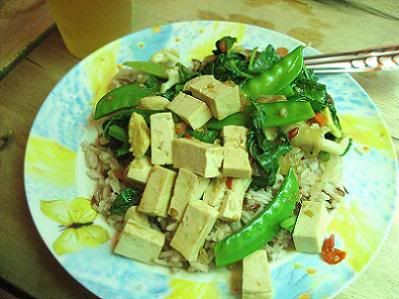 I'll say, no food was as spicy as I expected it to be. They significantly reduce the heat for foreigners, so you'd have to ask for it to be Thai-hot to get it as spicy as they'd eat it.
And I got the lucky kitten plate!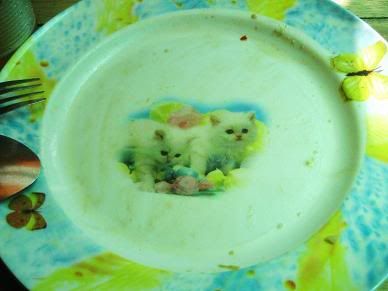 On our return to Bangkok we returned to Mr. Yim's at least once a day. Not pictured: Marya got another plate of the Red Curry. And I got this Stir Fried Vegetables with Tofu and Cashew Nuts: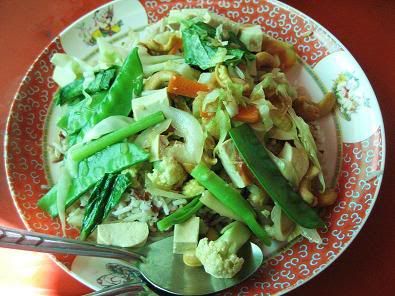 On another visit, I got this Tom Yam Soup (a.k.a. Tom Yum):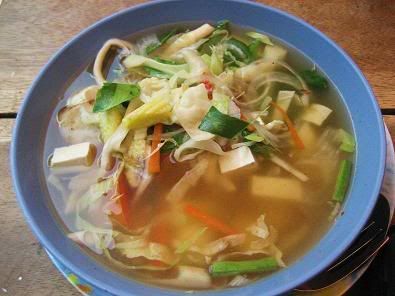 And underneath my bowl was, again, the lucky kitten plate!
And the last dish, perhaps my favorite of all the dishes I'd ordered from Mr. Yim's, was the Green Curry: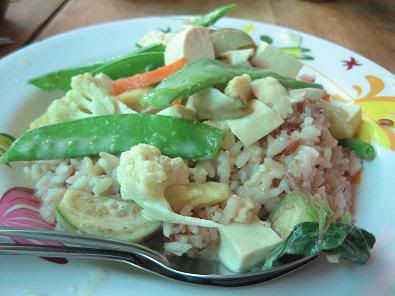 Worth a mention: towards the end of Soi Rami Buttri is this fun little bar made from an old VW microbus: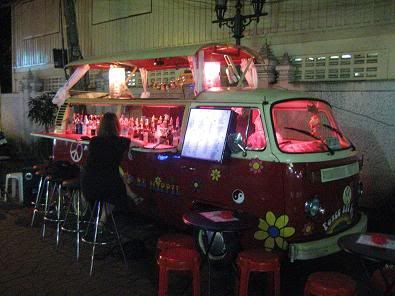 It's in a permanent spot towards the end of the alley, and is open in the evening. They have a great selection of knock-off liquors, including one of our favorites: rail black sambuca.
There is a custom in Thailand to greet and thank others using the wai. Typically, it's palms pressed together with fingertips around nose height, and bowing your head slightly while greeting or thanking.
Came across this on Khao San Road: just in case you needed another reason to hate McDonald's,...