Note: [control]-click on each image to expand it.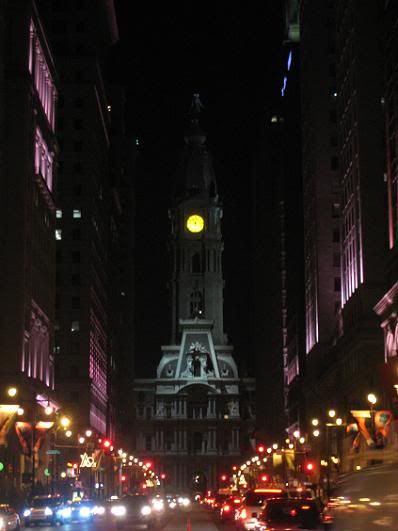 We loved Philly. We'd been discussing for weeks where we'd go when we finally got there. Chicken and waffles? Check. A totally vegan pizzeria? Definitely. Plus, a quest for the ultimate vegan Philly cheese steak.
Mi Lah Vegetarian
218 S 16th St.
Philadelphia, PA 19102
Phone: (215) 732-8888
Back in my non-vegan days, had I ever happened upon chicken and waffles, I probably would have kept moving. But as a vegan, the thought intrigued me. So we
had
to visit Mi Lah Vegetarian. Don't let the word "Vegetarian" in the name fool you - it's
all
vegan.
Mi Lah doesn't serve alcohol, but they are BYOB. I wondered if they'd allow us to bring our entire bloody mary kit and serve ourselves up a few.
When you're seated for brunch, they'll first serve you a lovely little plate of fruit: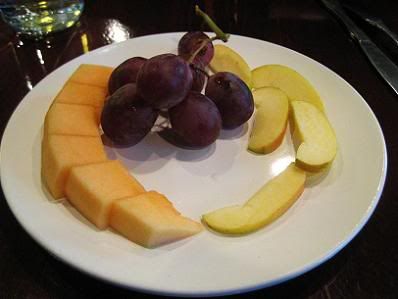 Click this image to see the brunch menu:
Here's their Yards beer battered seitan on Belgian waffles with fruit salad: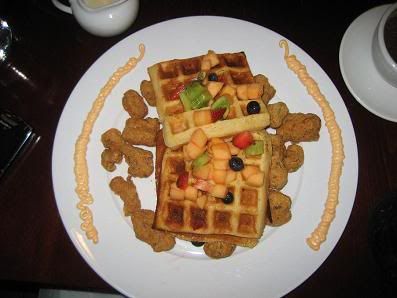 It was all I'd hoped it would be. I was impressed, particularly with the seitan.
Marya ordered the (deep breath) veggie sausage with avocado on oven-fresh biscuits with mushroom gravy with red bliss sweet potato home fries and bronzed coconut king mushroom: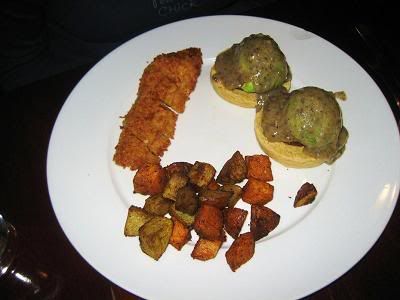 A unique and delicious twist on the traditional biscuits and gravy.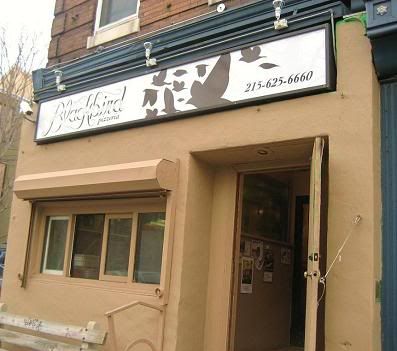 Blackbird Pizzeria
507 s 6th St.
Philadelphia, PA 19147
Phone: (215) 625-6660
Blackbird Pizzeria is all vegan pizzeria. You read that right. True, the words "vegan" and "pizzeria" aren't normally in the same sentence, let alone next to each other. Let's hope Blackbird is the first among scads more to change that.
Like Mi Lah, Blackbird doesn't serve alcohol. I'm not sure, however, if they allow BYOB.
Look at this amazing selection on their chalkboard: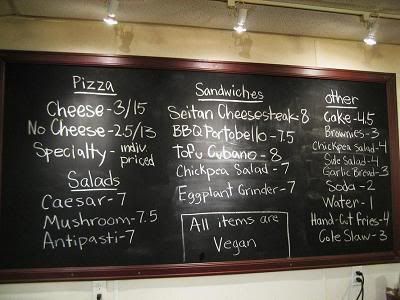 Okay, next time I've got to try the tofu cubano, or mayhaps the eggplant grinder.
I got some slices of what they had on hand. Can't recall what they were, but they were delicious.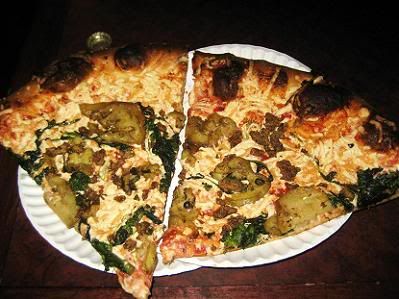 Click on this image and download the full sized pic and use it as wallpaper: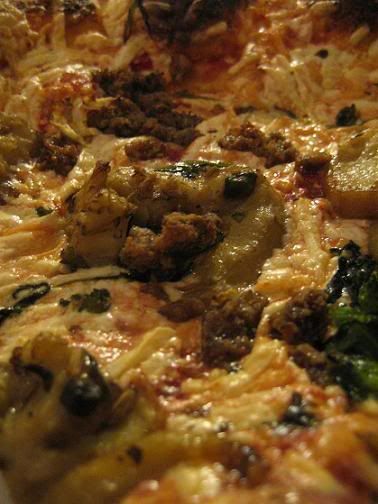 Marya got the Philly Cheese Steak, which exceeded expectations: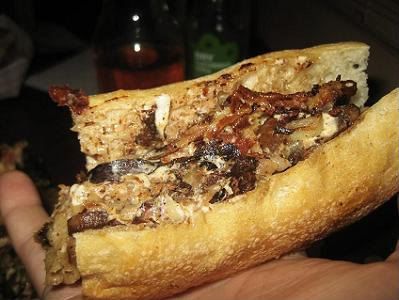 I spoke briefly to a guy behind the counter who said they'd just opened late last year and the business has really taken off. Cool.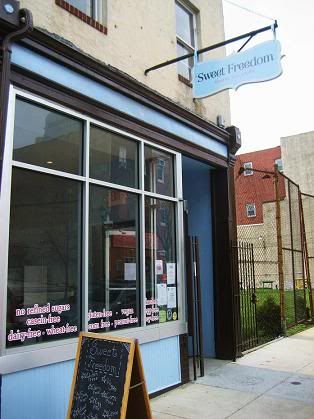 Sweet Freedom Bakery
1424 South St.
Philadelphia, PA 19146
Phone: (215) 545-1899
Going in knew Philadelphia was above average in vegan options, but we had no idea we'd just stumble across a totally vegan and gluten free bakery.
Sweet Freedom is not only vegan and gluten free, they're also soy, corn, peanut, and refined sugar free.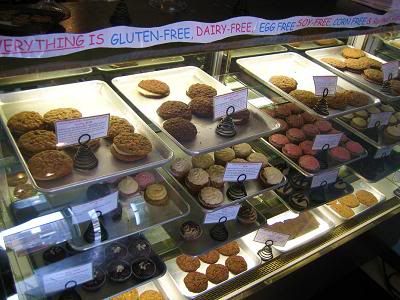 Nice to know there's a place where none of the ingredients are scary, unrecognizable, or sound like they were created in a lab by Dupont. Nice to not have to sacrifice health for taste.
We spoke to the folks a while, and walked out with an oatmeal raisin cookie with vanilla filling seen on the far left of the above picture (yes, we paid for it). It was fantastic.