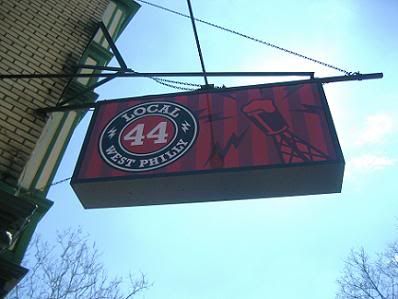 Local 44
4333 Spruce Street
Philadelphia, PA 19104
(at the corner of 44th & Spruce)
Phone: (215)222-BEER
From downtown Philly we took the 42 Bus up a few dozen blocks to go to Local 44 for brunch. The place is a beer bar with an amazing beer selection and a vegan friendly menu.
Don't let the pictures on their website fool you - the place was divey enough to make me happy. Our bartender was quite a nice guy who knew a lot about beer. I should add that I felt everyone we came across in Philly was very nice.
I got the seitan reuben:
I'm a sucker for reubens, and this one was just right, with sauerkraut and dressing on perfectly toasted rye.
Marya got the vegan breakfast special with tofu scramble, homefries, and toast: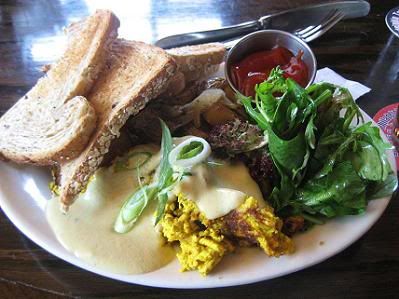 She added the Ro*Tel vegan Queso. Quite good!
And we've seen some crazy stuff veganized in our short time as vegans, but this has to be the oddest.
Vegan scrapple
: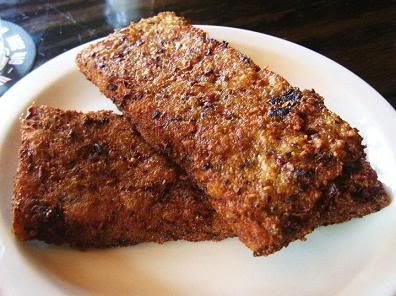 It's made with shitake mushrooms. I was surprised how it reminded me of the pork scrapple I had years ago. But, of course, pork scrapple is made from offal and not something you really want near your mouth. But the shitake scrapple is awesome.
And they make a bloody mary that pleased this harsh critic: