Whew! I've not had a lot of time to blog much these days. I've got quite the backlog of stuff I've got to blog about.
Philly is amazing! Vegan options galore! We recently traveled there for the annual Green Carpet Gala hosted by the
Peace Advocacy Network
. They're a great organization, and we looked at attending their gala as an opportunity to support them and finally check out all the vegan places in Philly we've only read about.
Our first stop was at the famed fine dining vegan restaurant, Horizons.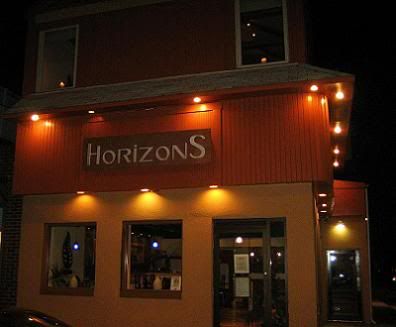 Horizons
611 S. 7th Street
Philadelphia, PA 19147
Phone: (215) 923-6117
As usual, we're overwhelmed by the fact that we could eat everything on the menu. We did what we could. We started by ordering two appetizers to share. I should add that they've got a very nice wine selection with something to pair with anything on the menu.
Marya selected this portobella carpaccio with salsa rustica and croustini: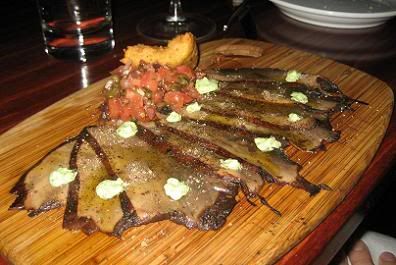 And I ordered the ramen bowl with bok choy and pho broth. They had me at pho.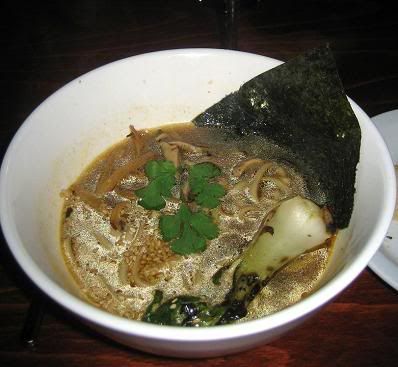 Then, Marya had this pan-seared tofu with a mushroom and brussel sprout sauce: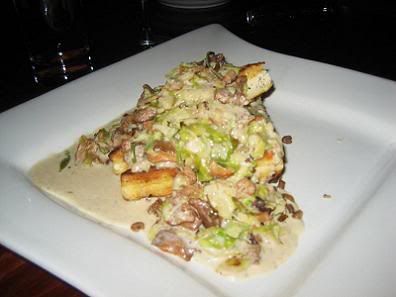 This isn't on their menu anymore, btw, but they appear to always have an entree featuring pan-seared tofu.
And I got this mushroom reuben: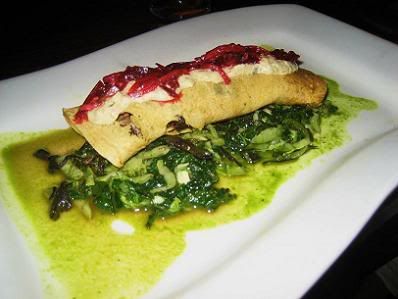 Can't say it tasted a great deal like a reuben, but it disappeared quickly all the same.
For dessert I ordered the apricot crisp cheesecake: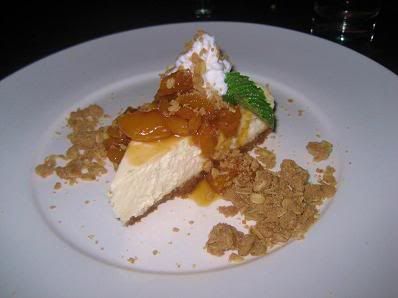 Yes, it's vegan!!!
And Marya ordered this (Yes, this is vegan too!!!) crème brûlée: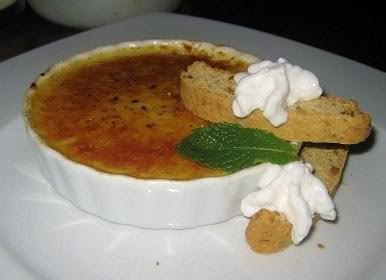 I noticed on their drink menu a cocktail featuring two beverages from the local distillery, so I
had
to order it: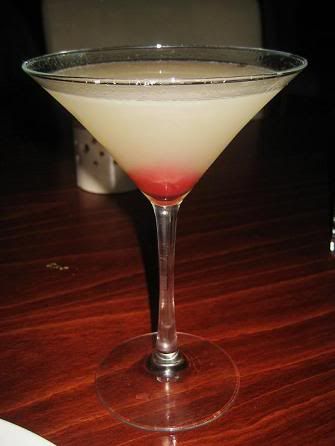 This was the "Corpse Reviver" featuring
Blue Coat Gin
and
Vieux Carré Absinthe
from
Philadelphia Distilling
. After drinking it, I felt strangely anything but revived. But I did enjoy it.
Their menu changes with the seasons, so many of the above dishes aren't available anymore. At last check the carpaccio and the ramen are still available. The cheesecakes are ever evolving, as is the crème brûlée. We'll certainly make a point to go to Horizons every time we're in town.
More posts on Philly to come!