Astor Mediterranean
1829 Columbia Rd NW
Washington DC 20009
Phone: (202) 745-7495
Astor Mediterranean is a nothin' fancy little (and alcohol free) eatery in Adams Morgan, DC that features dishes from all around the Mediterranean. They have a second location in
Arlington, Virginia
, that has outdoor seating and...more importantly, beer and wine.
Though they serve the traditional meaty Mediterranean fare such as lamb, gyro, kabobs, and such, they have plenty of clearly marked vegetarian and vegan items on their menu. Their menu even warns that tzatziki contains dairy and that their grilled items may be cooked in butter.
Most of the items in this case are vegan, and I wanted to try them all: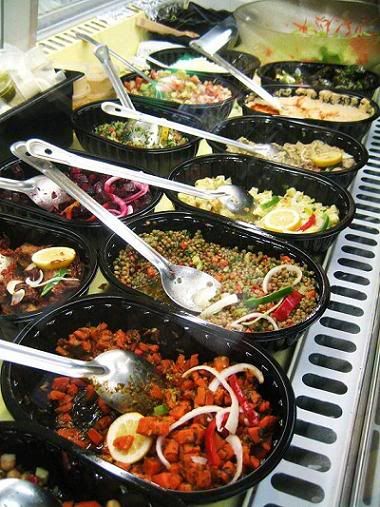 Luckily, Marya ordered the Astor Vegetarian Sampler - minus the cheese-filled spinach pie, and I got to try a bit of each: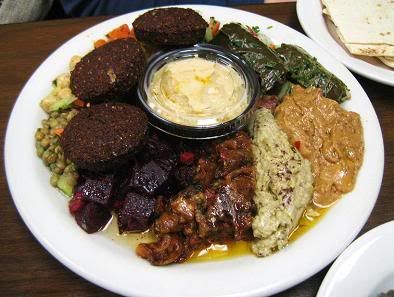 I'm clearly lacking in the photography department - I feel a real food photographer would have thought to remove the top of the hummus container in the center of the plate. The other items are, going clockwise from the top: falafel resting on top of some sort of carrot salad, Egyptian salad (tomato, cucumber, cilantro, spices - also under the falafel), stuffed grape leaves, fava bean dip, baba ganoush, an eggplant dish, beet salad, lentil salad, and chickpea salad. Somewhere in there is a sample of tabouli.
My favorite was the eggplant. Funny how I used to hate eggplant years ago.
And spanning opposite ends of the Mediterranean, I ordered the Egyptian Pizza, in honor of the new democracy in Egypt.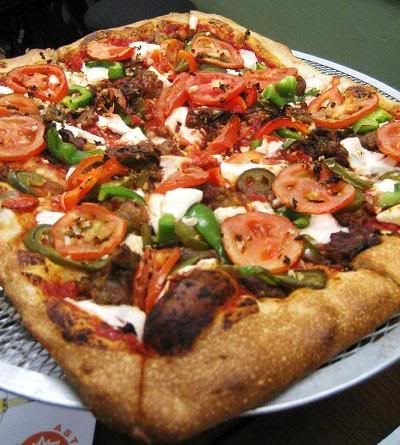 Astor is known among vegans for their tasty pizza, prepared with a square-cut crust. This pizza comes with eggplant, green pepper, garlic, jalapeno, tomatoes, tomato sauce, mozzarella, and feta cheese. Despite their menu noting that soy cheese is a $1.50 extra topping, they replaced both cheeses with soy cheese at no extra charge.
I'm guessing the eggplant on my pizza was the same spicy mix Mary had cold on her platter. Also, their crust has some sort of seed in it. It tasted like fennel, but they insisted it was cumin seed. Regardless, it was a nice touch.
It was quite good, and I managed to finish it off. Only a carafe of red wine and a bottle of hot sauce would have made it better.