Happy St. Paddy's Day!
Marya found this great recipe on the blog
Fat Free Vegan
, and I just
had
to try it for St. Patrick's Day.
You'll find the recipes here
for both the coddle and the sausages.
First I made the sausages.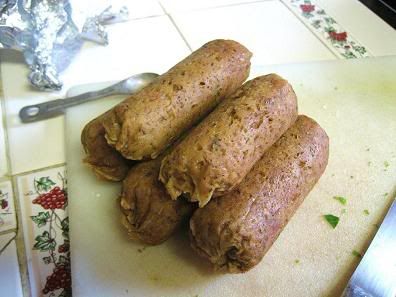 I didn't realize until I was wrapping up the sausage mixture in the aluminum foil that the recipe didn't call for any oil. I will confess to panicking a bit because I was concerned that the the sausage would stick to the foil. Then I remembered the source of the recipe -
Fat Free
Vegan. So I took what felt like a leap of faith and continued to wrap the sausages, then steamed them. They came out better than most sausages I've made, so I was both relieved and impressed.
Next, I stacked in a Dutch oven: a layer of potatoes, then onions, then the sausage, then more potatoes, topping off with more onions. The stack ends up being high, and only a cup and a half of liquid goes in. The result is, as this
Wikipedia entry
mentions, it is semi-boiled and semi-steamed.
It was delicious!