Great Sage
5809 Clarksville Square Drive
Clarksville, MD 21029
Phone: (443) 535-9400
Great Sage is one of those rare places that seem to do everything right. Everything is sustainable, organic, fair trade, and they source as much as they can from local farms. They opened their doors in 2004 as a vegetarian restaurant, and not too long ago quietly moved from a vegan-friendly vegetarian menu to fully vegan.
We've been there maybe 4-5 times. For us car-less folk, it's not easy to get to. Usually, we'll rent a car. Once we took all public transportation: Metro, 2 buses to a hotel where we stayed the weekend, then took a cab to Great Sage. We had dinner there, took a cab back to the hotel, then a cab back for brunch the next day.
We keep telling them they've got to open something closer to DC!
Seriously - the place always seems busy, and they're way out there. Just
imagine
how they'd do in the city. As it is, they're maybe 20 miles from us, around 15 miles north of DC.
Anyway, we started off with this pretzel. On the menu it is called a Giant Bavarian Pretzel. When I saw the thing, I had to bring to our waiter's attention that this was far from
giant
. "False advertising", he said. I appreciated the honesty, at least.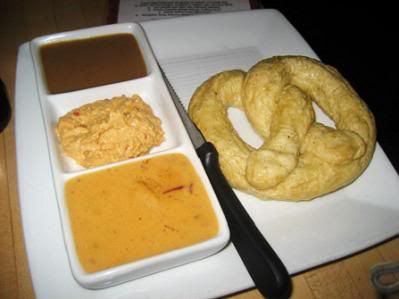 It came with dijon 'honey' mustard, Thai chili hummus, and chili cheddar cheese - all very good. I was amazed at how much the 'honey' dijon tasted like honey - wonder how they pulled that off.
For the record,
this is what I consider to be a giant pretzel
(thank you Yahoo! image search).
For my entree I chose the porcini and black truffle rigatoni, with spinach, artichoke, 'parmesan', tomato sauce, and a trail of garlic and parsley olive oil for effect:
Very tasty. There's a gluten free version of this available, too. I should mention that the place is quite gluten-free friendly, and on Wednesdays they have gluten-free specials.
Marya had the Maryland artichoke 'crab' cake with grilled asparagus and Lyonnaise fingerling potatoes:
As Marya noted, vegan crab cakes seem all the rage these days, as we've seen them several other places recently. I had to look up what Lyonnaise potatoes are. My hunch was correct - it's potatoes sauteed in a
style originating in Lyon, France
.
For dessert Marya had the strawberry tart with agave-vanilla crème fraiche (can you tell I cut and pasted that description from their website?):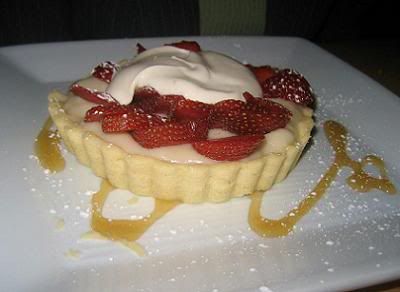 Not sure why they call these things tarts - I shy away from tart things, and this was not tart.
After being assured that the chocolate they use in their desserts is fair trade, I had the Chocolate Lava Cake:
Piping hot cake with a chocolate truffle center (my night for truffles), topped with choice of soy or coconut based vanilla ice cream. I chose coconut. Chocolate overload, but I could have stood to have another.
Great Sage is one of several businesses in a strip mall that jointly are called
Conscious Corner
. The other businesses there are
Roots Market
grocery store,
Bark!
sustainable/healthy/natural pet food store, and
Nest
, an Earth-friendly and fair trade clothing and gift store.
Roots Market is the size of a small supermarket with %100 organic produce, a great bulk section, and many items I've not seen anywhere else, such as a Tofurky fully loaded frozen pizza. They have a meat section that is very small, and considering the clientele, the meat manager must be as lonely as the Maytag repairman.