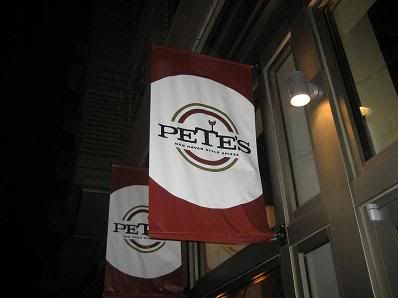 Pete's New Haven Style Apizza
1400 Irving St NW
Washington, DC 20010
Phone: (202) 237-7383
(plus locations in Friendship Heights, NW DC, and Clarendon, Arlington, Virginia)
Pete's - they have vegan pizza, plus a fine selection of beer by pint or pitcher and wine by goblet or bottle (they prefer, though, you don't drink directly from the pitcher or bottle). I'm not a big fan of the counter service there - gives it a bit of a fast-food feel. But they do have pretty sweet sidewalk seating.
Recently Pete's switched their vegan cheese offering from a soy based cheese to arrowroot based Daiya to appeal to a broader audience, since so many have soy allergies or are just simply trying to avoid soy these days for one reason or another (thanks, Monsanto!).
The pizza is quite good. Below is the "Edge of the Woods" pizza, with sauteed spinach, caramelized onions, and eggplant slices fried like potato chips.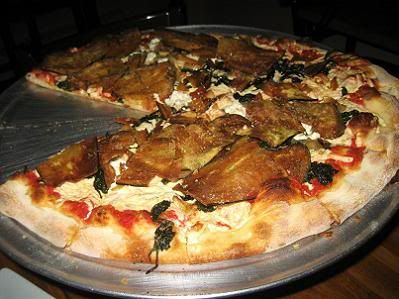 Pete's offers many different pizza topping add-ons, including several preparations of garlic. We added the minced fried garlic on this.
Warning
- it's served piping hot!!! It burned the roof of Marya's mouth.
And a few months ago we had this New Haven Green delivered: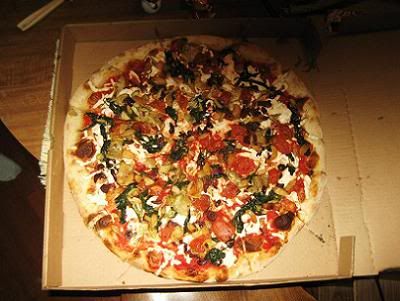 It has artichoke hearts, sauteed spinach, tomatoes, and kalamata olives. We added sliced garlic to this one.
---
We stopped in at Pete's on the way home from attended a screening of Pig Business at the Capital Visitor Center.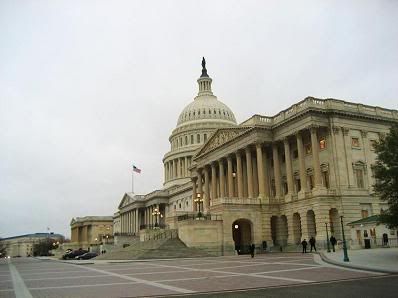 Several congressmen were on hand. Among them, Jim Moran, co-chair of the Congressional Animal Protection Caucus. I had no idea there was such a thing. Makes me even more glad that I voted for him when I lived in his district in Virginia.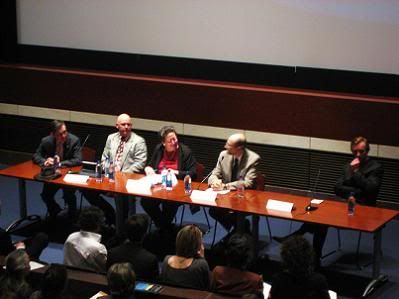 Also there was Jared Polis (Colorado), who's partner is vegan and they have a vegan household.
And Ohio Representative Dennis Kucinich, noted vegan and former presidential candidate chaired the panel after the movie. His wife, Elizabeth, works for PCRM, Physician's Committee for Responsible Medicine, dedicated to turning people vegan.
Also there was Dr. Michael Gregor of the Human Society (cool guy), Robert F. Kennedy Jr. of the River Keepers Alliance, and Gene Bauer, founder of Farm Sanctuary. And a pig farmer.
The movie opened up with the movie's creator serving bacon and sausage to her three children, stating that this was what began her curiosity into how the animals that ended up on her family's plates were treated. The movie was about the horrors of factory farming, but more about the horrible business practices of Smithfield overtaking small pig farmers making them indentured servants on their own land, forcing them to raise more pigs than they could legally handle.
The movie also discussed the health and environmental impact in the areas surrounding the factory farms, and how governments in several states and in foreign governments are complicit in allowing Smithfield to pollute so much.
In several points during the movie they showed several small-scale pig farmers who were raising their pigs in either slightly larger pens or letting them roam the grass-land.
At the end of the movie, before the credits, the screen read:
Do what you can to support small family farms by buying local pork.
So, what do you think? Completely mad or just partially mad?
I ask because the idea of "humane meat" is just insane. You can treat an animal as nicely as you would a pet, but if the end goal is to give it a horrifying death, it's still an act of violence, and cruelty. When I think of family raised pigs vs. factory farm pigs, I think of the song "Rockin' in the Free World" by Neil Young - the line about "We got a kinder, gentler machine gun hand."
I asked Gene Bauer, "is this sort of thing difficult to sit through?", meaning - the whole "Let's get rid of factory farms and just have violence on a smaller scale" thing. He replied, "it's a step in the right direction" I didn't get a chance to ask Dr. Greger or either of the Kucinichs their thoughts on it.
I agree with Gary Francione's approach that we just need to stop it altogether, right now!
But, realistically, if the only way to stop it is by eliminating factory farms and leaving it to a dying breed of family farmers to carry out the evil deed, not being able to meet consumer demand and consumers having to pay the true cost of meat deciding it's just not worth it, then we'll just have to be patient. I hate being patient, though.
I should say, originally scheduled to appear was Dr. T. Colin Campbell, who probably would have called everyone crazy for thinking humane meat is in any way better.
Your thoughts?
Here's a bonus pic from the Dupont Farmers' Market: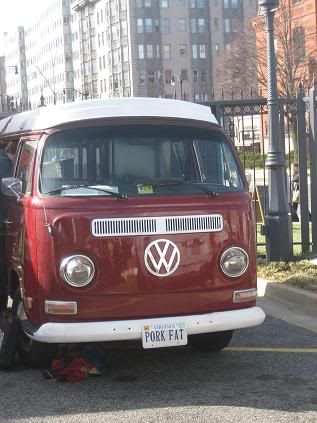 Lovely, no?