Quick note on what I prepared for dessert for some guests recently: Vegan Cannoli: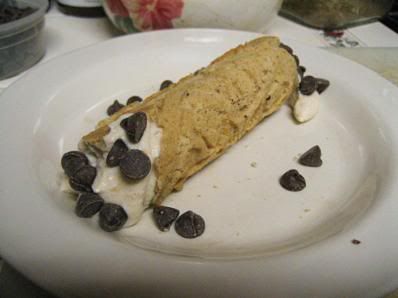 Pictured here is a cannolo - according to
Wikipedia
, font of all knowledge, the word "cannoli" is plural of the word "cannolo".
To make the shells, I needed a pizzelle iron, which I easily found on
eBay
. You'd be amazed how fierce the bidding wars get for something as obscure as a pizzelle iron.
The recipe came from the blog Conscious Kitchen, but it seems to have disappeared. Shame, really - was a great site and blogger Emilie had lots of pictures of her amazing cannoli creations that make you ask "Damn, that's vegan?" I hope for a speedy return of the blog.
As a community service, I will repost her brilliant recipe for the shells here - these are her words:
---
Traditional-Style Vegan Pizzelle (to be formed into cannolo shells)
*1/2 cup unsweetened soy yogurt
*3/4 cup cane sugar
*3/4 all purpose flour
*1/2 cup mild-tasting oil or margarine, melted and returned to room temperature
*1 teaspoon pure vanilla extract
*2 teaspoons baking powder
*1 1/2 teaspoon toasted green anise seed, ground
With a stand mixer or handheld, beat the soy yogurt and sugar together until well incorporated. Add the oil (or melted and cooled margarine) and vanilla, mix well. Sift flour and baking soda together and mix with the ground anise seed into the yogurt mixture. The resulting batter will be very thick, but will spread out on the iron when pressure and heat is applied. Follow instructions to bake on your pizzelle iron.
---
*My note: remove the pizzelle quickly from the iron and roll them on the cannoli form before they harden. They will harden on their own.
Cannoli forms
are simply metal tubes for the purpose of rolling the pizzelle to shape the cannoli shells.
For the filling, I put a pound of tofu, 3/4 cup powdered sugar, and some maraschino cherries in a food processor. Then put the mixture in a pastry gun and filled the shells, sprinkling with fair trade semi-sweet chocolate chips.