Note: click on an image to see it full size
Okay, I've been dreading writing this bit on Miami Beach. I don't like to be so negative. But we had issues at every turn.
First it started with Larios, right on Ocean Drive. I really wanted some Cuban food, and this Gloria Estefan owned place was a convenient choice. Of course, normally I'd mention the website, address, and phone number. But there's no point - read on.
Their mojitos were fantastic.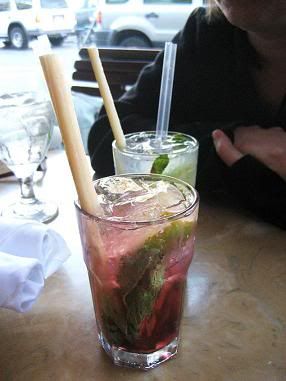 I loved chewing on the sugar cane that came in the drinks. Mine was the watermelon mojito in the foreground.
Now, our waiter at Larios assured us that the black beans were vegetarian. It seemed among the few items on the list we could actually eat.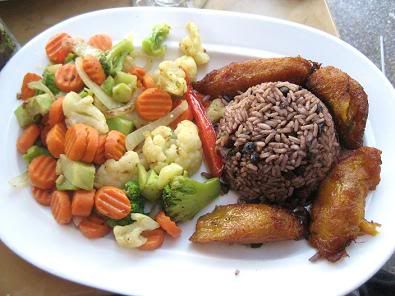 But, alas, half-way through it, Marya discovered bacon in it. Not good. Way not good.
This cassava was fantastic, and hopefully vegan: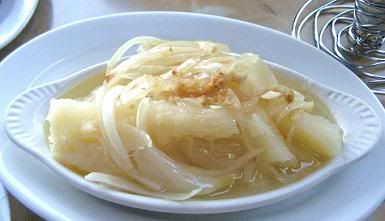 But who can say for sure that
it is
vegan? Surely not our waiter.
Next stop was Escopazzo: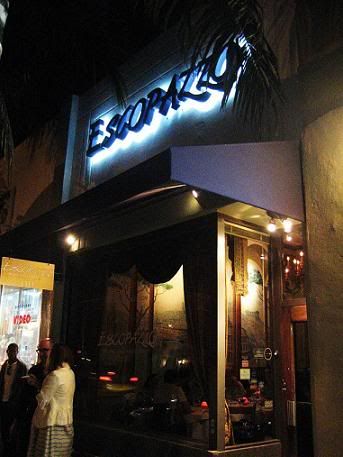 1311 Washington Avenue Miami Beach, FL 33139

Phone: (305) 674-9450

Escopazzo, an Italian restaurant, is quite vegan friendly. If you go to their website, you'll notice they even have a separate raw vegan menu with entrees priced roughly 30% less than their cooked counterparts. This is rare because usually raw prepared dishes are expensive, and this was a rather expensive restaurant to begin with.

Here's the weird thing about this place - when we were there, the waiter couldn't provide us with the vegan menu. He said that it wasn't formatted properly. Of course, we didn't care how the thing looked, we just wanted to know what our options were. Instead, our only choices were what vegan options the waiter could commit to memory.

I ordered the one thing the waiter could remember from the raw menu, this vegetable lasagna: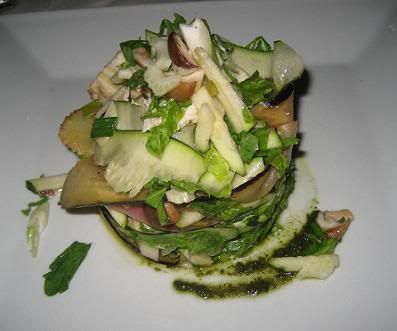 Eggplant and zucchini wrapped around pesto and pine nut ricotta. It was fantastic.

It was remarkably cold when we were in Miami. Marya, usually one to gravitate to raw dishes given the chance, went for this warm pasta with vegetables: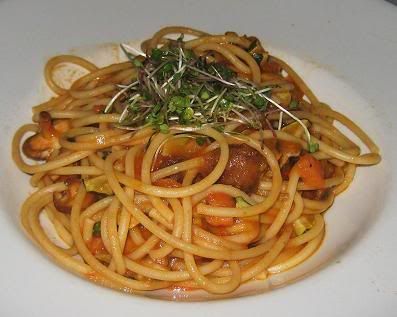 I sampled it, and it, too was very good. Not sure it was worth the $26, though.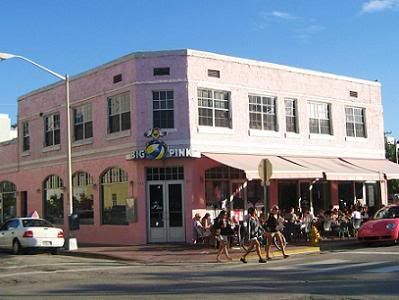 157 Collins Avenue Miami Beach, FL 33139

Phone: (305) 532-4700
We liked this place. It's like a diner, only with beer taps at the counter. They had a few vegan options on their rather large menu, and it was conveniently located just around the corner from our
hostel
. We stopped in for a quick bite, and Marya got these Chinese Mushroom Kebabs. Chinese - no chance of dairy in that, right?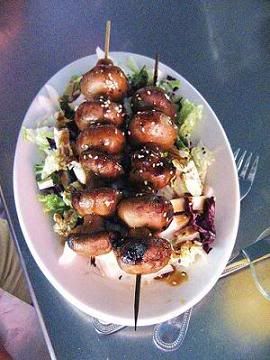 She lifted the kebabs to discover they were sitting in a pool of some sort of cream sauce. "Brilliant!" we thought. The overwhelming majority of Asians are lactose intolerant.
Our last stop was at the Lido Restaurant and Bayside Grill.
Lido at the Standard Spa

40 Island Avenue Miami Beach, FL 33139

Phone: (305) 673-1717

This place provided us with the oddest experience on our journey to Miami Beach. We made a reservation for 7:00PM. When we arrived, we learned that our reservation had been lost, or perhaps canceled, because it started to rain - they had to move the guests sitting outside to the indoor dining room, thus, no room for us, thus, we got screwed. They seemed unremorseful about the situation. After expressing some serious anger, they found us a cozy lounge table near the bar, with promises that someone from the wait staff would be by soon to take our orders. After a very long wait, we decided to order directly from the bartender, who didn't exactly have the sunniest of dispositions.

When our food finally came, without prompting, the person who brought our food explained that everything gets delayed when it rains. The kitchen, located outside, had to close up shop and move to the indoor kitchen. For one, the outdoor kitchen was covered. For two, it was hardly a rain - more like a slight mist. For three, it didn't explain why we never saw a waiter.

At least the food was very good. It knocked my rage down to "very miffed".

We had this fried platter w/ salad to share - it had battered tofu, fried chick peas, french fries, and fried artichoke (I think), with a lovely vegan dipping sauce.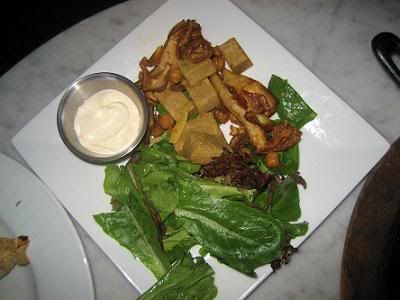 Marya got this lovely marinated tofu with quinoa: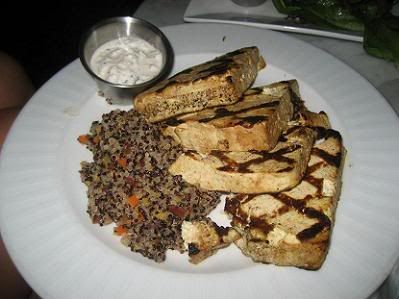 And I got the Living "Lasagna" Vegetable Terrine - again with the raw lasagna. It had sliced zucchini, cashew cheese, raw tomato sauce, and nut/vegetable "sausage".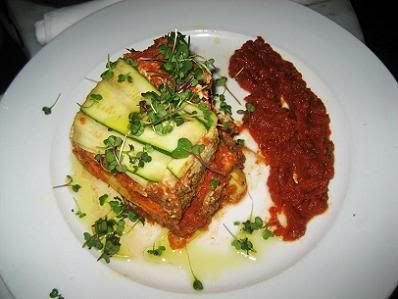 Even though The Standard Hotel that houses Lido is a new-agey health spa/resort, Lido isn't vegan, just very vegan friendly.

So, there you have it. You can get vegan food in Miami Beach. But they'll serve it to you with a swift kick in the nads.