Note: click on an image to see it full-size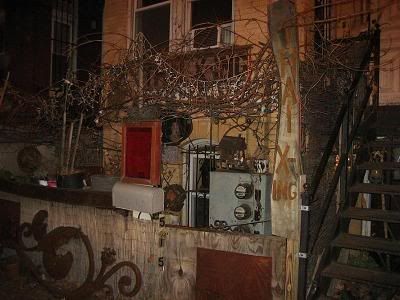 Thia X-ing (click for their website)
515 Florida Ave. NW Washington DC 20001 (click for a map)
(very close to the U Street corridor)
Phone: (202)332-4322
Thai X-ing is one of those well guarded DC local secrets. I've been by it dozens of times not even noticing the place. It wasn't until I heard about on our local NPR station when a guest on the Kojo Namdi Show was raving about it. It I learned that it was not actually called "Thai Xing" or "Thai X Ing", it's Thai Crossing. Silly me.
The place is known for being the most authentic Thai you can find on this side of the planet. Plus, Chef Taw prepares everything fresh, thus they need to know days in advance what you want. Call ahead days in advance for carryout and a week in advance for dining in. The place is tiny. I'd say it's like eating in someone's living room, but it
is
eating in someone's living room.
We were seated at a very short table in the corner, and I had to lean over the table every time someone wanted by. Marya had to chase a cat off of her seat. Yes, they have a cat walking around mingling with the diners.
The place doesn't serve alcohol. You can get water, tea, or coconut water there.
However
, you can bring your own hooch. The table of 6 behind us brought in 4 or more bottles of wine, plus a 12 pack of beer. I want to party with them.
They have many vegetarian options on their
menu
, and I'm sure they can all be made vegan. Sundays they are all vegetarian, which is when we went. For a $30 prix fixe tasting menu, it's quite a good deal.
First thing we had was...I believe, the Tom Yum soup. I asked what it was, but could not quite make out the response. Yes, there's soup among all that cilantro.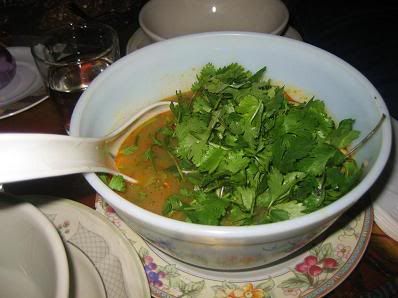 It was a bit more vinegary than I like, but overall, okay. And not nearly enough cilantro.
Next was perhaps the best dish of the night: Pumpkin Curry.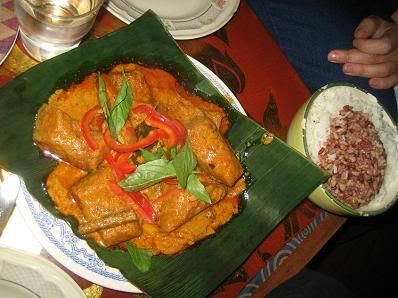 An amazing blend of spices that combined nicely with the pumpkin made this a favorite of the evening. It came with white rice that was topped with barley.
And the other best dish of the night. Again, couldn't make it out what our waitress called it, but I believe it was their Pad King.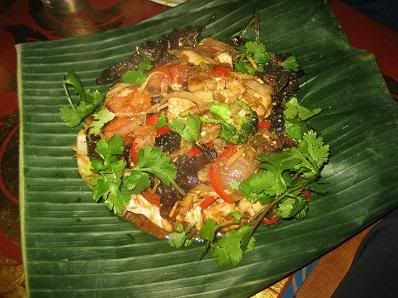 It has heavy on the ginger, which I liked.
Next came the Drunken Noodle. This is my go-to dish in most Thai places, so it was a good opportunity to compare. This one was a tiny bit better than most, but now that I think of it, this normally spicy dish seemed bland compared to the previous two dishes.
We got about 1/2 way through the dish when Marya said, "I think it's got egg in it." At which point, I flagged the waitress down, who confirmed that it did, indeed, have egg in it.
Here's the thing on that - when I called to make a reservation, I left a message stating that we're vegan. When I got a call-back to confirm, they never asked what our dietary restrictions are, so I was assuming they understood. Plus I figured, if it's Asian and vegetarian, what could they add to make it not vegan? I forgot about eggs. Also, it's possible they couldn't make out what I said on the message because I've dropped my cell phone way too many times and I've gotten complaints that I'm more difficult to understand than usual. Any rate, we were forced to abandon this dish. Lesson learned:
make damned sure they understand you're vegan
.
For dessert we had this sweet sticky rice with mango in coconut milk. They threw in some more pumpkin, which was a nice addition.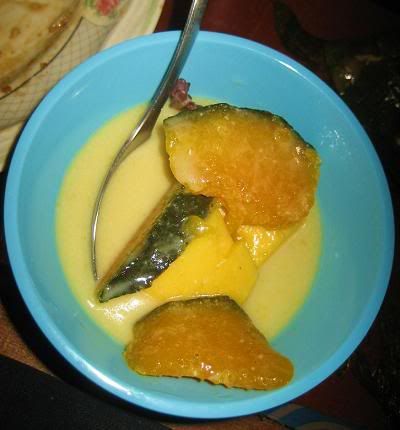 We enjoyed our visit and look forward to going back. But next time I will make sure I have verbal verification that they understand we're vegan.