Note: please click on an image to see it full size
When: Saturday from 10:30AM - 7:30FM
Though we found Miami Beach to be rather un-vegan friendly (more on this soon), there is this awesome organic farmers market in Coconut Grove that is mostly vegan and very
raw
friendly - who'd guess? I say
mostly
vegan because they do sell eggs and honey. Oh, and I should add that most farmers' markets are vegan and raw friendly, too, seeing as they mostly sell vegetables and fruits. But this one is vegan friendly in a different way. Read on to see what I mean

It appears they source some of there items from other farms and some of the fruit and all most if all of the spices they sell, too are from external sources. So it isn't completely what I've come to know as a local farm market in DC, but this place is amazing in its own right.
In addition to many of the typical farmers market fruits and vegetables, they have many prepared raw foods cooked...made in their own kitchen.
We had fun browsing through all they had, including these sprouted nut cheese spreads and patés:
And this bin of sprouted green pea or red pepper hummus, and sprouted sunflower "Mock Tuna":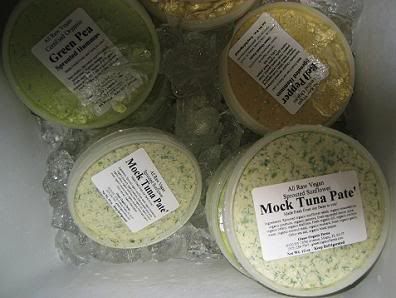 They have some unique prepared raw delicacies such as these dehydrated plum tomatoes stuffed with an herb cashew paté: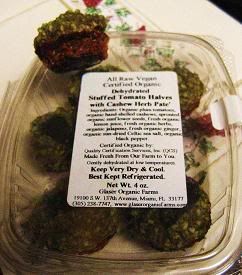 We wished we could have taken some of these pickled vegetables home, particularly the brussel sprouts: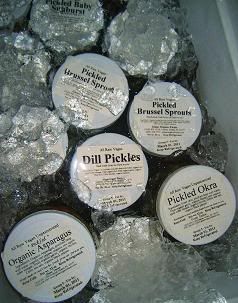 And here's a list of some other things they make on the spot - vegan raw sushi, tacos, and pizza: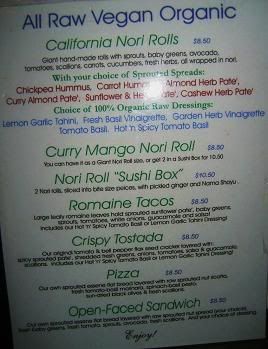 And some lovely raw desserts: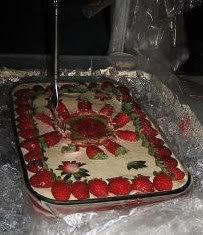 The guy behind the counter carved out the center flower of this beautiful raw cake to serve to a young girl. It was a sweet moment, though the flower was as big as her head.
They also have raw ice cream - made from nut milks and coconut water and sweetened with dates and agave nectar. The chocolate ice creams (not pictured) have
fair trade!
raw cacao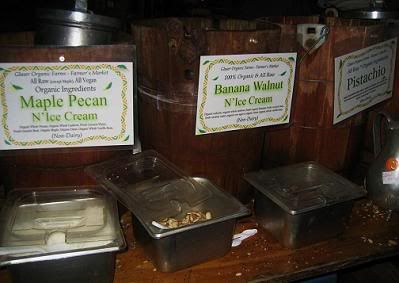 We just had to try it.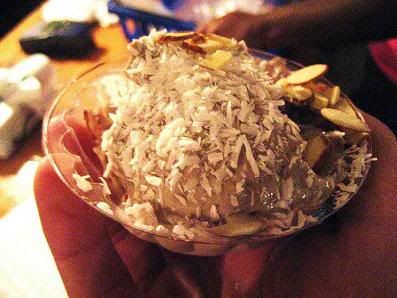 It's just like regular old ice cream, perhaps a bit better, and a hell of a lot better
for you
.
The next day we had some of the mock tuna on the bagels we got at our hostel. We picked up some brazil nut milk for coffee, not realizing how incredibly sweet it would be. Had we read the ingredients, we would have seen that it contained dates and agave nectar.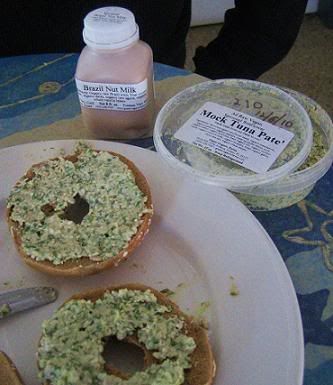 It was quite tasty, just not good coffee creamer.
We knew about this place long before we came here, but I surely had no idea we'd be visiting such an amazing raw/vegan farmers market.
Go visit their online store to see all the goodies they have!