Note: Please click on an image to view it full size.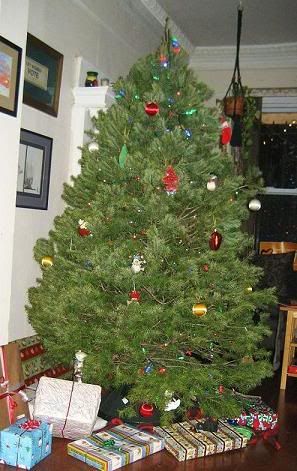 Yay! Today is Adventures in Veganism/Vegan Travel's Birthday! And it continues
where it began last year
, with
raw egg(less) nog from a recipe provided by Autonomie Project
.
The rum was not raw

So, here's a quick spill of how we spent our Christmas Holiday Weekend: Lots of cooking.
Christmas Eve is also Marya's birthday. The fizzer about this is that most restaurants are closed, so it's hard to take her out for a lovely birthday dinner. So we stayed home, and I made her these tasty fondues from Jo Stepaniak's
Ultimate Uncheese Cookbook
.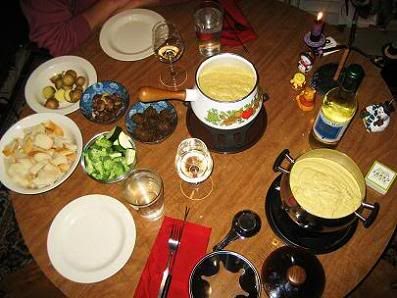 Smokey Fondue on the left, and the Classic Fondue on the right.
The fondue recipes in the book are my favorite part.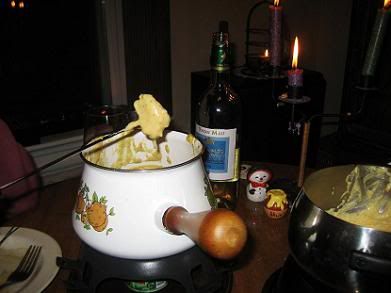 Christmas morning we made blintzes, also from the Ultimate Uncheese Cookbook. First, I made the crepes (not all of them came out in perfect circle):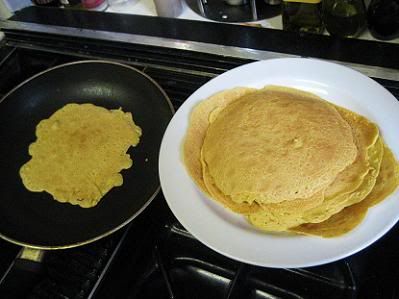 Next, we filled them with a tofu ricotta (Marya made off camera) and placed on a baking sheet and baked for 10 minutes: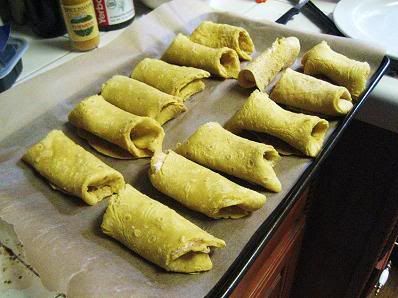 Then, served with blackberry jam and Tofutti sour cream: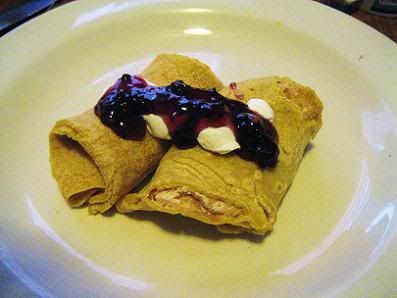 Not pictured was the home made raw applesauce Marya made.
Next, we began prepping the Tofu Roulade, the recipe for which can be found in the
Chicago Diner Cookbook
. Sort of a home-made version of Tofurky. Sort of.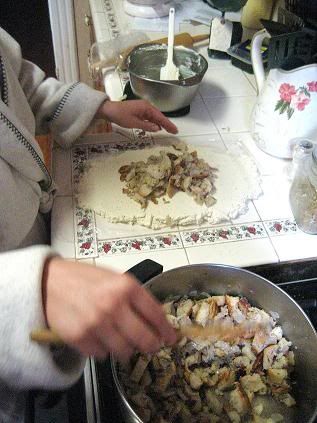 Marya is filling the thing here with her favorite stuffing recipe.
And here's the finished product: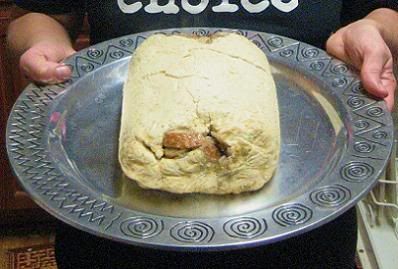 And our Christmas Dinner: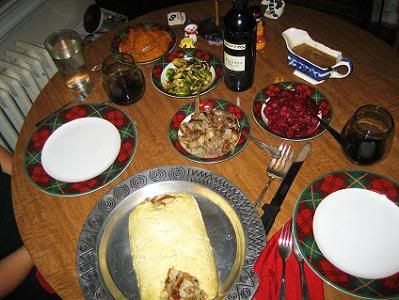 Clockwise from the orange stuff at the top is: Coconut Sweet Potatoes, Sauteed Brussel Sprouts with Slivered Almonds, more of Marya's stuffing, Fennel Cranberry Sauce, a fine Shiraz we brought back from Australia five years ago, Shiitake Mushroom Gravy, a crazy wine goblet made from a recycled windshield (thanks for my present, Marya!), and the Tofu Roulade.
For dessert was this Bourbon laced Pumpkin Pie: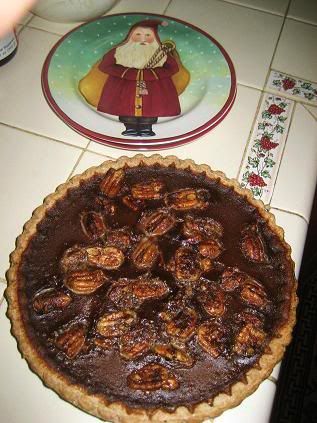 Served with Grand Marnier: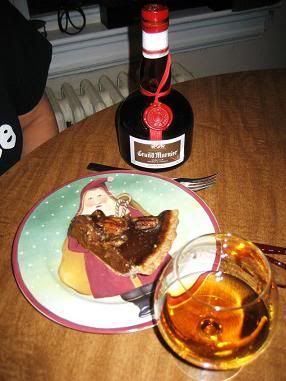 For breakfast the next day, Marya made this lovely Tofu Benedict with (store-bought) sprouted English Muffins, Tofurky deli slices, spiced/sauteed tofu, and a tangy Hollandaise sauce. Topped with a Kalamata olive: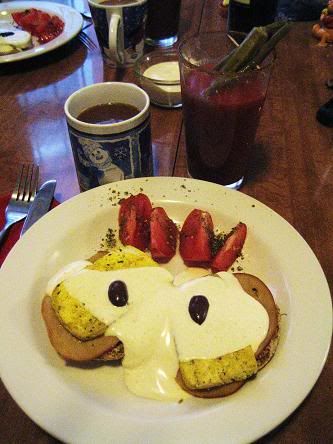 She has the best bloody mary recipe I've ever had, and she coached me through making some (pictured upper right), garnished with pickled green beans and okra from
The Pickle Guys
in New York City. The vodka in the bloody maryas was infused with farmers' market garlic and horseradish.
This Bakon bacon flavoring was one of my stocking stuffers: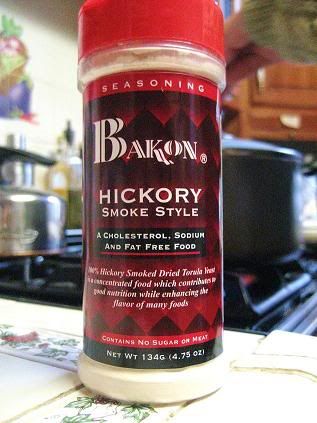 Pretty good for only two ingredients.
This football season we've made a somewhat of a routine watching the Redskins lose each weekend. It's a great excuse for us to sit and have a big bowl of popcorn, and Marya's always coming up with new ideas for seasoning it. For this batch, I suggested we make bacon popcorn.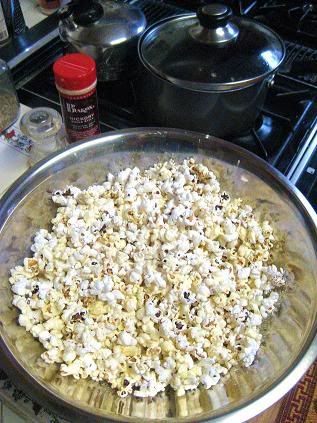 It turned out quite nicely, though only lasted a 1/3 an inning...quarter. Miraculously the Redskins won this one in overtime.
The Bakon seasoning came from
Food Fight! Grocery
.
For dinner, I decided to make Portuguese Potato Kale soup using potatoes and kale we got at the farmers' market earlier in the day. Step #1 was making the chorizo for the topping: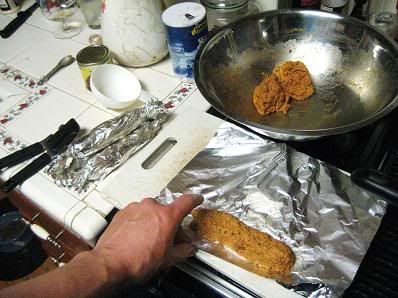 The recipe for both the chorizo and soup came from Terry Hope Romero's
Viva Vegan
Latin food cookbook.
After making the batter, I rolled them up in foil and baked: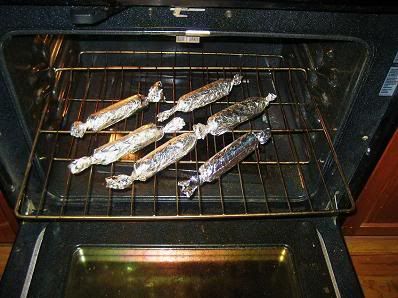 They came out looking quite nicely: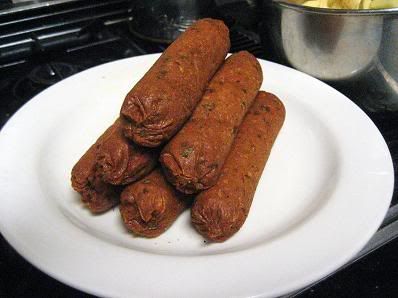 And here's the Portuguese Potato Kale Soup topped with chorizo and home made annatto oil: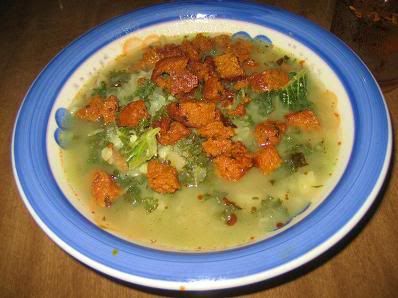 Whew! That was a lot of cooking. And cleaning. Now my dishpan hands are looking forward to a week of leftovers.