We're presently in Loveland, Colorado, where yesterday we had celebrated Marya's vegan-friendly family.
First, we participated in Loveland's famous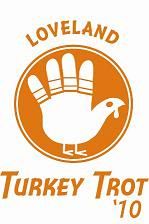 Turkey Trot 5k Walk/Run
, an annual event on Thanksgiving Day to benefit the Stepping Stones adult daycare program at Loveland's McKee Medical Center Foundation.
We were surprised at how many turned up for the event - hundreds, despite the unseasonably cold 18 degree temperature.
Marya came up with the great suggestion that we would run for Kima, the turkey we sponsored at
Farm Sanctuary's Adopt-A-Turkey Program
.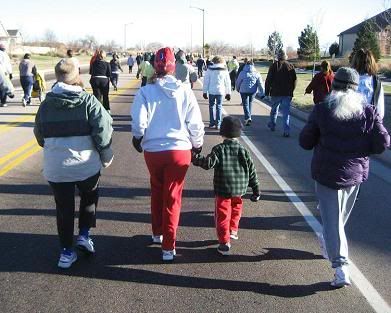 For the record, I beat the 5 year old in this picture, but only by a few seconds.
Thankfully Marya's family is exceptionally vegan friendly. Everything was vegan or had a vegan option. There was butter and vegan butter and stuffing that was and was not stuffed in the turkey.
Despite all this, Marya didn't know how she was going to deal with having a turkey on the table for dinner. The thought of it had been bothering her since we booked our airline tickets. As a coping mechanism, I suggested that she think about all of the other Thanksgivings where she had no problem with the turkey at the table, but she said that it made her more sad for all the turkeys who had to die the previous years.
On Thanksgiving Day, she was practically inconsolable.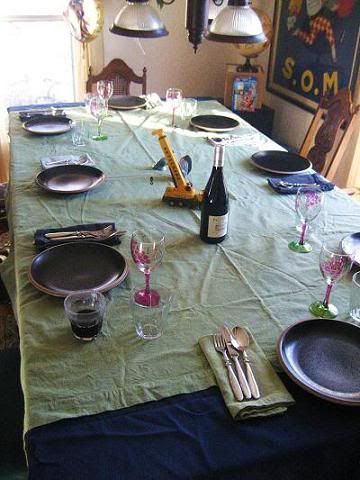 We were given positions at the table that would be furthest from where the turkey was carved, and the turkey was removed from the dining room once the carving was done.
Here's a gratuitous picture of our Tofurky, post-carving: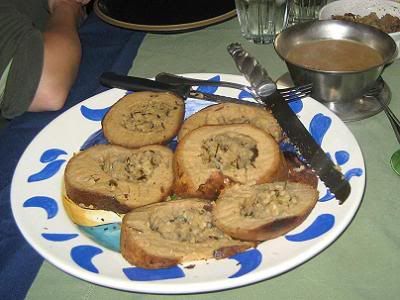 And here's my plate: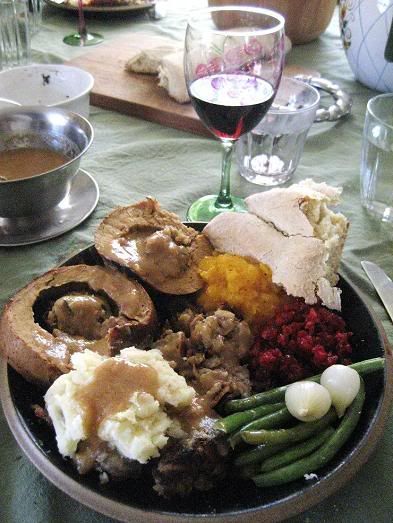 Generous portion of Tofurky, stuffing, smashed potatoes, Tofurky gravy, green beans and pearled onions, pureed butternut squash, and fresh cranberry sauce.
I don't care what the Tofurky haters have to say, I
love
Tofurky and don't know why everyone can't transition to it. But then again, I'm biased. Next holiday, though, we hope to make our own holiday roast.
For dessert was this lovely pumpkin pie:
It was topped with Marya's homemade cashew whipped cream.
We are surely thankful that she has such an accommodating family - we know that so many omnivorous families are not so nice to their vegan relatives. As gracious as Marya's family was in making us feel at home for Thanksgiving, Marya doesn't kn ow if she'd be able to spend another Thanksgiving with a dead turkey at the table. I'm willing to support that.