Happy Thanksgiving, all!
Just in time for Thanksgiving, some more pumpkin dishes! Two of these are raw.
After Halloween, we had loads of pumpkin from our Jack-O-Lanterns. We chopped up the pumpkin and boiled most of it down to store in the
freezer
, but kept a few lbs. to make some raw dishes.
This raw pumpkin pie came from Ani Phyo's "Ani's Raw Kitchen" book: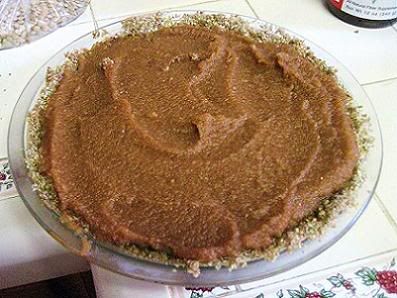 It tasted as good as any pumpkin pie I've had, though must healthier. I'll say, the pumpkin seed crust was the tastiest I've ever had.
Marya used the same pumpkin pie filling recipe as a starting point to create this pumpkin custard: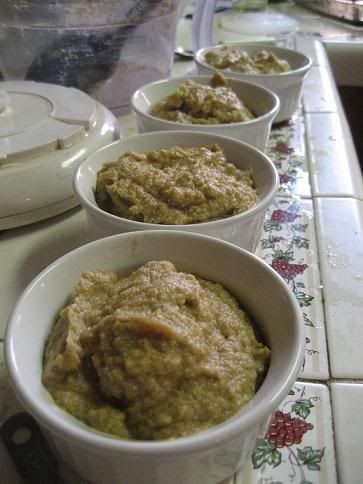 She added cashews and more spices. Very tasty!
Sadly now all our raw pumpkin is gone, but we've got a year's supply of the boiled down/frozen stuff to go through.
And she made dozens of these egg-free wonton wrap pumpkin/shiitake mushroom ravioli:
Then boiled some and topped them with a lovely cauliflower alfredo sauce, topped with shiitake mushrooms and parsley.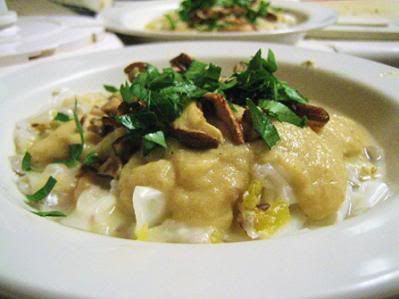 The recipe is loosely based on this
recipe from VegWeb
, and was very delicious. Who knew cauliflower would make such a lovely alfredo sauce? The recipe made lots, so we've got some leftover that we put in the freezer, and I look forward finishing up the rest.