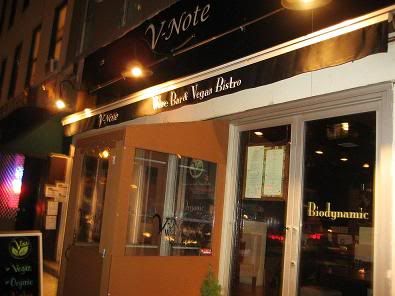 V-Note
1522 1st Ave
New York NY 10021
Phone: (212) 249-5009
After a few (too many) cocktails at Candle 79 this past weekend, we walked to nearby V-Note, the newest addition to Blossom's family. We were so excited to try out this fair trade vegan wine bar/restaurant that opened 2 months ago. It is where Blossom Bistro was previously, but we've never been to that.
The one thing that disappointed us was when we were asked if we wanted bottled or tap water. The Blossom family is so good in their commitment to animal welfare, fair trade, organic food, and the environment, so this just didn't compute. I was even confused by the question.
We started off with the Cape Cod Crabcakes: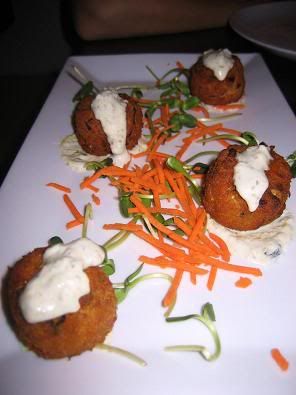 They're made of seaweed, tofu, and spices.
I had the Medallions Au Poivre.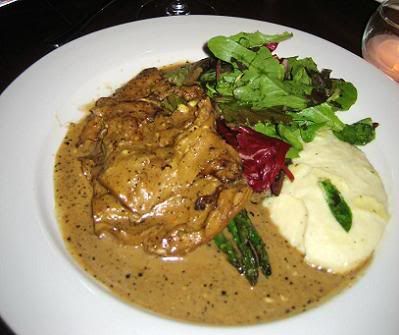 It had with seitan slices smothered in peppercorn sauce, a mashed potato/cauliflower puree, and roasted asparagus. The seitan was delicious and tender, and the peppercorn sauce was amazing.
Marya had the smoked tempeh ravioli in a cashew cheese sauce.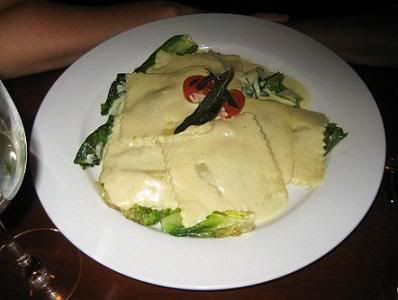 This, too, was fantastic.
For dessert, we had the (fair trade) chocolate fondue.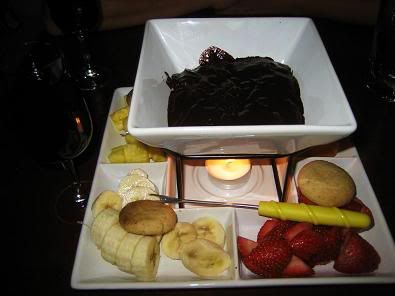 It came with 5 things to dip: cookies, melon, bananas, pineapple, and strawberries.
Had to get this shot: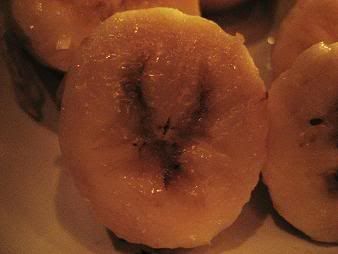 A
V
pattern one of the dipping bananas. "A vegan V!" I thought. Marya thought it looked like the
Vampire Freaks
logo.