We were in NYC this past weekend to do some food tourism and to attend a concert.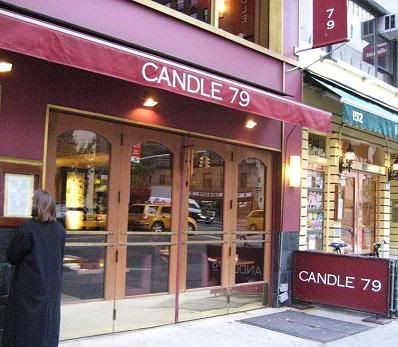 Candle 79
154 East 79th Street
New York NY 10075
Phone: (212) 537-7179
This was our first trip to Candle 79. We lucked out in that they had just gotten their liquor license permitting them to sell the stuff that's harder than beer or wine. One amazing thing about Candle 79 is that they insist that
everything
be organic - even the hooch.
Marya started out with the Cucumber Vines that had sake, mint, wine, cucumber, lemon, and agave (right). After seeing a bottle of Chartreuse on the shelf, I asked that they give me a drink that included it.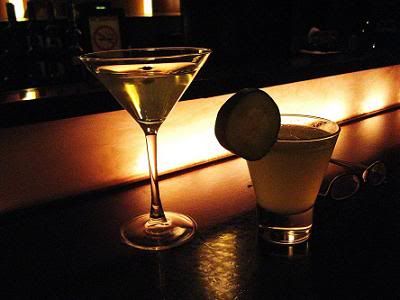 They gave me a mixture of
Bluecoat gin
, Green Chartreuse, some other stuff I can't remember, all mixed with a pulverized coffee bean and a coffee bean garnish. The drink doesn't presently have a name, but they're going to refine it and eventually put it on their craft cocktail list.
Next, Marya had their French 79, including sake, passionfruit, lemon, cassis, agave, and sparkling wine:
I then asked the bartender if he'd like to experiment. After he gave me a puzzled and guarded reaction and Marya fought to contain her laughter, I clarified that I'd like to give him the opportunity to experiment creating a new drink, with the only requirement being that it had to contain Chartreuse.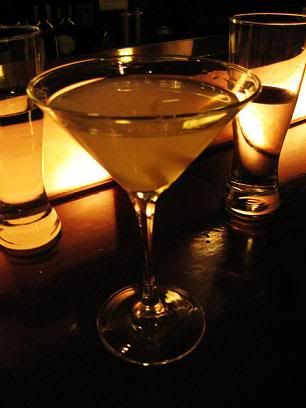 What he produced was a mixture of the Green Chartreuse, Bluecoat gin, cucumber infused vodka, ginger, and lemon. I'm surprised I remembered all that. I don't really remember much after this. I do recall liking it, but liking the first un-named cocktail more.
And lest ye think this was my April Fools Day post come very early, we
did
have some food: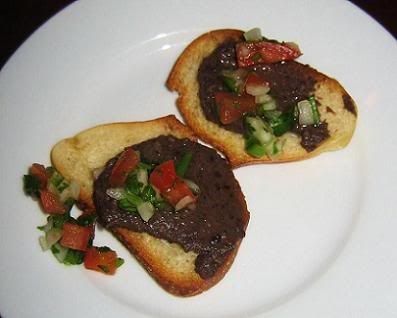 They graciously brought us this black bean pico crustini gratis.
We promised to come back and
buy
some food next time.
They're discussing what they want to do with their cocktail list. At any rate, I'm looking forward to checking it out next time we're in town.