Note: most of the images can be clicked on to be viewed full size
Continuing to report on our trip to New York last weekend - our breakfasts, vegan ice cream, and some New York shopping that is far from stereotypical.
Sacred Chow
227 Sullivan Street
New York NY 10012
Phone: (212) 337-0863
This is our second trip to Sacred Chow. Our
first trip
was for dinner including very many tapas. This trip was for breaky.
The place was empty when we got there, but was full by the time we left. Great to know they're doing well.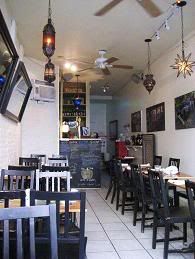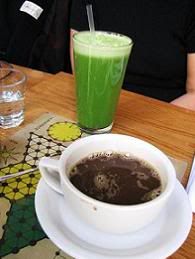 Marya started off with the apple/greens smoothie. I sampled it, and it was tasty. The menu didn't say which greens are in it, but I'm betting kale is involved.
I had the biscuits and gravy with tofu scramble and greens on the side. Marya had the sweet potato/tempeh hash with fruit on the side: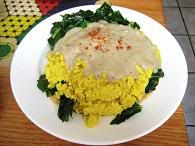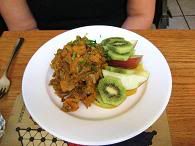 I expected the tofu scramble to be on the side of my biscuits and gravy, but they were piled on the biscuits with the gravy on top. Click on the picture to see the larger version, but it still doesn't capture how huge the thing was. I think they gave me a lb. of tofu and 1/2 a lb. of collard greens. UFB. I sampled Marya's hash, and it was quite tasty. I somehow managed to get all my food down so I was able to help her finish the fruit. Her dish was quite large, too. Cripes.
The following day we went to Kate's Joint for breakfast. I love this place, so we go there for at least one meal or snack every time we're in NYC.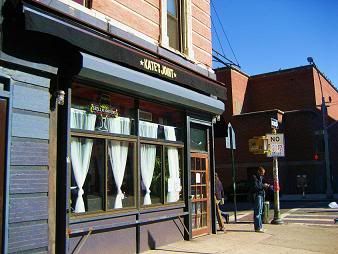 Kate's Joint
58 Avenue B
New York, NY 10009
(212) 777-7059
From this article, a non-vegan might guess that the only thing vegans eat for breakfast is tofu scramble. Not so, but I tend to seek out tofu scramble dishes to see how they compare to my own recipe.
At Kate's I had the tofu rancheros. Thankfully the bartender who took our order let me know that the cheese substitute they had at the time had casein in it. They hoped to correct that soon, she said. This was quite disappointing, but I hope this is is a very short lived inconvenience.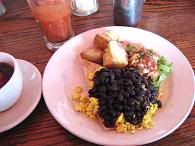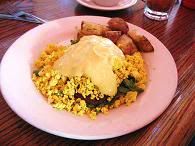 Marya had the tofu Benedict with a lovely vegan Hollandaise sauce and a pile of greens.
Next, we visited some fun places in the East Village: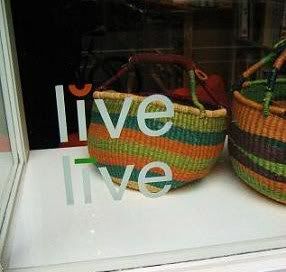 Live Live
261 East 10th Street
New York NY 10009
This was our second trip to Live Live, but this time we've got a much greater interest in raw food. They sell raw food, appliances such as dehydrators and juicers, books, and cosmetics. We got a cookbook, some sprouting seeds, and loads of raw snacks. The lady working there graciously stepped outside to, per my request, snap this picture of
us looking all Matrixy
, though Marya isn't looking nearly mean enough.
And we stopped in at Stogo, an all-vegan/fair trade ice cream place/cafe/chocolatier.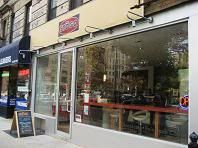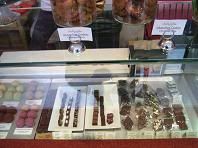 Stogo
159 E 10th Street
New York NY 10003
Phone: (212) 677-2301
This place is awesome. An example of a model business: fair trade, vegan, some gluten free, partnering with other local businesses, using compostable* disposable containers. They have many flavors if ice cream (I neglected to get a shot of their ice cream counter), with either soy, coconut, or hemp as a base.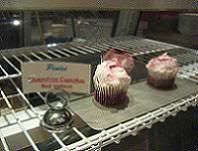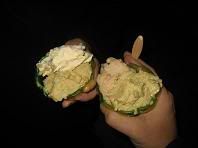 Their chocolates are from
Cocoa V
,
Fine and Raw
, and a few other places. Their baked goods came from
Baby Cakes
(not
Baby Snakes
) and
Pinisi Bakery
. Marya tried the Peaches and Cream and the Cardamom Pistachio, and I got the Cardamom Pistachio and the Maple Walnut. Awesome place. We also got several raw chocolate bars there.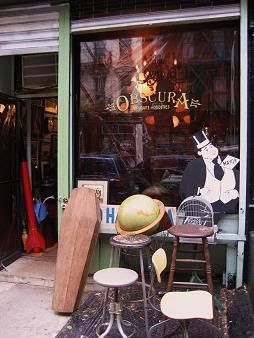 Obscura Antiques & Oddities
280 E 10th Street
New York NY 10009
Phone: (212) 505-9251
We didn't spend much time in here - too much in the way of taxidermy here. One of my favorite moments of this trip - as we were leaving, a father was asking his young daughter of perhaps 10 if she'd like to see if she could fit in the coffin outside the door.
Vampire Freaks
189 Avenue A
New York NY 10009
Phone: (212) 505-8267
A fan of the Vampire Freaks social site, it's always fun to stop by their store. I bought a CD there, and they gave me Vampire Freaks buttons, a sticker, and some Vampire Freaks condoms. Cool folks.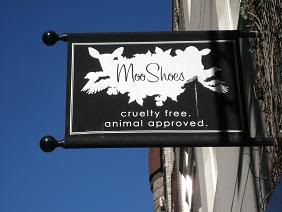 Moo Shoes
1 Orchard Street #78
New York NY 10002
Phone: (212) 254-6512
We like checking in at Moo Shoes on our NYC trips. We didn't get anything this trip, as the belt and shoes I'd gotten there previously are holding up nicely. So here are some gratuitous shots of two of the cats who inhabit the place: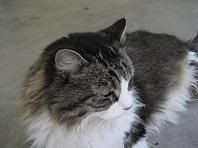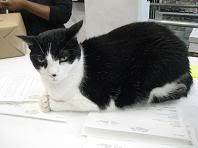 Note: in the area there are two
Mo Shoes
stores. Don't go there - they're far from vegan. They feature shoes made of exotic skins such as alligator, crocodile, ostrich, lizard, stingray, and even (they brag about this on their website) pony.
And, can anyone in New York City please explain this?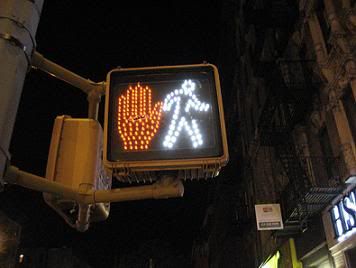 I get the feeling one of these signs is going to be the death of me one day.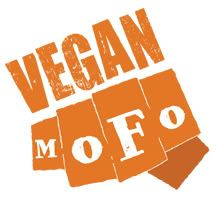 ---
*my spell checker does not know the word "compostable"