Happy World Vegan Day!

Welcome Vegan MoFo bloggers and readers, to my blog about vegan travel and fun food we've prepared at home. I enjoy sharing my vegan discoveries while on travel and at home in Washington DC, in the hopes that someone will find the businesses I feature will help them in their travels, and encourage others to make delicious food at home.
For my first Vegan MoFo entry, I'm featuring a lovely pub 5 or so blocks from my house, Room 11.
Note:
I was at Room 11 last night celebrating Halloween and perhaps had a bit too much absinthe and scotch. To quote Prince: "So sue me if I go astray."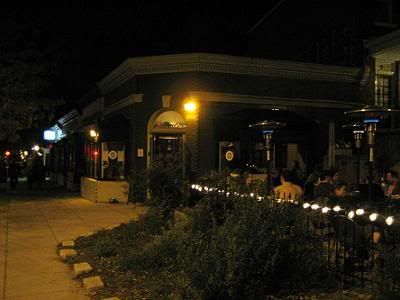 Room 11
3234 11 St. NW
Washington, DC 20010
Phone: (202) 332-3234
Hours: Su-Th: 5pm - 1am;
F-Sa: 5pm - 2am
Room 11 is considered by most to be a wine bar. I overheard chef/co-owner Paul once lament that he has no Earthly idea how his bar got that label. I'm not sure, either - what with the wine list occupying 3/4 of the drink menu and the wine racks surrounding the upper wall of the dining room, the available cheese and charcuterie platters. It's hard to say.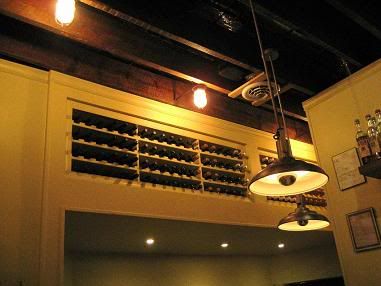 Truth be told - it got the reputation well before the place opened.
As well, Room 11 is known for their craft cocktails, all expertly made. The place even makes their own bitters and infusions. Co-owner Dan Searing is considered one of the best mixologist in the city, but all bartenders there are experts at the cocktail making. It's fun just to watch them at work.
Room 11 also has around 8 bottled beers and 2 regular beers on tap, plus a guest beer introduced each Monday. The guest keg usually disappears by Wednesday.
Oh yeah - the food. They don't have an expansive vegan selection, but the menu is pretty small to begin with. It's nice just seeing that they are aware of what vegan food is, and note on the menu what is vegan or has a vegan option.
They have a great selection of olives, plus almonds.
My favorite are the Italian Castelvetrano. They're big and have a mellow flavor.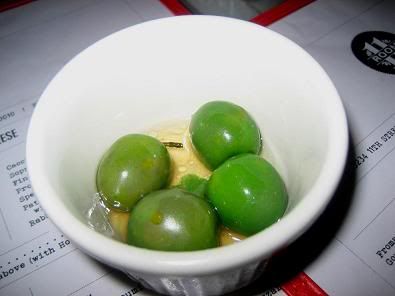 During another visit, I had these French Sevillanne olives with lemon: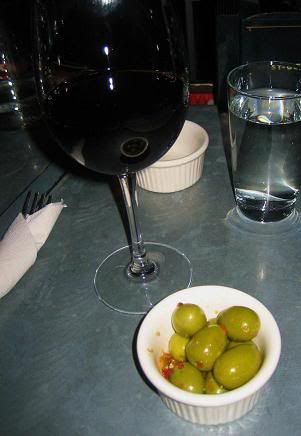 Their olives selections rotate somewhat. The House Marinated have always been on the list, though, and the Castelvetrano have been on for quite a long time.
The risotto, made with seasonal vegetables can always be made vegan. This was news to me - I always thought that cheese was a main component of risotto. Turns out the starch from the rice is what makes it so creamy. Ask for it veganized, and they just leave off the cheese before serving it.
On a trip there months ago I got this risotto with asparagus: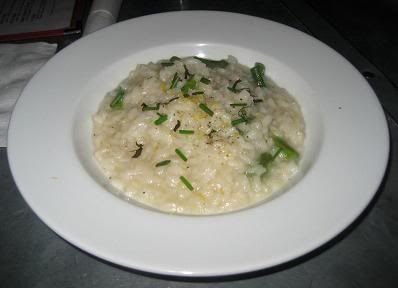 And more recently I got this mixed mushrooms and preserved lemon risotto: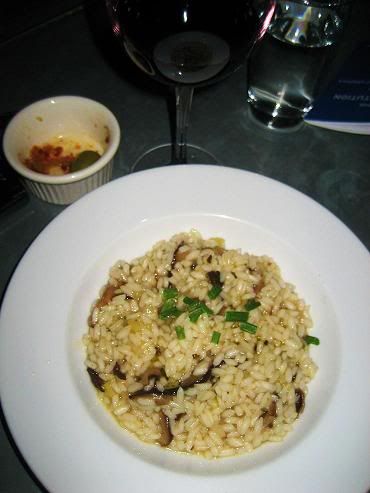 Their Market Salad can also be made vegan if it isn't already, and Nick (yet another co-owner) has told me his wife was working on bringing in some vegan desserts.
I was at Room 11 a few months ago when the master distiller from
Philidelphia Distilling
spoke about his products. I learned everything there is to know about making absinthe, plus a bit more.
Since then, this bottle of Vieux Carre' Absinthe, signed by the distiller, has been on their shelf.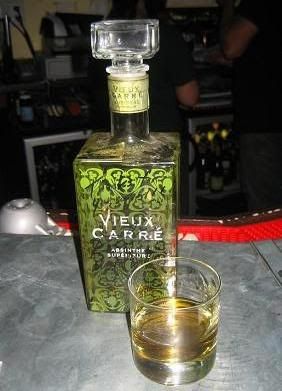 I'm told I'm the only one who orders it, so they consider it my private reserve.
Co-owner Paul mentioned that he wanted the bar area to have a gothic feel and the bathroom to have a different gothic feel to it. I don't fully get the gothiness of the bar area, but check out the wallpaper in the bathroom
!
: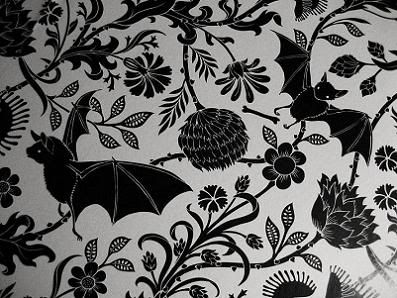 It occurs to me that I should also mention something about where Room 11 is located. If you get off the Columbia Heights Metro in DC and start heading towards where your directions tell you Room 11 is, you're likely to feel they're steering you wrong. It's in a very residential area. Along 11th Street Northwest between Kenyon and Newton streets there are a total of 5 reasonably quiet neighborhood bars nestled in this 4 block residential area.
Cheers!