Okay, one more Halloween related post. Every month
DC Vegan Drinks
has a get-together at a DC vegan-friendly restaurant. Mostly, it's at Bread and Brew, just south of Dupont Circle. They usually go all out for us when they know we're coming, too. And this past Halloween was no exception. The place isn't completely vegan, but they do observe Meatless Mondays, and they always have vegan options. They're also very environmentally friendly - they use locally made bowls, cups, and plates, and use cloth napkins.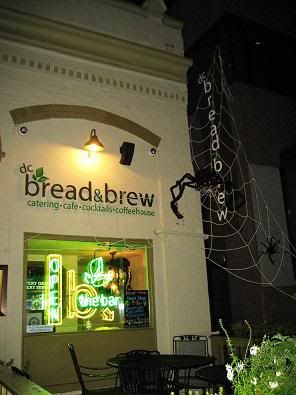 Bread and Brew
1247 20th St NW
Washington, DC 20036
Phone: (202) 466-2676
We had these great chili dogs with chick pea chili and sauerkraut.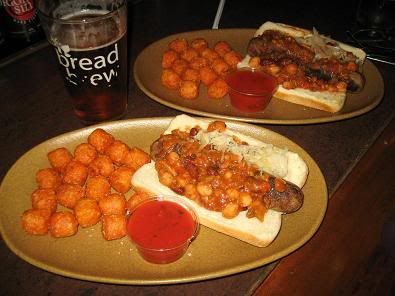 We had no idea what brand of sausages they used, but they were real enough for us to ask the bartenders to double-check to make sure it was vegan. It came with house-made sweet potato tots.
For dessert we had this cupcake and dead lady fingers: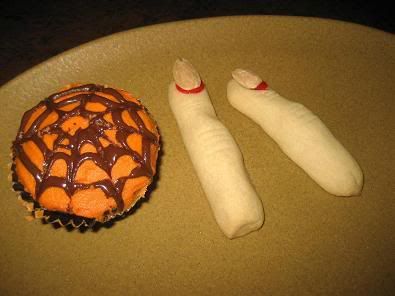 This is the cupcake the girl next to us had:
I'm not sure if it looks more like
Kang or Kodos
.
And here are some more: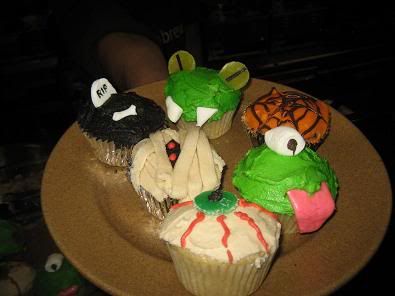 And I thought I'd mention this vegan cream filled whoopie pie I had at Bread and Brew a few weeks ago: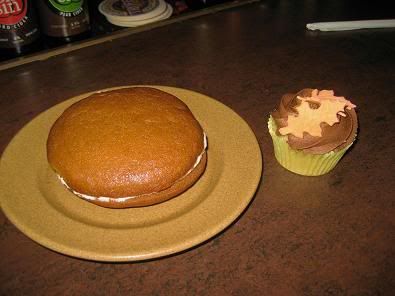 The decorations were great: