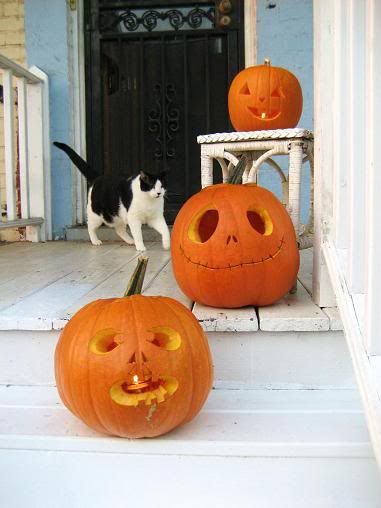 Our pumpkins, like 98% of our other produce, came from the farmers' market. The cat in the picture is Mr. Binklesworth Trevor York St. Kitt the Third.
Every Halloween I have to drag out my The Shaggs CD and listen to their fun little tune,
It's Halloween
. This year Marya's dad was here during Halloween, and the song chased him out of the room. And here I thought it was so bad it's good. To him it was just bad.
One of my favorite things about Halloween is roasted pumpkin seeds. Thankfully we have someone in the house who is not me who's capable of roasting the things for us.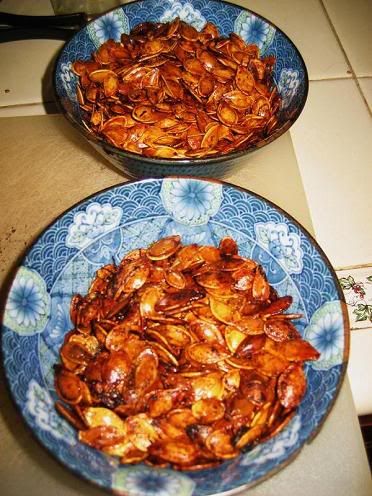 One batch had rosemary, thyme, garlic powder, olive oil, and salt. The other had chili powder, salt, and peanut oil.
But we're not done with the pumpkins yet. Our next opportunity we're going to cut them up and freeze them for pumpkin dishes all year 'round. One of my favorites is pumpkin scones from the
Veganomicon
. Marya makes that one, too.
Update:
After cubing some of the pumpkin and boiling the rest and putting it in containers, we have a full freezer.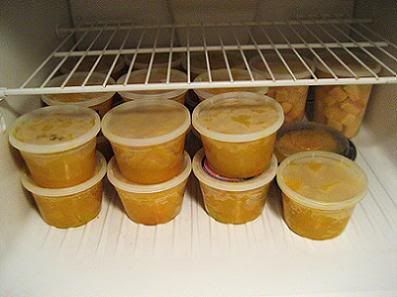 Twenty containers of boiled pumpkin and 4 containers of cubed raw pumpkin. This isn't all of it, either. We ran out of containers. Thankfully we've got a spare beer fridge with little in the freezer portion.