Marya's seriously getting into the raw foods, these days, and I'm certainly enjoying the fruits and vegetables of her labor.
Beet Carpaccio: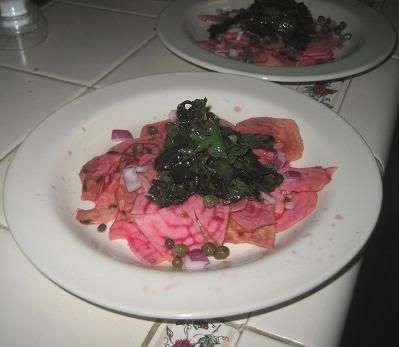 Marinated beets and beet greens topped with capers.
Zucchini Spaghetti and Meat(less)balls: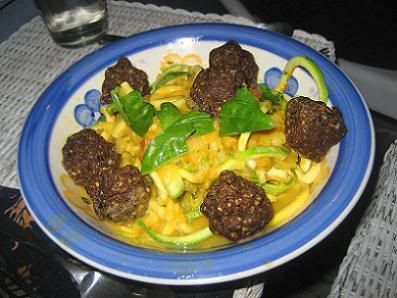 The meatballs were made of almonds, pumpkin seeds, sun dried, and spices. The raw tomato sauce had enough garlic in it that someone on the bus the following day mentioned he could smell it on me.
Milk! We've finally kicked the carton habit and started making our own nut milks. This was almond, but we've made cashew, and a mixture of almond/brazil nut.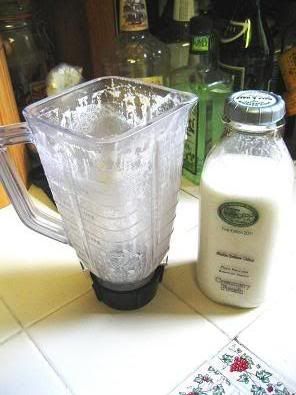 In case you're wondering, the milk bottle is leftover from when we would get creamer delivered from a local farm. We've been locavores longer than we've been vegan.
Crackers from Robin Robertson's
Carb Conscious Vegetarian
:
Made of pumpkin, sunflower, flax, and sesame seeds. Truth be told, these weren't raw - they were baked in the oven at 175 degrees. The next time Marya makes these, though, they'll be raw.
The dehydrator is in the mail!
Tunafish Salad:
Made of walnuts, sunflower seeds, pickles, onions, and other spices. I've never liked tunafish salad, mostly because the primary component is fish. I was amazed, however, how similar this was to real tunafish. No bones! No mercury either.
Now for some desserts!
Chocolate pudding: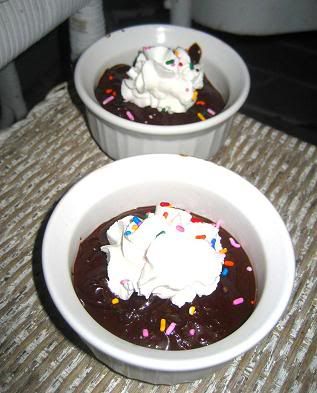 Made from fair trade cocoa and avocado. Can't verify the soy topping or sprinkles were raw. You just wouldn't believe the base of this was avocado.
And for my birthday in September, she made me this lovely chocolate cake.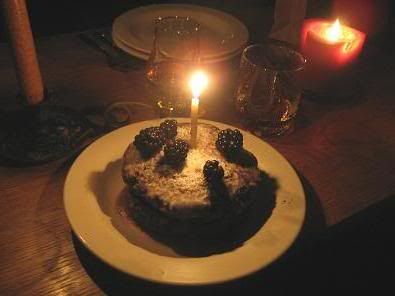 The cake only had 3 ingredients: Walnuts, dates, and fair trade cocoa. The icing had coconut butter and shredded coconut.
The whiskey in the glasses behind the cake were not raw.
Just one more shot of the cake: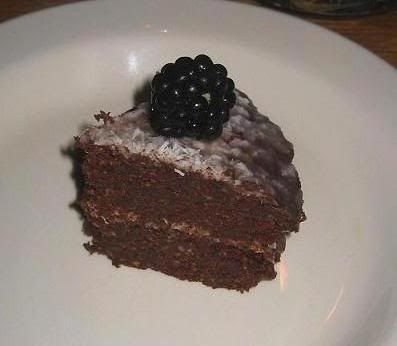 It's hard to believe that something so delicious is actually healthy.