(Note: please click on the image to view it full-size)
So a month ago we got a used dehydrator via eBay. We had to make room for it in our kitchen by moving the microwave down to basement. We hardly use the microwave anymore, so this worked out fine. Except the other day when I needed heat a cup of water and I was puzzled at first that it didn't quite fit in the dehydrator.
Marya started right away with experimenting with the thing. We got these wheat berries delivered to us from our farm club
Arganica
: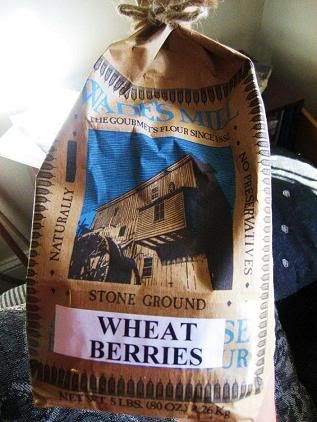 The berries came from
Wade's Mill
in Raphine, Virginia. The mill is 128 years old and stone grinds everything with a water powered mill. Of course, the wheat berries weren't ground. It looks like a great operation.
Marya had been sprouting the wheat berries and taking them to work for lunch. Then she came across this recipe for raw sprouted bagels at
The Happy Raw Kitchen
, and loosely based her preparation on it: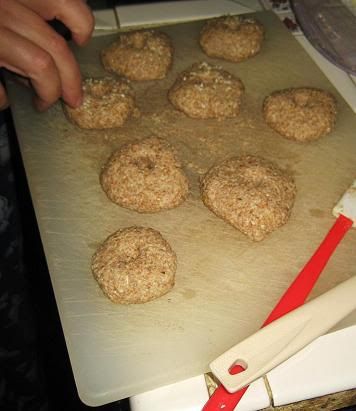 I've noticed that the vegan blogger community rather incestuous, in a good way - we link to each others' great work. I'm happy to give credit where it's due.
Here's the finished product: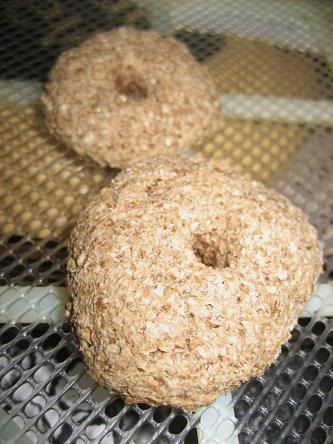 No, they did not balloon to an enormous size, it's just a closeup.
And she made this lovely flax seed flatbread with a recipe from the
Gluten Free Vegan
site: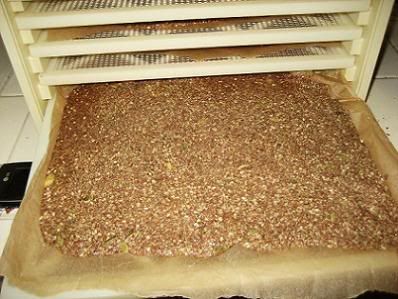 Since flax seed is best milled and raw, this stuff has gotta be healthy.
Next came these Banana Bread Bites from
Veganlicious
: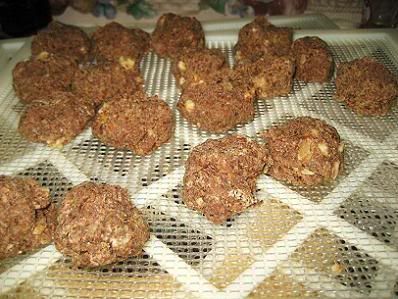 Marya's version did not have the cocao nibs in it.
And I made this eggplant bacon from a recipe that (again) came from
The Happy Raw Kitchen
: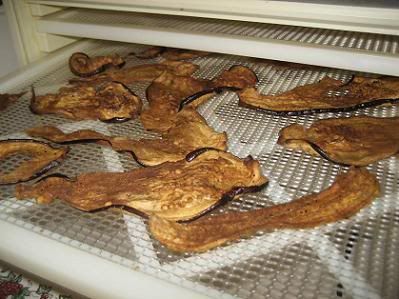 Who doesn't like fakin'? Despite the ingredients, such as vinegar, I really liked it. I left the skin of the eggplant on to make it a bit like the fat-back I used to get at Eastern Market back in the day.