Note: please click on the image to see the larger version)
More raw food! I must say, we have discovered that often raw dishes taste every bit as good or better than the cooked versions. See tomorrow's entry featuring pumpkin that, though it will have one cooked dish, will have two raw pumpkin desserts. Though I feel I'm a long way off from going raw (I've said the same thing about going vegan), I'm happy we've started preparing more raw dishes.
Here's Marya's preparation of the Portabello Mushroom Steak with Mushroom Gravy, as provided by the
Raw Freedom Community
: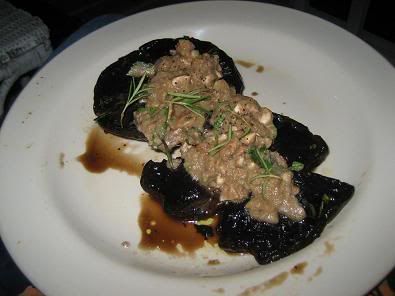 The mushrooms were marinated a good long time, and could have passed for grilled. Nice touch with the fresh rosemary.
I've been making this raw marinated kale salad for a few months, now. Combine kale with a bit of lemon juice, olive oil, and salt, and massage the kale 'til it wilts. It's very quick to make - only washing and chopping the kale takes longer.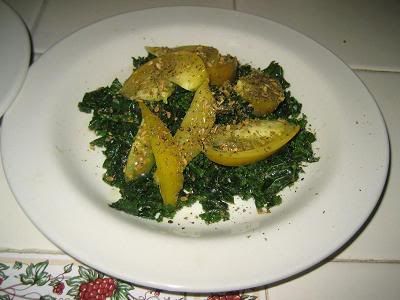 Sometimes I'll use flax seed oil in place of the olive oil, and occasionally I'll mix the two. Quick as the recipe is, it's a bit messy on the hands.
From a recipe in Ani Phyo's book "Ani's Raw Food Kitchen", I prepared this raw scramble: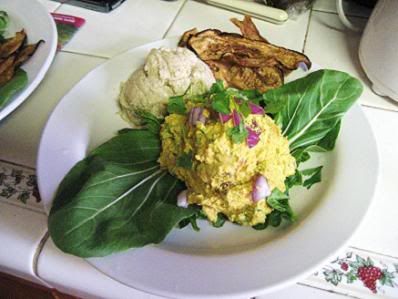 There were 3 serving recommendations in the book, so I combined all of them. Amazing how good the base scramble is with only ingredients combined can taste: almonds, sunflower seeds, turmeric, salt, and water. I added bell pepper, onion, cilantro, tomato, served on a base of spinach and bok choy leaves.
In the background is, from a recipe in the same Ani Phyo book, is Cauliflower Miso Mash (because a traditional American breakfast calls for some form of spuds), and my
eggplant bacon
.
Two of the serving recommendations called for diced tomatoes. Anyone know how to dice a farm fresh tomato without it looking like a murder scene?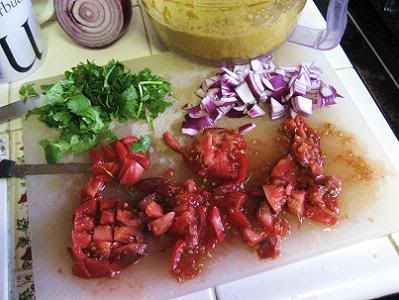 Cripes.