Note: Please click on the image to view full-size
Had a great day this past weekend with the...[I'll call them] in-laws in Ft. Collins, Colorado. First, we took a tour of New Belgium Brewing Company's plant, including very many samples of their beer. Then we had a lovely dinner at Tasty Harmony.
First, the vegan related stuff:
This isn't the first
blog post I've written about Tasty Harmony
, but since we tried all new dishes this trip, it's worth revisiting. I really like this place. I have my favorite places identified in New York City, DC, Munich, and Milwaukee, and Tasty Harmony is my favorite place in the Loveland/Ft. Collins area of Colorado.
They use all fair-trade coffees and teas, and chocolate, which scores big points with me. They have many raw dishes, and make just about everything they serve on premises. Plus the place has a really nice feel to it. Truth be told, our large group had to sit in a much less cozy side room where the kitchen was.
There were 8 of us. The two kids in the pack got peanut butter and jelly sandwiches (not pictured). The family shared a plate of Tasty Harmony's Nachos de Ynez, with black beans, cashew cheese, guacamole, vegan (of course) sour cream, and salsa. We paid the extra $2.50 for added Mexican jackfruit. On my last visit, I didn't get to taste their house made hot sauce, but got to try it this time.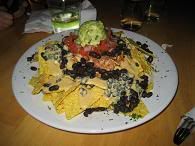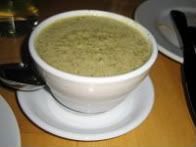 Pic on the right is the soup of the day, Creamy Broccoli, which was just right.
A few of us tried the raw dishes. Marya tried the Roy G. Biv's Taco Extravaganza - the raw tacos wrapped in cabbage leaves with what they call "rawfried beans" on the side. I sampled both and they were delcious.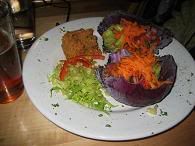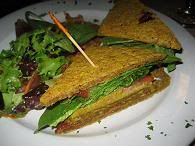 I had the raw cheesburger, made of seeds and nuts, almond/brazil nut cheese, and house made ketchup on raw bread. Came with their raw version of onion rings - dehydrated bread-like onion triangles. I'll be honest and say the burger itself did not floor me, but the cheese was tasty and I liked the onion triangles.
Another raw dish, the Living Falafel and Hummus Wrap. Falafal is made of sprouted almond and walnuts (guessing only the almonds were sprouted), sprouted hummus, loads of sprouts, served in a large collard leaf. Lots of sprouts all 'round, and though I didn't sample it, just bet it was delicious.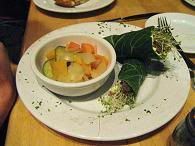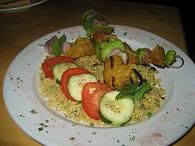 And on to the cooked food. Pictured above are the Seitan Kabobs, made with marinated seitan, served with Lebanese millet and quinoa. If I wasn't in such an adventurous mood to try something raw, I would have gone for this. Doesn't that look lovely?
Someone ordered the Bigboy Burger - charbroiled patty with Thousand Island and mustard. Honestly not sure what it's made of, and didn't taste it. Looked great, though. As with most of the dishes served this evening, I felt it rude to ask for a sample of everyone's dish. It was bad enough I had to ask that they pause long enough for me to photograph everything.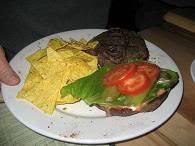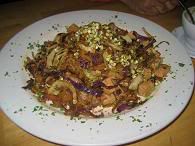 To the right is the Royal Hawaiian, a teriyaki stir fry mix of cabbage, carrots, zucchini, peppers, pineapple, and red onion, sauteed in coconut oil, topped with mung bean sprouts, and served on brown rice, plus the $2.00 extra for the tofu. Again, wanted to try some raw food this evening, but very nearly ordered this myself. The person who ordered this, a serious omnivore, loved it. "Very very good", he reported.
And for dessert, we shared the raw coconut cream pie (yes, a repeat from last time), oatmeal chocolate chip cookie, and chocolate pie.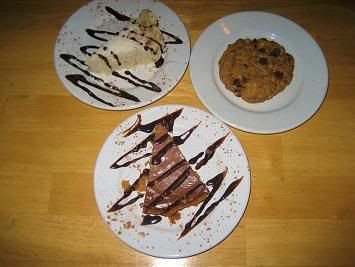 Next, a bit about our tour of New Belgium: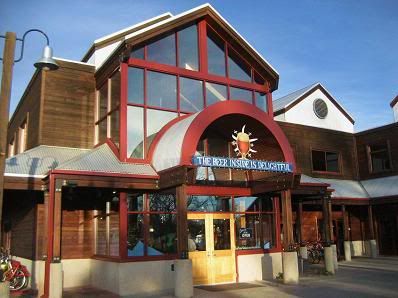 I've been on my share of brewery and winery tours, and have gotten to the point where I quietly say to myself "Just give me the hooch, already." But I found the New Belgium tour quite enlightening.
According to their website, they've got 30 beers they produce. Of course, much of it is seasonal, so they're not doing all of them year 'round. As you can see, they've got quite a huge production (a building at least 2 acres large dedicated just to bottling).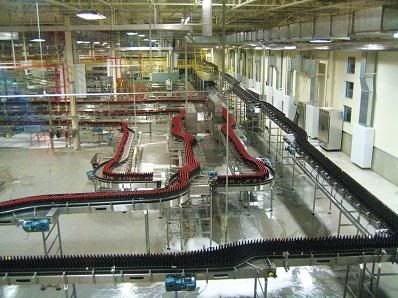 They are the 3rd largest craft beer manufacturer in the US, and they are an employee owned company. They've vowed to never sell out to a larger manufacturer as I've seen so many smaller craft breweries do.
I should point out that, according to
Barnivore
, New Belgium's beers are vegan.

As Chris O'Brien's book
"Fermenting Revolution: How to Drink Beer and Save the World"
points out, beer manufacturers, even the big ones, are great about energy and resource conservation. New Belgium seems to take it further. They power the plant by purchasing wind credits and they have arrays of solar panels on their roof. They have an interactive display in the works that will show how much energy they're consuming and how much they're putting back on the grid.
After a year of employment, employees are given a bicycle to encourage them to ride it to work, or just to ride around their house for simple chores, rather than hopping into the car. I didn't ask how this sign factors into this, but whatever this means looks quite encouraging: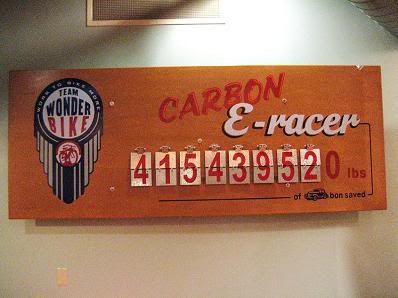 From the moment you walk into the brewery 'til the time you leave the tour, you're drinking samples of the beer. They've got enough styles so there's bound to be something for everyone. My favorite was the Sahti - a rye ale brewed with juniper. Good thing I wasn't driving. I'm not accustomed to driving anymore, such as it is.
Now, if we could only get some of their products in DC.