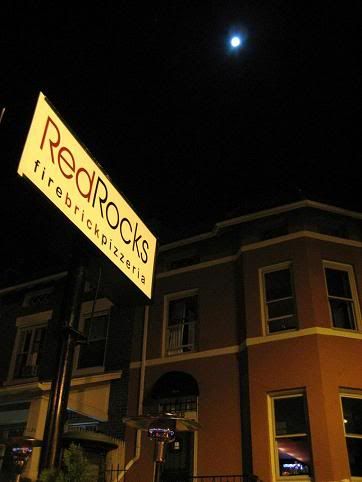 Red Rocks Fire Brick Pizzeria
(official site)
Phone: (202) 506-1402
Pizza! Nothing better to chase a glass of Chianti down with than pizza. And where better to do it in DC than Red Rocks Pizzeria.
I remember the first time I went in to Red Rocks Pizzeria and asked for a vegan pizza. The bartender who took my order told me she was the one who suggested they offer a cheese alternative for us vegan folk, for which I was very thankful. I love Red Rocks, for their wide variety of available cheese pizzas, their excellent house red which is quite cheap during happy hour, and the great folks who work there.
Note
: They use
Teese
for their mozzarella. Others around town use either Teese or Daiya. To add Teese on any pizza it's an additional $2.50.
For an appetizer on most of our trips to Red Rocks, we'll get the Italian olive plate: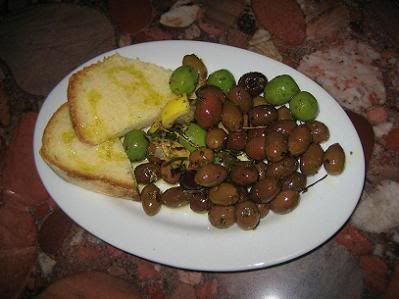 They're a great mix of marinated olives served warm and with bread splattered with olive oil. With their generous portion for $5.50, it's practically a meal in itself.
Here's their Funghi pizza: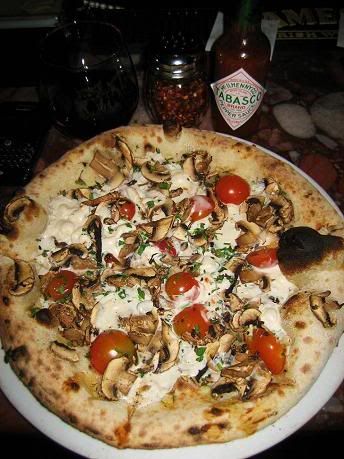 A white pizza with mushrooms and cherry tomatoes. Among my go-to pizzas there.
And this is a Margherita, with tomato sauce, Teese, basil, olive oil, and my fun little addition of pineapple.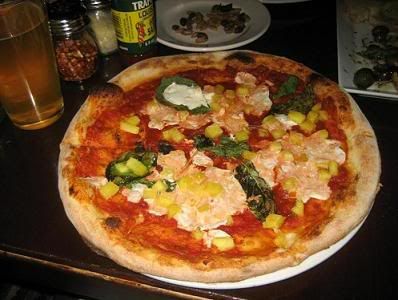 I love Hawaiian pizza, and look forward to the day they start offering vegan ham.
And recently it occurred to me that, because the Teese is an additional $2.50, why the hell pay for cheese you're not getting, plus the cheese you want? So I ordered this cheese-less Marinara za at a buck less than their cheese, plus the addition of pesto: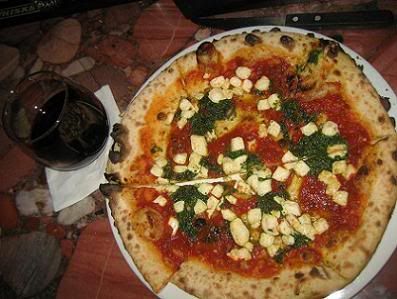 So, although it's not the closest vegan friendly pizza place from my house, it's my go-to place to sit and have a pizza. They also have a great patio for the warmer months.
Here's Veg DC's list of vegan friendly pizza places in Washington DC:
Click!