My last Vegan MoFo Post! Tomorrow I rest.
We went to Colorado to celebrate Thanksgiving with Marya's family. As mentioned in previous posts, they aren't vegan, but they're very considerate omnivores and are willing to try our food and often branch out in their own cooking.
Because they recently tried cooking tempeh at home and absolutely hated it, we volunteered to cook a tempeh dish for them they could...tolerate - to prove that they must have gotten a bad batch of the stuff from the local grocery. So after preparing several tempeh dishes at home to decide which they'd like best, we settled on this
Maple Grilled Tempeh
triangles recipe. We've been trying to cook with more tempeh these days, as it's among the best ways to eat soy. Do we love it? When Marya's mother asked if we like it, we looked at each other and said practically in unison, "It's alright."
So Marya prepared the marinade, boiled the tempeh, marinated it for 20-some hours, then grilled it. This was the best batch of this recipe ever, having thoroughly absorbed all the marinade.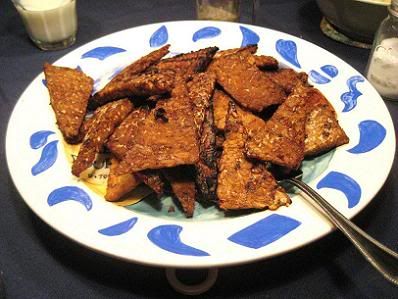 Incidentally, I ate that crumb on the top of the tempeh in this picture, and think it might have been the match used to light the grill.
So, despite the expression on Marya's sister's face in this picture, the tempeh was received warmly.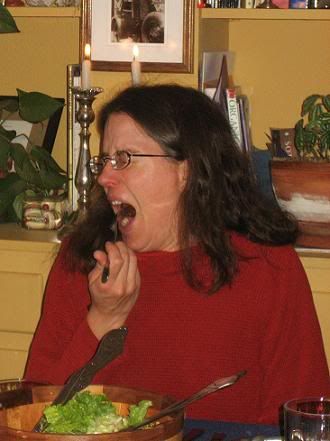 I haven't met anyone who feels tempeh is the greatest food in the world, but prepared well, it can be delightful.
Next, I prepared the raw scramble from Ani Phyo's "Ani's Raw Kitchen". I had the recipe committed to memory. Of course, raw food is somewhat an oddity among many vegans. Was I insane to think omnivores would like it?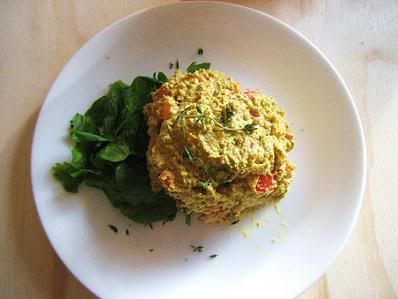 The 2 and 5 year old were too afraid of the stuff to get it anywhere near their mouths. Come to think of it, they cried when they saw it in on the table in front of them. Everyone else liked it. Made of mostly almonds and sunflower seeds, it is quite filling. We had plenty of leftovers, and they're looking forward to eating it for breakfast over the next few days. No guarantees, though, that they won't microwave it.
As we explore new food options, it's fun to share them with family, at least those willing to give it a shot. Even if we must endure the slings and arrows of outrageous facial gestures before they tell us, "It's pretty good!" And we surely wouldn't have made them these dishes if this were their first experience with vegan food.
And this is what happens when a 5 year old gets ahold of your camera: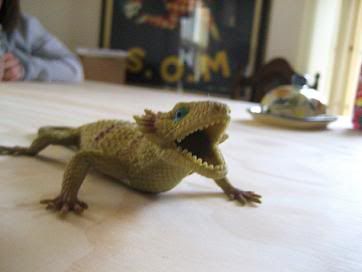 Thanks to all the Vegan MoFo readers who've stopped by, and to those who have subscribed! Vegan MoFo (Vegan Month of Food blogger extra
vegan
za)is a great way to get all the bloggers around the world talking. Please check back for updates - next week we'll be in Miami, and next May we'll be in Southeast Asia.
'Til the whole world is vegan,
Your pal,
Mike