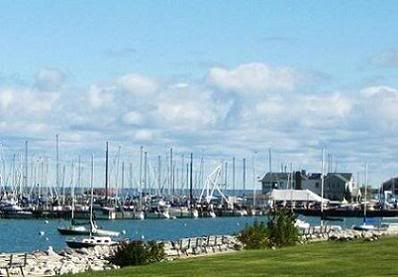 Every year we try to go to the Farm Aid Concert - a benefit for the organization dedicated to helping small family farmers keep their farms, and
fight the machine
of big, faceless, nameless, and flavorless
factory farms
.
When it was announced this year that the concert would be in Milwaukee, I thought we'd struggle to find vegan food in the capital of cheese country. But thanks to the crack research branch here at Adventures in Veganism/Vegan Travel (thank you, Marya!), we soon learned there would be no shortage of vegan options at our disposal.
We stayed at the County Clare Irish Pub and Inn (more on them in a bit), which put us within walking distance of a few vegan friendly places, and easy access to bus routes to several other places.
After checking into the hotel, we walked the 1.2 miles to Comet.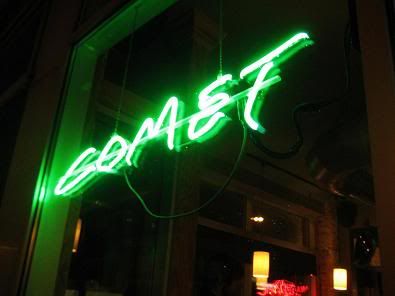 Comet Café
1947 N. Farwell Avenue
Milwaukee WI 53202
Phone: (414) 273-7677
Aside from a very vegan friendly menu, Comet Café has a fantastic beer selection. They have quite an international selection, but being in a region also known for beer, I wanted to try some of the local microbrews.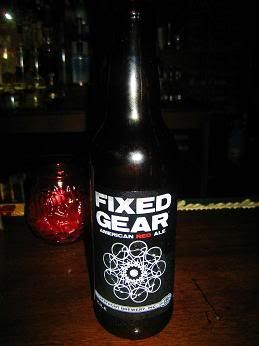 Fixed Gear, according to the back label, is so named to honor a Milwaukee bike messenger who rides a fixed gear bike. That just bloody sounds insane to me. Anyway, the beer is fantastic.



I ordered the Reuben. The corned beef was amazing. I think they must have deep fried the whole sandwich, then pried it apart to put in Thousand Island dressing.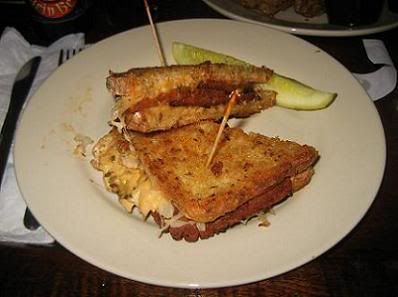 Marya got the Salisbury Steak.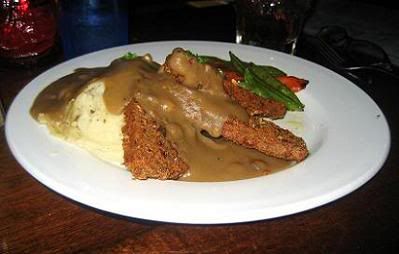 The steak was made from hazelnuts, and came topped with a porcini gravy. Nom.
As a side, we got a full rack of deep fried beer battered ribs.
They came with three dips: wing sauce, barbecue, and chive (vegan) mayonnaise.
Odd coincidence: there was a couple next to us who ordered the exact same thing. It was a mirror image that looked like: salisbury steak, ribs, reuben, reuben, ribs, salisbury steak. Turns out they were also in town for Farm Aid, having driven in from Minneapolis that morning.
Here's the problem when I do this sort of food tourism - when I see loads of wonderful looking things on a menu, I want to try them
all
, not knowing if I'd ever have the chance again. The Reuben, ribs, the salad that came with the dish, and finishing Marya's dish proved to be a bit too much. I had serious heartburn that evening. I can't remember the last time I even had heartburn - perhaps decades. This was really bad, but I won't go into the gory details. I will say that I don't blame this on Comet Café - I think I just had way too much fried food. All the beer and double-shot of scotch I had back at the hotel probably didn't help. Thankfully Marya was spared the illness. I hope our new Minneapolis friends were also spared.
For brunch, we took a bus to the southern part of town to Palomino.
Palomino
2491 S. Superior Street
Milwaukee WI 53207
Phone: (414) 747-1007
This was the place I was most looking forward to visiting in Milwaukee. As I like sampling the veganized wings wherever I go, I was looking forward to trying Palomino's famous "tufallo wings". Unfortunately we got there too early in the day to try the wings :-(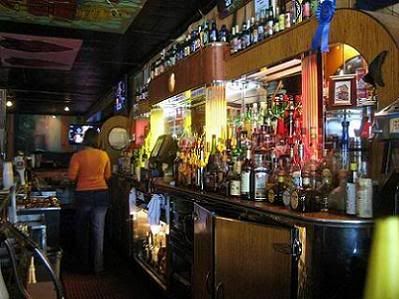 I asked one of the bartenders why the place was so vegan friendly. He said that the owners are trying to be more eco-friendly, thus they began offering attractive vegan options. They own around 10 restaurants, and are part owners of Comet Cafe. This partially explains why Milwaukee is so vegan friendly.
We started out with a bloody mary, featuring locally made
Rehorst vodka
, a pickle, both a lemon and lime wedge, a pickled mushroom, and a pickled brussel sprout.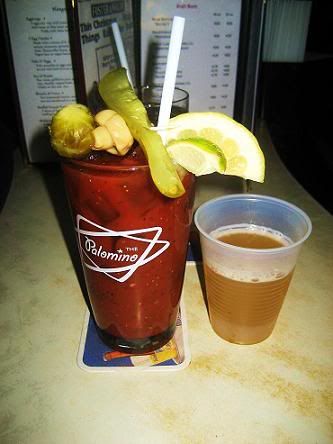 This is the best decorated bloody mary I've ever had. And the first time I've seen a pickled brussel sprout, which turned out to be quite tasty. It comes with a shot of Palomino White - a white wheat beer from the local Lakefront Brewery.
Most of their
brunch
items can be veganized, including the Eggiwegs (a fun reminder of "A Clockwork Orange") , and the Velvet Elvis - a sandwich with peanut butter, bacon or facon, and bananas.
I decided on the Fake N' Eggs: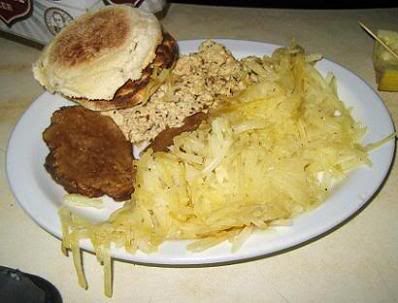 The seitan steak was nice and juicy, and came with a side of scramble and hash browns.
Marya got the Skillet-ton - a lovely scramble with bell peppers, tomatoes, onions, mushrooms,sausage gravy, and hash browns all mixed together: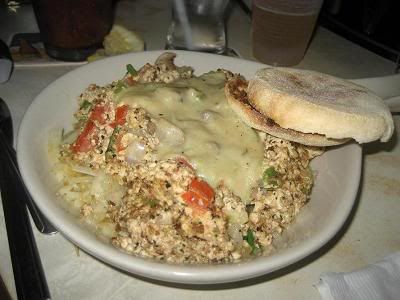 We agreed that Palomino has among the best tofu scrambles we've tasted outside of our own kitchen. That's saying quite a bit.
Tempting fate after a horrible bout of ordering too much 2 nights before at Comet Cafe, I decide to try the whole lot of their fake meat sides: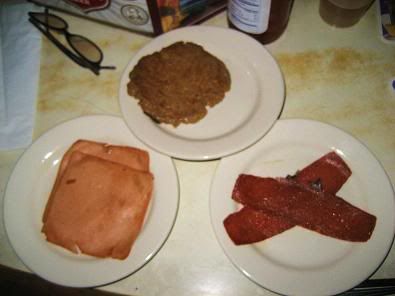 This included ham slices, sausage, and facon. The sausage was good and the facon was tasty, but the ham was my favorite.
The place resembles a stereotypical road house, so seemed an unlikely place for an extensive vegan menu. It was very cool sit in what I'd consider a dive bar eating vegan food. There was a Packer's game on, so we got to cheer with the locals and get free shots of some mysterious green concoction every time the Packers scored (unmercifully often).
Our hotel was the County Clare Irish Inn and Pub - a surprisingly vegan friendly place.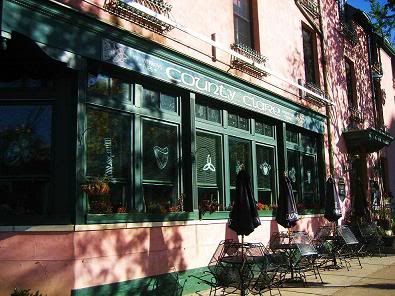 County Clare Irish Inn and Pub
1234 N. Astor Street
Milwaukee WI 53202
Phone: (414) 212-5273
We could hardly believe it when we found this place: an Irish pub and inn with vegan Irish food options.
The accommodations are very nice, the hotel is nicely decorated throughout, and they've got a great selection of beer, Irish whiskey, and scotch.
My one quibble with County Clare is that their vegan options for breakfast are not too appetizing. We got a tiny cup of fresh fruit, toast, and hash rounds (coated and deep fried chickenless nugget sized hash browns). They have a fixed breakfast menu only for guests that is based around bacon and eggs, so I'm guessing we only got what they could pick off what we could eat.
But we came back for the lovely lunch/dinner options. You can see their vegetarian PDF menu
here
. They make all the chicken and corned beef seitan on premises.
We shared a plate of the Seitan Corned Beef and Cabbage: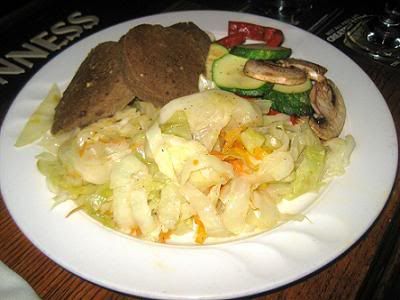 We've made corned beef before, and it took hours to boil the seitan in beet juice and pickling spices. The house made corned beef at the County Clare had the pickling spices rolled into it.
With all the options in Milwaukee, we felt that it's more vegan friendly than our home of Washington DC.
We surely didn't get everywhere we wanted (including any breweries).
Here's a good list of the vegan places in Milwaukee:
http://www.onmilwaukee.com/dining/articles/veganguide.html
I don't think I'd want to live in Milwaukee (it was quite cold), but I would certainly like to visit often. I hope to make it back to Comet Café and Palomino, plus all the other spots we hadn't gotten to. Yes, with all the souvenir fridge magnets featuring dairy cows (one had a cow standing on her hind legs exclaiming "Eat me!") and a dedicated cheese cooler at the airport news stand, you wouldn't have guessed we could survive there, let alone enjoy the experience.
So,
Thank you, Milwaukee!!!
And here's a pic of the Jumbotron from the Farm Aid concert - an unlikely duet between Steven Tyler and Willie Nelson: