Vegan MoFo Continues!!!
Feliz Dia De Los Muertos!
Note
You can click on each picture to view them full-size.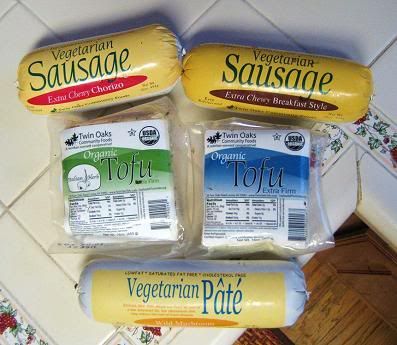 One of our concerns with the vegan diet is that certain things are difficult to source locally - soy products among them. We're serious locavores and are at the farmers' market every weekend supporting our local farmers. Marya's joked about how, if we were still omnivores, we could easily eat locally by purchasing locally produced meats and dairy at the farmers' markets. Many of the farmers offer meat products, eggs, milk, yogurt, and cheese - all the stuff we don't eat. But no soy products. We know soy is grown locally, so why the hell not? On that note, wine is also produced locally, so when are we going to see that at the farmers' markets?
In the last year, we've started seeing some of these locally made soy products from
Twin Oaks Community Foods
of Louisa, Virginia, at local stores. We're finally able to get one of our protein sources locally. According to
Bing Maps
, Louisa, VA is 93 miles from Washington DC. The definition of "locally produced" for many is 150 miles away.
But soon after many of their products appeared on the shelf in local DC stores, they disappeared. Only tofu can be reliably found in certain stores such as
Yes! Organic Market
. At first I thought Twin Oaks, a small company, couldn't produce enough to meet the demands of a chain of grocery stores. But when I saw them at GreenFest DC recently, they informed me that they can provide a steady supply of their products. So I still don't know why most of their products are no longer available in most of DC.
Actually,
Twin Oaks Community
is not so much a company as it is an intentional community, what you might call a commune. They support themselves through producing their soy products, indexing books, and making
hammocks
.
We recently found a farm club from Ruckersville, Virgina (15 miles north of Charlottesville),
Arganica
, that acts as a central distributor for local farms, plus they offer other organic goods from elsewhere. They distribute all of Twin Oaks' products, so we became members and now have the option of getting locally made tofu, tempeh, and soy sausage delivered to our door once a week. Plus Arganica distributes local wine.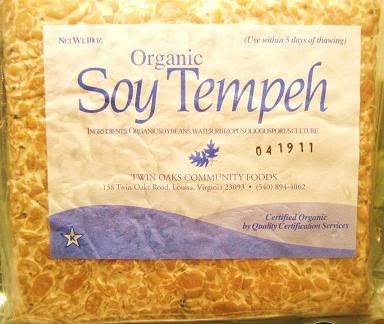 Missing in the pictures above is Twin Oaks' Fine Herb tofu. I should also add that not only does Twin Oaks allow us to progress in our quest to localize as much of our food as possible, their products are fantastic. The tofu can be eaten raw - even my cat Burbank Spiffers (RIP) would eat it. And the breakfast soy sausage is my favorite among the vegan breakfast sausages.
Now I can make breakfast using all locally grown produce.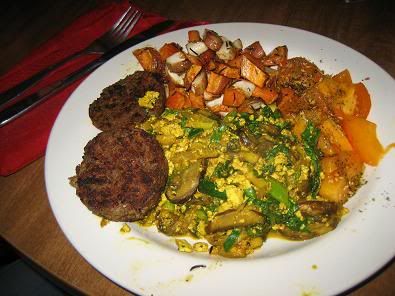 For this particular meal, I roasted sweet potatoes and turnips with rosemary. The tofu scramble includes Twin Oaks tofu, 4 different kinds of greens, crimini mushrooms, scallions, onions, and zucchini - a cooking method I call "kitchen sink". Sliced tomatoes, and Twin Oaks breakfast sausage.
Not sourced locally: all the spices (except the rosemary) and all the oils.