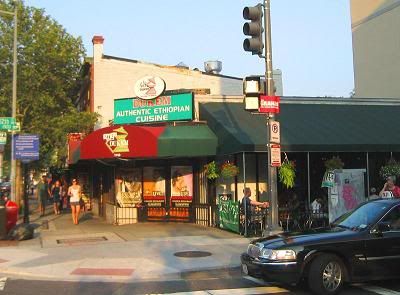 Dukem
1118 U Street NW
Washington DC 20009
Phone: (202) 667-8735
It's said that DC is host to the largest concentration of Ethiopians outside of Ethiopia. The U Street corridor is a good indication of this, with somewhere in the area of a dozen Ethiopian restaurants clustered in such a way that even Starbucks would think it over-the-top.
Dukem is a mainstay of the Ethiopian restaurants in town. This may be because it is somewhat larger than most Ethiopian places, because they've got a lovely patio for outdoor dining during the warmer months, or because it's so centrally located. Or maybe it's the food.
Here is
their vegetarian menu
. It is vegan unless you add fish. We...don't. They also have a nice selection of Ethiopian beers, another thing I look forward to when we go out for Ethiopian.
We love the vegetarian platters at Ethiopian restaurants - they're delicious, you get a lot of different things to eat, and it's usually quite inexpensive. Some platters start at $9 and can easily serve two. At the more upscale Dukem, the 15 item plate pictured below was probably $22 and fed us both handily.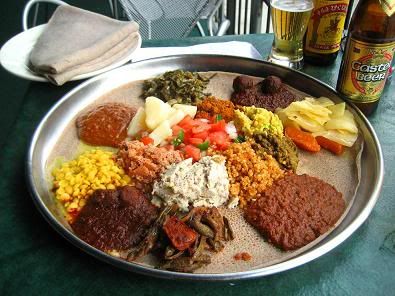 This platter included
Ethiopian food is served on
injera
, a spongy bread made from teff flour. No silverware is provided, so you pick up the food with more injera bread. I'm not sure if the resemblance to a painter's palate is intentional, as you get such a wide palate of flavors on the platter. Yes, it's probably good I don't write this sort of thing professionally.
Dukem is among the most popular Ethiopian places in DC, but I'd hardly call it unique. Truth be told, you will get good (and vegan) Ethiopian food from any of the places in the U Street area. Many are on 9th Street just south of U Street. One of our favorite places is on the eastern side of 9th below U that actually serves Eritrean food - the name escapes me. Eritrean food is really the same as Ethiopian food, just don't tell them that. I have sparked an international incident making that mistake.