In this issue: Growing bean sprouts at home, plus making zucchini noodles and cucumber lace with a spiral slicer.
(please click on the picture to view it full-sized)
Mung bean sprouts are so easy to do at home. You'll need a Mason jar and sprouter top, dry mung beans, and some water. The mung beans just came from the bulk food section of our local coop. No need to order fancy sprouting beans.
Here's how to do it
:
Put a tablespoon of mung beans in the jar, then cover them with water
6 hours later, empty the water
From then on, twice a day rinse and drain them with fresh water
When they've grown, stop rinsing them and put them in the fridge until they're ready to use
Here's a picture of the dry mung beans before adding water: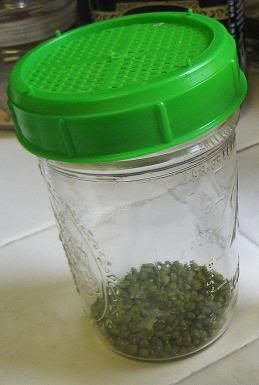 Here's a picture of them 3 days later: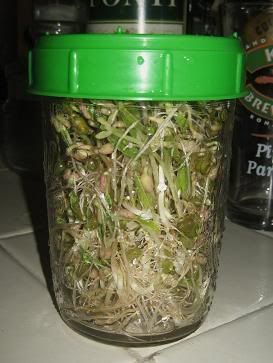 As you can see, the process doesn't take long. By the 4th day they were poking out of the top of the sprouter.
Soon after sprouting, they went into my latest batch of pho: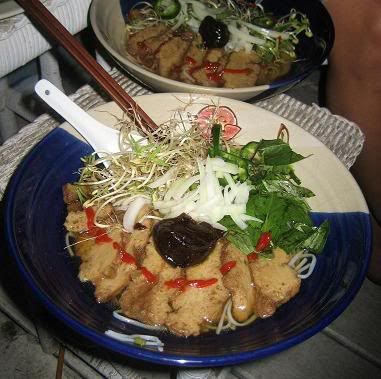 We got a used spiral slicer on eBay. Finally the mystery to how chefs make long threads of pasta with squash and zucchini is solved for us.
The spiral slicer made one long continuous "noodle":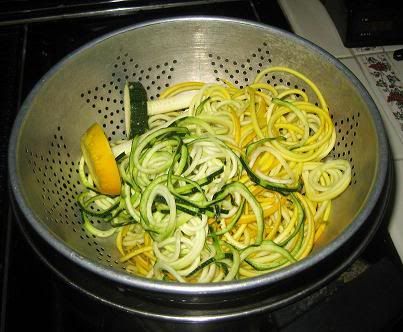 With a different blade, I made this lovely cucumber garland for the salad: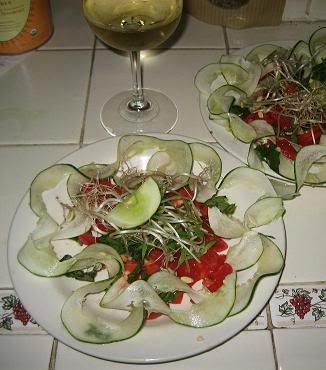 Marya steamed the squash noodles, then dished them out and topped it with home-made pesto. We nearly had a "Lady and the Tramp" moment: