(please click on a picture to see it full-sized)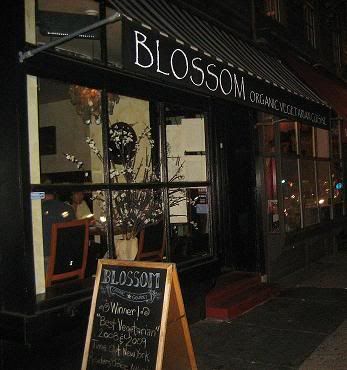 Blossom
187 9th Ave.
New York, NY 10011
Phone: (212) 627-1144
Blossom is an upscale all vegan restaurant that sources their food from local farmers and small distributors. Their mission is to provide healthy organic vegan meals and do their small part in reducing animal suffering.
It has low lighting and is perfect for a romantic dinner. Thankfully we made reservations as this place fills quickly.
We met up with a friend on our visit to Blossom, so we got to sample a total of 3 meals.
We began with the porcini flutes - porcini, almonds, and tempeh in phyllo served with a cashew pesto: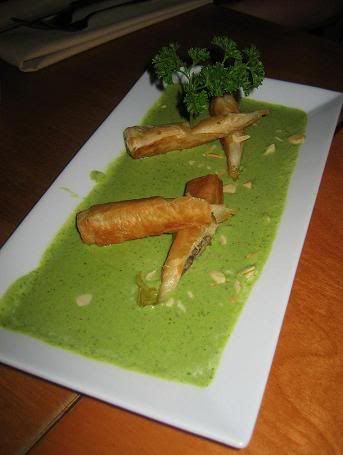 And next, our friend got this...I have no idea. It is time for me to admit that I am such a disorganized blogger and never take notes when I'm out. I too frequently rely on pulling up the menu online often well after the fact. Yes, amazingly, when I'm out at a restaurant I tend to focus on the eating.
Anyway - our friend got this lovely dish of...something: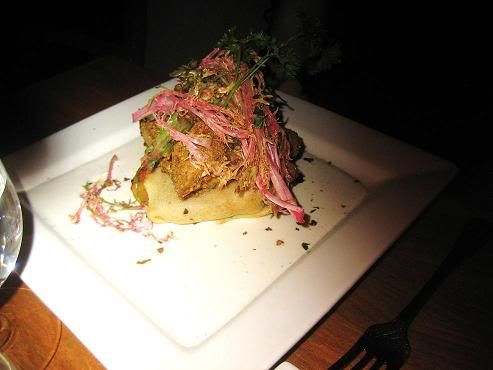 UPDATE!
I just received and email from our friend who attempted to identify this picture, and believes it
might
be the pistachio and pepper dusted tofu. The menu online provides further details:
Served over roasted root vegetable crepe and a lemon truffle emulsion.
Finished with frisee salad tossed in red beet vinaigrette.
A quick web search to find out what the hell frisee is helped to confirm that this is, indeed, the pistachio and pepper dusted tofu.
Marya got the hickory basted tempeh over horseradish crème fraiche: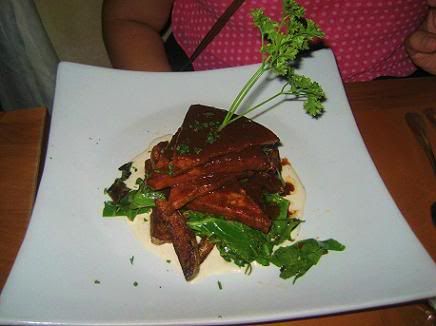 I had the seitan scaloppini: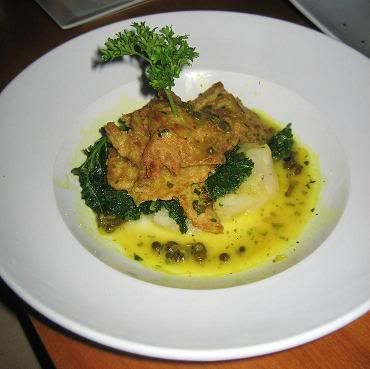 The place is great. The wait staff were very friendly, and despite being so fancy I felt right at home. Being around fellow vegans helps. At an average of $19 an entree, it's not a place for everyday, but it's reasonably priced for special occasions. It was great looking around the restaurant and seeing such a wide range of ages and ethnicities gathering for vegan meals.
We saved room for dessert and went across the street to Blossom's latest addition to the family: Cocoa V.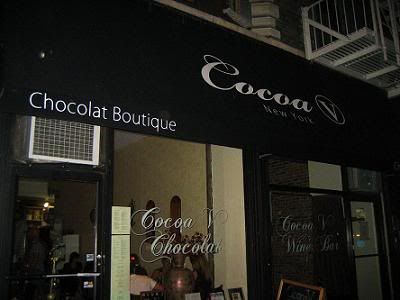 Cocoa V
174 9th Ave.
New York, NY 10011
Telephone: (212) 242-3339
Cocoa V is an all vegan organic restaurant, wine bar, and all fair trade chocolate shop. I'm guessing this is the first of its kind. I'll never forget the day Marya found this place while doing a web search and sent me an email saying "OMFG - can you believe there's a such a thing as a vegan fair trade chocolate and wine bar?" It was immediately placed on our must-do list for this trip.
Cocoa V is smaller and a bit brighter than its counterpart Blossom, but still cozy.
Our friend had this lovely sundae: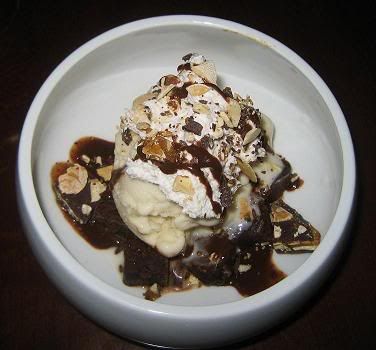 &nbsp
(yes, it's vegan)
And we shared this fantastic chocolate plate: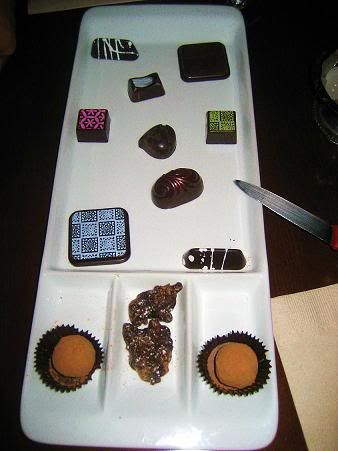 We had such a great variety, but our favorite was the Earl Grey bonbon.
Again, we were amazed such a place exists - being both animal cruelty free and free of child slave labor. Yes, it's sad that we have to be amazed that there's finally a place that is concerned about these issues. And they serve some damned awesome chocolate.
Before going to Blossom, we went to Marie's Crisis Cafe: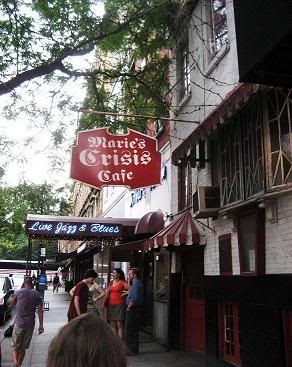 Marie's Crisis Cafe
59 Grove St.
New York, NY 10014
Phone: (212) 243-9323
We try to go here every time we're in New York. With all due respect, it's a basement dive bar...with a twist. There is a pianist who plays show tunes and everyone is invited to sing along. There are occasionally soloists, quite possibly they first sang the tune in the Broadway musical. I'm sure the place is frequented by the performers of nearby Broadway. Who else would have so many show tunes committed to memory?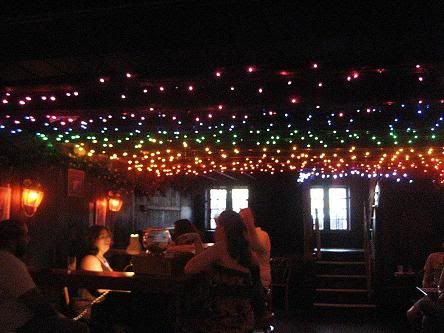 I had a glass of wine here, and it was the worst I've ever had. The bottle was probably uncorked the night before, and they didn't properly seal it. So, stick with beer or the hard stuff. And listen to your "Little Orphan Annie" 8 track or 33 1/2 to brush up on some musical numbers before coming here. Great time.