(please click on the images to see the larger picture)
Munich
has
Kopfeck
, Washington DC has
Asylum
, and New York City has Kate's Joint. That is to say, this is my go-to place in New York.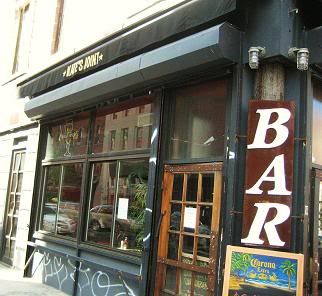 Kate's Joint
58 Avenue B (at 4th St.)
New York NY 10009
Phone: (212) 777-7059
On our
previous visit to New York City
, we had an afternoon snack at Kate's, mostly because I wanted to try their vegan buffalo wings. On this trip we ended up there twice (this is not a complaint) - once for dinner and another time for brunch.
Kate's Disco Fries are perhaps the coolest thing I've ever seen on a menu anywhere: french fries covered in vegan gravy and vegan (or not) cheese.
As Homer Simpson would say, "Nom nom nom." Not quite a vegan
poutine
, but close enough for me. In the background are their famous buffalo un-chicken wings.
We met up with our friend (who's not vegetarian) who ordered this grilled vegetable burrito: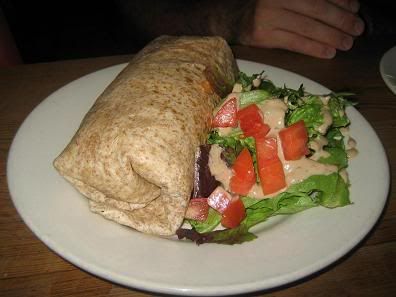 His burrito was not vegan - he ordered it with regular cheese. But Kate's will serve you regular or vegan cheese with no difference in the price.
I had the Fake Steak Au Poivre with mashed potatoes and more gravy, plus carrots. It was delicious and nicely presented, with slices of portabello mushrooms on top.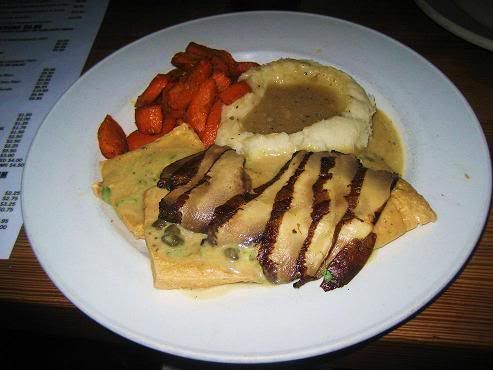 Marya had the Philly Not-Steak on garlic focaccia with still more fries.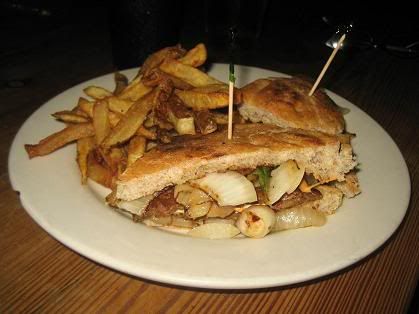 For brunch, Marya got the Kate's Benedict (tofu scramble option) served on fresh spinach, sauteed mushrooms, and "unsausage" topped with vegan hollandaise, with roasted potatoes on the side: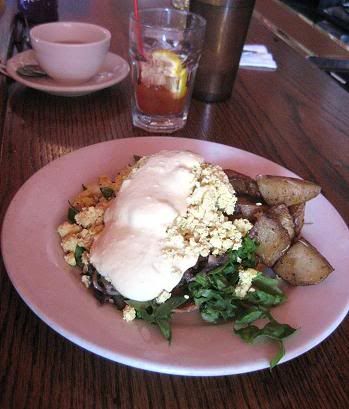 We surely did wonders for the potato industry that weekend.
And I got the Sweet Potato Hash - yams topped with collard greens, fakin', tofu scramble, and Daiya cheese: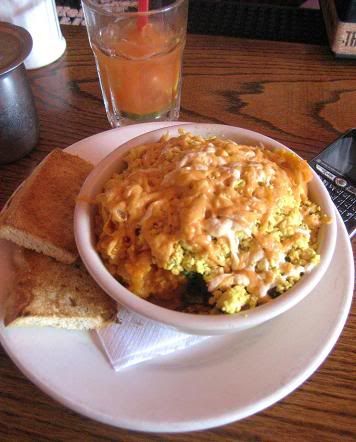 Nom. Again, I love Kate's. I was disappointed both times on our visit by how empty it was. That's good for me because I don't like competing for a seat in a crowded place, but I hope the place is doing well enough to stay in business. I want it to be there every time we go to NYC. Everyone should love Kate's.
For lunch one day we stopped at The Organic Grill. We had breakfast here once before, and this seemed a great place to pop in for a quick lunch bite.
The Organic Grill
123 1st Ave
New York, NY
Phone: (212) 477-7177
Marya got the TLT - fakin', lettuce, tomato, Veganaise, and sprouts. And roasted potatoes.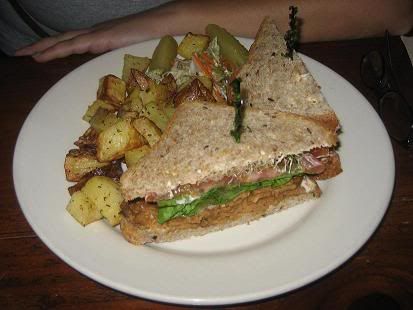 Still with the potatoes.
I decided to try and make a meal out of their extensive side dish menu. I ordered the brown rice, their famous sausage, and melted Daiya cheese. I thought they'd just be piled on top of each other, but instead they put them on the plate separately. I did hear them in the back discussing how they were to serve the melted cheese.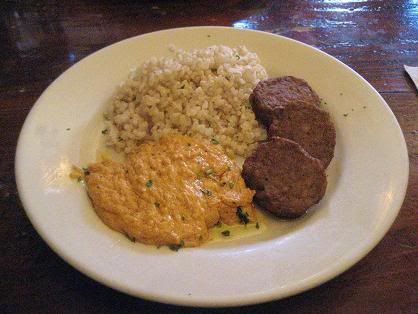 Whatevs - I mixed them on my own. It was an odd combination, but I can't complain - they gave me exactly what I'd asked for. And it was rather tasty.
Next, pickles!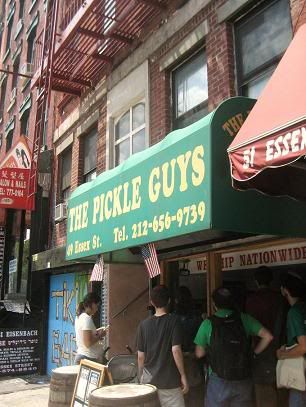 The Pickle Guys
49 Essex Street
New York, NY 10002
Phone: (212) 656-9739
On the lower East Side of Manhattan, Soho (I've come to learn means "South of Houston Street"), there used to be a
thriving pickle district
. Yes, who'da thunk? But now there is only one purveyor of the pickle remaining in the area: The Pickle Guys.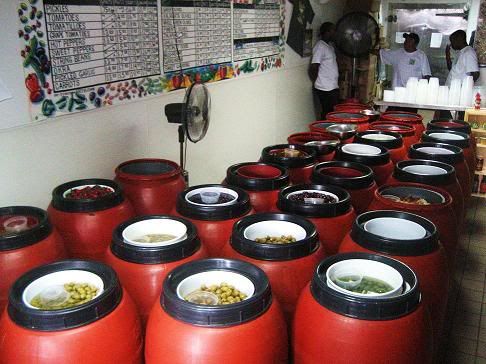 It was difficult not to go overboard here. We had to remember we wanted to be able to carry the stuff with our luggage, plus we didn't want our fellow train passengers playing a rousing game of "what's that smell?" I think they did, anyway.
So we left with a bucket of 1/2 sour pickles, a pint of pickled string beans (great addition to a bloody mary), some whole green olives, and a jar of horseradish.
I should add - the place is not 100% vegetarian - they sell pickled herring.
And we stopped in this lovely place for some beersh:
Double Down Saloon
14 AVENUE A (at Houston)
New York, NY10009
Phone: (212) 982-0543
As dive bars go, this place was cool. I didn't much care for the anti-hippy signs or the bottle of "hippy-be-gone" spray behind the bar, but I chose to overlook that. On there television was an mix that went back and forth between clips of fifties musical movies (in color!) and porn. I bet this place is fun when it's more packed, but when we visited, we were practically the only ones there.
Not sure why I've got such a soft spot in my heart (and liver) for dive bars.
One more NYC Post, coming up!!!