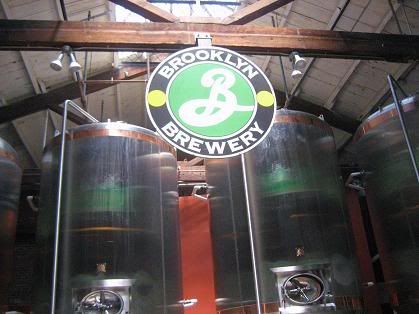 Every time I think of Brooklyn the
Fugees version of Bob Marley's "No Woman No Cry"
comes to mind:
I remember
when we used to sit
in the government yard
in Brooklyn.
So we ventured over from Manhattan to Brooklyn to check out Rockin' Raw, a (
right you are!
) raw restaurant, and to visit out Brooklyn Brewery.
Rockin' Raw
178 North 8 Street
Brooklyn, NY 11211
Phone: (718) 599-9333
We first heard about Rockin' Raw through a friend, who's brother-in-law opened the place. The brother-in-law is Peruvian, so much of the menu has Peruvian roots. We had brunch here, but I can't wait to go back and try some of their dinner offerings such as the Tacu Tacu and their mushroom cebiche (on the menu as
Mushroom Cebiche!).
We started off with their version of the Bloody Mary - with wine rather than vodka. I'm a harsh Bloody Mary critic and this one didn't floor me, but it does have one of the most important ingredients: horseradish.
They don't serve coffee, but they do offer a fun little CacaoMaca Shot (pictured) - which has raw cacao in it.
I had the "fried egg" with kale chips, a little salad, and the soup of the day. It also came with their raw essene bread with cashew cheese.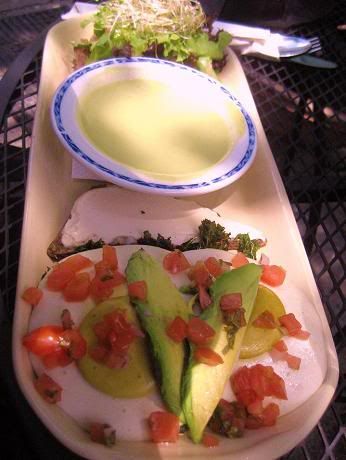 The "fried egg" is a neat creation that is made with zucchini and other ingredients and has the texture of a real egg. On the top of the egg-white rests a yolk yellowed with turmeric. Despite being a little too close to a real egg, it was delicious. And thankfully the yolk (or
"yolk"
) was not runny.
Marya had the sandwich version:
Rockin' Raw is a converted row house, and the spacious back patio worked nicely for outdoor seating. The place is very relaxed and the staff was nice. Bonus points for our waiter's Joy Division t-shirt.
Next, we walked a few blocks to Brooklyn Brewery. First we went on their tour, which was really more of a lecture (it was all in one room and we stood in the same place throughout). Then we went to try some beer. The beer hall was packed of people sampling all the beers. I'd been watching the this pyramid being build and finally snapped a picture when it got large enough:
Brooklyn Brewery
79 North 11th Street
Brooklyn, NY 11211
Phone: (718) 486-7422
They're open to the public on Saturdays and Sundays, with hourly tours beginning at 1:00FM. You can bring in our own food or have it delivered here. We saw many folks getting pizza delivered.
Back on Manhattan, we visited this all-vegetarian Vietnamese restaurant, Lan Cafe: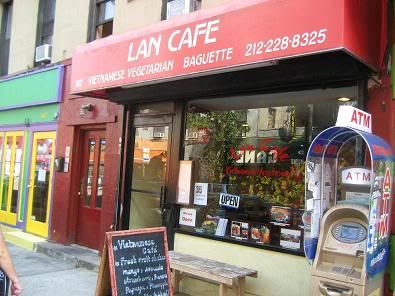 Lan Cafe
342 E 6th Street
New York, NY 10003
Phone: (212) 228-8325
Seemed like a dream come true - finally a place where I didn't need to ask if they used vegetable broth in their vegetarian pho. Most places, as I've learned recently, use beef or chicken broth. This place is not 100% vegan because they have Vietnamese coffee with sweetened condensed milk, but there is a vegan option for the coffee. Never seen that before.
We started out with the ham/cabbage salad. We would usually get the spring rolls, but how often do you get the chance to try a vegan ham salad?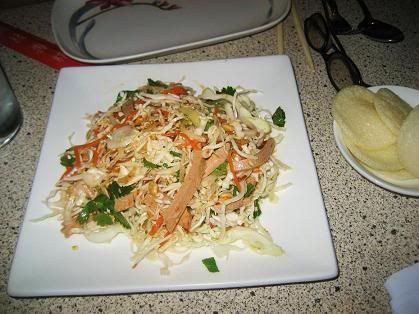 Marya had the grilled lemongrass seitan: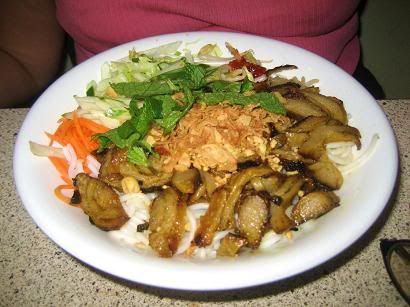 And, although so many things look great on the menu at Vietnamese places, I still gravitate to the pho: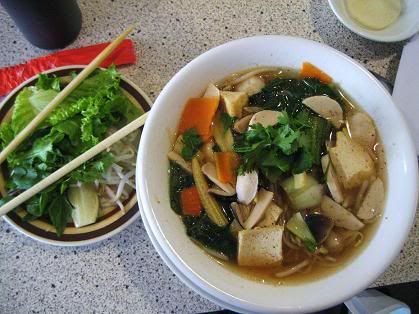 They only had one style, that is with tofu and meat(less)balls. It was awesome.
The place didn't serve alcohol, but we did see some folks bring in a bottle of champagne. So, BYOH (bring your own hooch).
Two short blocks away from Lan Cafe is McSorley's Old Ale House. At 150 years, it's the oldest pub in New York City.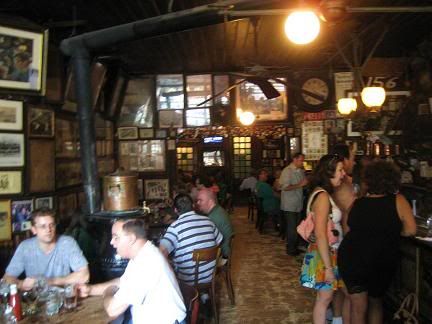 McSorley's Old Ale House
15 East 7th Street
New York, NY 10003
They only serve two beers: light and dark. The light beer isn't actually a
lite
beer - it's just how they differentiate between their two drinks. It's more Pilsen style. In terms of alcohol they don't serve
anything
but this beer, but their limited selection doesn't hurt their business.
The beers come in 1/2 pints, and they're $2.50 each - but they'll only sell them in groups of twos. It's a fun place and there's lots of history here, but on weekends it gets packed.
They only serve entrees on the weekends (none of which we can eat), but they do have a staple dish they'll serve anytime: raw onions with cheese and crackers. They've been selling raw onions for their entire history. Apparently back in the day, women whose husbands came home reeking of raw onions knew they could be trusted as they had come from the reputable McSorley's. I should point out that McSorley's didn't allow women until a 1970 Supreme Court ruling required them to.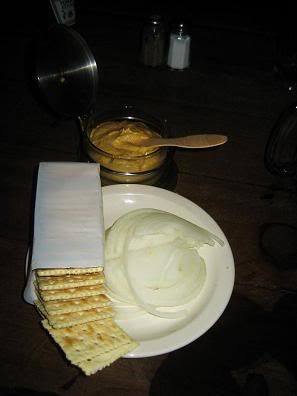 We ordered a plate without the cheese. On the side we had mustard - the Chinese style mustard that burns your nose and brings tears to your eyes.
More NYC posts to come!